Posted Saturday, July 3, 2010
El Pueblo is a popular Mexican restaurant located at 4270 Hunt Road, in Blue Ash. It shares a parking lot with a neighboring Hoxworth Blood Center branch, a fact that screams for a punchline.
The restaurant has always been --and still remains-- my backup Mexican food option. If circumstances preclude a visit to favorites like Taqueria Mercado or La Mexicana, I'll go to El Pueblo.
There used to be better Mexican options in El Pueblo's immediate vicinity. Jalapeno's, which once resided in Madeira where Chi-nnati's now churns out Chicago-style pizza pies, was our favorite for many years. Ever since Jalapeno's moved out and opened up shop in Kentucky, El Pueblo has been the only available, reasonably authentic Mexican restaurant in a five-mile radius.
Granted, there are a couple other choices in the area. Cactus Pear's Blue Ash location, as well as the recently opened El Rancho Grande in Kenwood are other options, but no one in my circle of friends particularly likes Cactus Pear's higher prices and unique, smoky salsa, and El Rancho Grande seems too generic and liquid cheesy for my tastes. Worse, some El Rancho Grande locations were once called Los Portales, where I'd endured some of the foulest so-called Mexican food in my life (ask me to tell you the story about the meat and cheese soup we'd inadvertently ordered, or the salad topped with hamburger...on second thought, please don't).
Former co-workers of mine and I have spent many a meal at El Pueblo. We'd talk obligatory shop as we tore through the basket of warm tortilla chips and the mildly addictive salsa, then contemplate our futures amid the sizzling meats, the streams of mole sauce, the omnipresent mounds of fluffy Mexican rice and refried beans.
Tonight was another opportunity to see these same chums with whom I'd worked a number of years. They're good guys, one and all. While we lead more interesting lives now, it never stops us from reserving a few moments to relive the past, a kind of beer and margarita-spiked therapy session for our collective souls.
I hadn't been to El Pueblo in more than a year, but certainly not from a lack of trying: it was always too packed. This time, I arrived to find they had expanded the outdoor seating, now wrapping around a full side of the building.
There were plenty of people already here this evening, availing themselves of Happy Hour's remaining minutes. Strange, faux-feminine cat calls greeted me as I stepped out of my car; my friends were clearly already having a good time. I answered their mocking cries with my own high-pitched "Why hello, boys!" sounding like someone had tautly grabbed my balls and forced me to impersonate Andy Griffith's Aunt Bee.
We shook hands as I sat with them outside, seeing that at least one of my former co-workers was well into his second or third gargantuan strawberry margarita. There were four of us altogether; when the last one arrived, we eagerly set aside our tortilla chips to place our orders.
The first of our group to order, Ed #1, chose the Enchiladas Verdes along with a side of guacamole. An Englishman, he'd spent the last five minutes asking us what the difference was between a quesadilla and an enchilada, then floored us as he proceeded to converse with the waiter in near-fluent Spanish.
Ed #2 ordered the fish tacos, while Brandon ordered the steak quesadilla --a surprise, given that he'd historically ordered only fajitas or chimichangas. Though I envied Ed #2's fish tacos, I stuck with my El Pueblo standard, chicken Mole Enchiladas, along with a Miller Lite draft.
As we sat in the waning sun, a number of ducks who frequent the pond across the street peeked their heads at us through a short wood fence, which served as a boundary for the outdoor seating. Obviously these ducks knew they could be assured a meal from sympathetic patrons slipping them streams of tortilla chips. Inevitable jokes about duck tacos soon filled the air. At least you could be assured they'd be locally-sourced.
When our food arrived, Ed #1 was taken aback by the size of his four-dollar side of guacamole: it was no more than a slight dollop in a tiny dish. He asked the waiter to confirm it was the correct item, emphasizing how small it was. "Muy pequeño," he'd say, pointing to the dish and then holding up his thumb and index finger so they were centimeters apart. The waiter shrugged apologetically, but Ed #1 would get no extra guacamole.
The rest of the food all around looked great: the enchiladas were neatly tucked on the plate surrounded by steaming rice and beans; my enchiladas were swimming in the dark, thick, chocolaty mole I'd come to love; while Ed #1's enchiladas enjoyed liberal doses of verde sauce. Ed #2 seemed pleased with his fish tacos; while we all marveled at the sheer size of Brandon's steak quesadilla. And his food looked good, too. Bada Bing!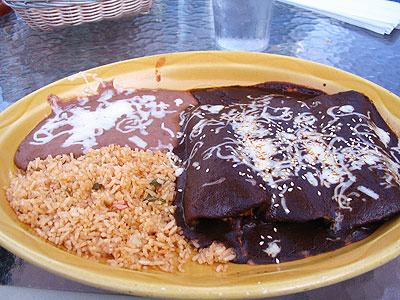 As we dug into our meals, I generally heard praise coming from my friends, but Brandon didn't care for the shell of his quesadilla, dissecting and eating only its steaky innards. My mole enchiladas were as good as ever: the unique, smoky bitterness of the sauce is tasty in its own right atop the tender chicken, but El Pueblo's take on mole is perhaps my favorite in town. The flavors seem complex, and if you've ever read a recipe for mole sauce, it's easy to understand why.
El Pueblo is a hugely successful restaurant, coupling authentic Mexican dishes with more standard, Americanized, Tex-Mex favorites. Given the frequent crowds, it seems they've hit on a winning combination.
El Pueblo
Price: Moderately Expensive ($11 - $16 per person)
Service: Good
Rating: 3.0 out of 4

Cincinnati Bites