Posted Tuesday, March 2, 2010
Much to the joy of foodies across the city, Latin Americans are settling here in droves. They bring with them a rich culture: deep-seated tradition and tightly-knit families with years of culinary expertise. Few places in the area exemplify this quite like Taqueria Mercado.
Mercado doesn't water down its menu with Americanized fare. The food here is the real deal, using fresh, simple ingredients. There are no endless baskets of chips and salsa. There are no jumbo-sized soft drinks, no curiously-Caucasian waiters addressing you as, "Amigo" and no cheesy faux-Mexican music bouncing off the walls. Bask yourself in waves of unpretentious authenticity. Be comfortable with what it is --and what it is not-- or get the hell out.
The restaurant is housed in a strip mall building on Route 4, next to the yellow "Site" gas station and food mart. It's about two miles south of Jungle Jim's. The owners also run the small Mexican grocery store and bakery next door.
Our first visit was a few years ago, and it was initially filled with trepidation. We were, after all, the racial minority in this establishment. We soon felt at ease, however, as the friendly patrons and staff made us realize we're all here for the same thing: good food in a laid-back atmosphere. When in Rome, do as the Romans do, and these Spartans were ordering loads of tacos.
This time, our visit came on a Sunday afternoon, so we arrived to an extremely packed restaurant filled with many families coming from church. Still, it was only a few minutes before we were seated.
Taqueria Mercado's menus appeared to have been updated recently --they were newer and opened up into three flaps-- but I strangely couldn't discern what, if anything, had changed. The taco fillings listed on them range from the familiar to the adventurous: there's everything from steak, pork, chicken and chorizo to the barbacoa, carnitas, tripe, goat, tongue and suadero (a cut of meat similar to brisket).
Tacos are served in the traditional style: a couple corn tortillas, filled with your meat of choice, topped with onions and cilantro. The waitress arrives with three squeeze bottles of different sauces, each with a unique flavor. One is a verde sauce, mild and refreshing; the second is a creamier, smoky chipotle-style sauce; while the final is a spicy, habanero sauce.
I ordered a chicken and a barbacoa taco along with a side of refried beans and Mexican Coke to wash it all down. For the uninitiated, Mexican Cokes are still made with sugar, not the high-fructose corn syrup found in most American soft drinks. My girlfriend ordered her usual vegetarian burrito of beans, cilantro, lettuce, onions and cheese.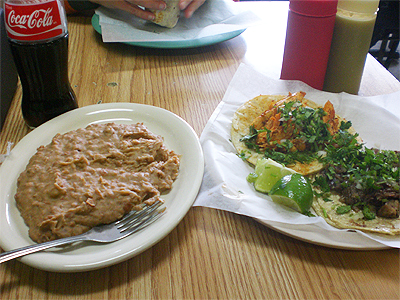 The chicken came in huge, moist chunks; the barbacoa was steamed and a bit fatty for added flavor. As I squeezed the accompanying quarters of lime over my tacos, I felt like I was deep in the heart of Mexico, ordering from a side street taco stand.
Taqueria Mercado's burritos are large and filling, swelling with some of the best refried beans we've ever tasted anywhere. The beans are a meal in themselves and I often order them as a "small side" (read: gigantic plate of beany goodness). They are a magical mash of ingredients I can only assume plot to clog my arteries, and I freely submit to their lardy wonder.
The food is very inexpensive: $2.25 per taco; $4.25 to $7 for burritos, depending on size and fillings. Salads, quesadillas, enchiladas, fajitas, oysters and soups (goat soup all week and Menudo on weekends) are also available. There's a seven-foot-tall, fresh-squeezed orange juice machine that has to be seen to be believed.
We'll often head over to the Mexican bakery next door to pick up a little dessert afterward, but on today's visit, we were too full of beans to do much more than waddle back to our car without exploding in a shower of lard-filled goo.
Taqueria Mercado is one of the most authentic Mexican restaurants in the Cincinnati area. It's no-nonsense, straight up food from the heart and soul of Mexico.
Taqueria Mercado
Price: Cheap (under $11 per person)
Service: Excellent
Rating: 3.5 out of 4
Cincinnati Bites