Posted Saturday, May 23, 2009
Note: the following review is for a restaurant that has since closed.
We readily admit, here and now, that we wanted Chi-nnati's to fail. The new Chicago pizza restaurant is located on Hosbrook Road in Madiera, at the site of the former --and our most beloved-- Jalapeno's Mexican restaurant.
Jalapeno's was among our most favorite in Cincinnati. We were regulars. To us, it was easily the best Mexican restaurant in town. So it was particularly gut-wrenching last year to drive by its once brightly-stuccoed shell and see the Jalapeno's signs stripped away and the place surrounded by a chain-link fence as construction crews tore away portions of the building.
Never again would we enjoy Jalapeno's wonderfully tasty, excellently spiced salsa; never again would I be able to order the Puerto Vallarta, a fillet of snapper covered in a smokey chipotle sauce; never again would I enjoy the mole enchiladas or the black refried beans; and never again would I drink from gigantic plastic glasses of Coke. Goodbye, old friend, goodbye and damn any other restaurant that has the audacity to bury your memory.
And so Chi-nnati's came and I knew I'd rue the day I ever set foot in the place. Or so I thought.
Eventually, cooler heads prevailed. I began learning more about the restaurant from their website. The owner seemed to want more from his pizza place, a happy marriage between Chicago and Cincinnati cuisine. Cincinnatians may remember the days when Uno's was downtown, but Chi-nnati's has a totally different vibe.
We pushed our way through the revolving door to an expansive, open room that immediately seemed elegant and upscale, yet somehow made it known that we should feel comfortable in our jeans. Tables surrounded a large bar already filled with jabbering patrons. Steaming, elevated trays of pizza greeted us from many tables we passed.
When we were seated, a friendly waiter in a colorful Chi-nnati's T-shirt took our drink orders and gave us a brief explanation of what to expect in terms of wait times. It was knowledge we had already attained from both our Chicago trips and our visits to Uno's (as children), but we nodded politely as he explained that Chicago-style pizzas can take anywhere from 30 to 45 minutes to bake.
The menu was surprisingly more expansive than I expected. In addition to the Chicago-style pizzas, there were gourmet, thin-crust pizzas; hearty sandwiches, including the traditional Italian-beef; large, gourmet salads; Chicago-style hot dogs and Cincinnati-style chili dogs; minestrone soup; and Italian-inspired desserts like gelato and tiramisu.
When the waiter told us that one of the most popular pizzas was the BBQ Baconnati, a thin-crust pizza, I decided to shift gears and NOT order one of the Chicago stuffed pizzas. The Baconnati only took about 15 minutes to bake, topped with a smokey-sweet barbecue sauce, cheese, hearty bits of bacon, onions and banana peppers.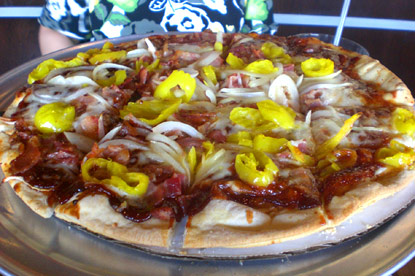 My girlfriend also ordered a cup of the minestrone and the Grilled Veggie Salad with Goat Cheese. Stocked with portobello mushrooms, zucchini, roasted red peppers and eggplant, the salad looked to me to be a meal in itself.
The pizza was delicious; we especially enjoyed the flavor of the crust, in all its light, cracker-like crispiness. There was a good balance between cheese and barbecue sauce, though it could have used a little more cheese around the edges. Strangely, the bacon pieces didn't lend much to the party, seemingly overpowered by the sauce. We both agreed that it'd made for very tasty cold, leftover pizza the next day.
My girlfriend's soup was tasty, though she admitted it seemed a little too oily. Her salad normally comes with a vinegrette, but she chose instead a lighter Italian dressing. Possibly as a result, she felt the vegetables could have been more seasoned, but overall, the salad was very good.
I also noted that our drink glasses seemed to be the same large plastic glasses we saw at Jalapeno's. Was it a nod to the former establishment in addition to all the Chicago pizza joints? We weren't sure.
There had been a debate on how to pronounce Chi-nnati's. I had been calling it, "CHUH-nnati's" while I had also heard it pronounced, "SHI-nnati's" (as in, 'this food tastes like SHI*.'). According to the restaurant rep we spoke to, it is supposed to be pronounced, "CHEYE-nnati's." This further confused us. Shouldn't it sound like the "CHI" in "Chicago?" Maybe the point is to emphasize that the place represents a marriage between two unlikely places.
However it's pronounced, Chi-nnati's is a pleasant surprise and a worthy successor to a greatly-missed Mexican restaurant. Rest in peace, Jalapeno's.
Chi-nnati\'s
Price: Moderately Expensive ($11 - $16 per person)
Service: Good
Rating: 3.0 out of 4

Cincinnati Bites