Posted Sunday, October 4, 2009
Note: the following review is for a restaurant that has since closed.
When the owners of Jalapeno's closed their Madiera location in 2008 after a nearly decade-long run, we lost our favorite Mexican restaurant in Cincinnati. The site is now the home of Chi-natti's, a Chicago-style pizza joint.
There is, in my opinion, a significant lack of decent Mexican fare in this town. We've tried many a new place promising "authentic" Mexican only to be served the usual plate of Americanized, hamburger-filled, liquid cheese sludge wrapped in a flour tortilla.
Jalapeno's had a nice mix of the familiar and the not-so-much: Chimichangas and burritos for the people still weeping over the fall of Chi's-Chi's; and Cochinita Pibil, carnitas, red snapper and mole for the guys and gals graced with a little more Latin in their step.
The folks behind Jalapeno's had tried a quick-serve, Chipotle-esque concept with the opening of another location in downtown Cincinnati, but it failed to deliver the goods, relying too much on a far too scaled-back menu and on a lunch crowd who never showed. Most people working downtown had grown accustomed to finding their food closer to Fountain Square.
Now comes another variation of the restaurant, called Jalapeno's Mex-Mex, located in Cold Spring, Kentucky. Obviously the term, "Mex-Mex" is meant to set the record straight: We ain't Don Pablo's.
The restaurant is situated on the corner of a newer strip mall along the very busy Alexandria Pike. A large, red jalapeno mounted on the back of a pickup truck was the easiest recognizable landmark. Pulling into the place put me a bit on edge; I-471 eventually becomes Alexandria and so everyone is buzzing by at near highway speeds, despite the posted signs. Pulling into and out of this parking lot is not for the faint at heart.
Our first impression of the place was that it's very open and very clean. Lots of large windows let in ample light; the tables and chairs still sported a new glossy sheen; and colorful walls of bright orange evoked memories of the stuccoed outer shell of the former Madiera location.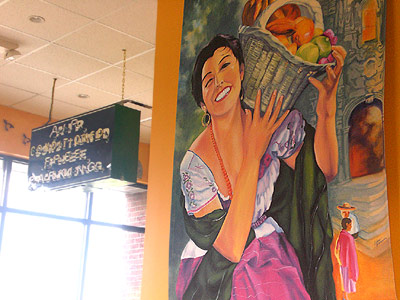 In fact, many of the wall decorations were the exact same ones we'd seen hanging at the old site. It was particularly comforting to find that "Marisa" had found a good home here. This is the name I had coined for a large painting of a woman that had once graced a wall at the old Jalapeno's. The woman had reminded me of the actress Marisa Tomei, for no other reason than the winky smile and the flowing locks of black hair.
My heart sank a bit when I scanned the abbreviated menu on the wall. I had hoped they'd held onto some of my old favorites like the Puerto Vallarta, a red snapper dish topped with a spicy sauce and served with black refried beans. There was no table service: similar to the downtown location, patrons order at the counter and the server later arrives at the table with your meal. A couple daily specials were posted under the primary menu, including enchiladas suizas, which my girlfriend ordered. Otherwise, one's choices are limited to burritos with a number of different meat options, as well as enchilada platters, which include two side items.
I chose a chicken and beef enchilada with a side of refried beans and potatoes, an item I thought surprising to find as a side dish in a Mexican restaurant. The man at the counter invited us to help ourselves to the salsa and fountain drinks while he brought out a fresh batch of complimentary tortilla chips and two small cups of charro beans.
We were pleased to see a salsa bar, reminiscent of a similar setup at a defunct chain of Mexican restaurants called La Salsa. There were several types of salsa available, including the traditional house salsa well known by Jalapeno's fans, as well as a hot and "hot hot" variety that looked like something you'd coat buffalo wings with.
The charro beans were delicious, al dente beans mixed with bacon in a salty broth. The chips and salsa were not unlike those we had enjoyed at the Madiera location.
When our entrees arrived, it occurred to us that it probably would have been possible to order black refried beans instead of the more traditional pinto bean version just as we'd done in Madiera --maybe next time. At first glance, the sauce over my enchiladas appeared to be a mole, but after taking my first bite, I realized it was simply a red enchilada sauce. Still, it was great to have enchiladas rolled in corn rather than flour tortillas.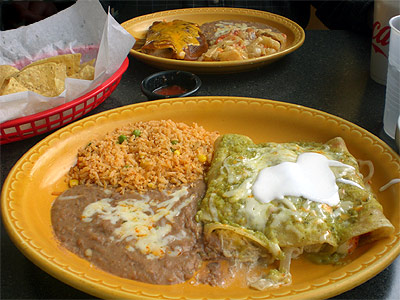 The potato side was particularly intriguing: it looked like a stewed, tomato and potato cheese mixture with a bit of onions for good measure. It had an unexpectedly smoky flavor that immediately reminded us of barbecue; I liked it, while my girlfriend did not.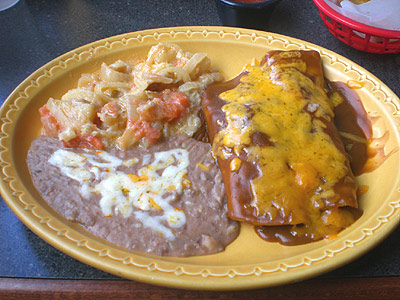 While we can't say we're fans of the abbreviated menu that comes with the over-the-counter ordering style, we did enjoy a substantial savings in price. Two generously-portioned platter meals, plus a fountain drink and complimentary beans, chips and salsa all cost us under $18. We've since been told that if we desire something else not on the short menu, we can simply ask for it and they'll try to accommodate the request.
It's not the Jalapeno's we loved and remember, but it's pretty tasty in its own right and a welcome addition to a short list of really good, low-priced Mexican restaurants.
Jalapeno\'s Mex-Mex
Price: Cheap (under $11 per person)
Service: Good
Rating: 3.0 out of 4

Cincinnati Bites