Posted Sunday, July 21, 2013
The Hyatt Regency completed in July a $23 million room and lobby renovation, introducing along with it a new "farm-to-table" restaurant called, Red Roost Tavern (not to be confused with Red Roof Inn, the cheap hotel with really lumpy beds).
Having never visited the downtown Hyatt before July, I had no frame of reference to understand where all that money went. People are swooning over the Hyatt's new contemporary feel, the clean decor, the elegance. To me, it looks a bit sterile and minimalist, the kind of place Stanley Kubrick loved to film his creepy stories. Open, airy, with very little furniture, the lobby would fit well in a scene from "2001: A Space Odyssey."
Red Roost Tavern is an extension of that minimalist approach, with two distinct sections for lunch and dinner patrons. The area of tables surrounding the bar offers clean lines and the obligatory, inescapable abundance of LCD screens, giving the diner an extra option beyond a smart phone to divert attention away from fellow diners and their boring blah-blah.
Despite this, the Tavern's breakfast, lunch and dinner menus all look lovely. A list of local farms, creameries and other food purveyors grace the left-hand column. Short and sweet and delectable descriptions of entrees keep the menus clean and easy, though you might still find it a struggle to commit to any one item.
For breakfast, the goetta & sweet potato hash with poached eggs battles for superiority over the lavender french toast with bourbon syrup, which in turns fends off an attack for attention by the crab and asparagus omelet armed with leeks, asparagus and roasted tomatoes.
For lunch, anguish over the merits of a $14 plate of peppered papparedelle with beef short rib in a pinot noir ragu, pit against the $13 Cincinnati Spiced Bison Burger, with blackberry ketchup, arugula and avocado on a fluffy brioche bun.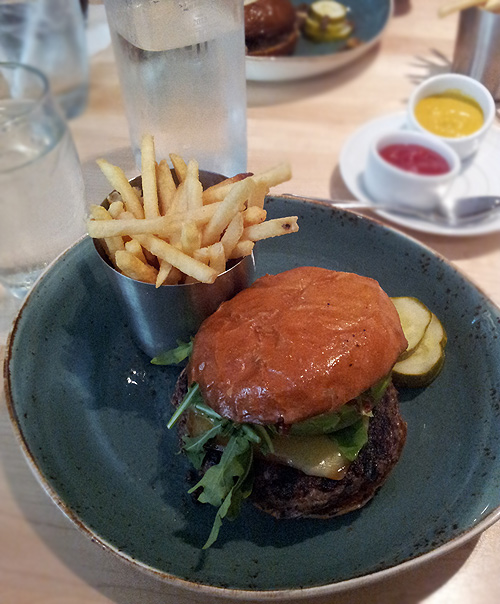 Dinner options include a number of hits inherited from the bar's lunch menu, a selection of flatbreads and entrees ranging in price from $15-34 featuring sustainable vegetarian, meat and seafood proteins. Sun-dried tomato ravioli, slow-roasted Berkshire pork loin and a unique, non-fried take on fish and chips are featured on the most recent seasonal menu.
Lunch prices are considerably steeper than what the average diner can typically afford: a $13 bison burger, grass-fed burger or roasted turkey club is nearly double what the typical downtowner is accustomed to. While this is not unusual for the privilege of enjoying "thoughtfully-sourced, carefully served" cuisine, it's also not exactly sustainable for most 9 to 6'ers who are lucky if they can afford an $8 lunch.
Our two visits to Red Roost so far have been around the noon hour. Everything we've tried has enjoyed raves except for the $12 portobello panini, with hummus spread, mixed greens, heirloom tomatoes on focaccia. The mushrooms had been blended with a biting vinaigrette that was a bit too overpowering, especially given the strong motivation to savor every rich note of locally-sourced produce.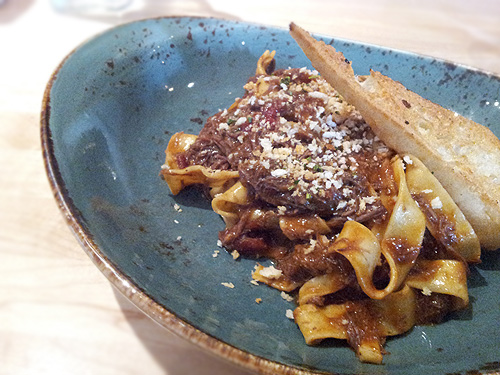 Most of the lunch entrees sport a now en vogue metal tin filled with thinly-cut, piping hot, deliciously salty french fries. The Cincinnati Spiced Bison Burger was large with two heaping quarters of avocado. Now that I've had a chance to try it, I understand what "Cincinnati Spiced" means; it seems to pay homage to the mysterious, musky spice blend found in Cincinnati chili, which cuts through any hint of the meat's gaminess. House-made pickle slices added an extra, fresh element to the sandwich, while the blackberry ketchup was barely noticeable.
My favorite lunch item was the peppered pappardelle. The bountiful wisps of beef short rib throughout the ragu made for a hearty, satisfying meal. The peppery pasta was cooked a perfect al dente with a pleasing chew that, like any good bowl of pasta, I never wanted to end.
Red Roost Tavern is another in a line of quality, high-end restaurants exploding onto the downtown Cincinnati scene. Time will tell whether it can consistently attract more than the guaranteed hotel guest traffic.
Red Roost Tavern
Price: Expensive ($17 - $30 per person)
Service: Good
Rating: 3.0 out of 4

Cincinnati Bites