Posted Tuesday, March 19, 2013
By no means am I an authority on sushi. If it's on a menu, I'm apt to ignore it. 90% of my sushi experience amounts to what I pick up at area supermarkets. But there is something about Fusian, the downtown fast-casual sushi restaurant, that speaks to me.
Several years ago, when Fusian first started out on 4th Street and called itself, "Soho Sushi," I'd dismissed them as something faddish, unlikely to succeed past their first year. Wrongo. Sushi is more popular than ever, and Fusian has since expanded to several locations outside Cincinnati.
As a lifelong seafood fan, I'm struck by a wave of guilt each time I dine on the fish I know will likely not exist in the wild 20-30 years from now. I realize what I'm doing is likely contributing to tuna's demise and, even though I often check out the Monterey Bay Aquarium Seafood Watch list, patting myself on the back for knowing what seafood is sustainable, I do next to nothing with said knowledge, continuing to eat whatever fish is sold to me without question.
Fusian's seafood sources vary from season to season, so if you're concerned, feel free to ask them. As for me, I stick almost exclusively to their tuna, though they offer a wide variety of proteins, including chicken, fresh and smoked salmon, steak, eel, shrimp and tofu.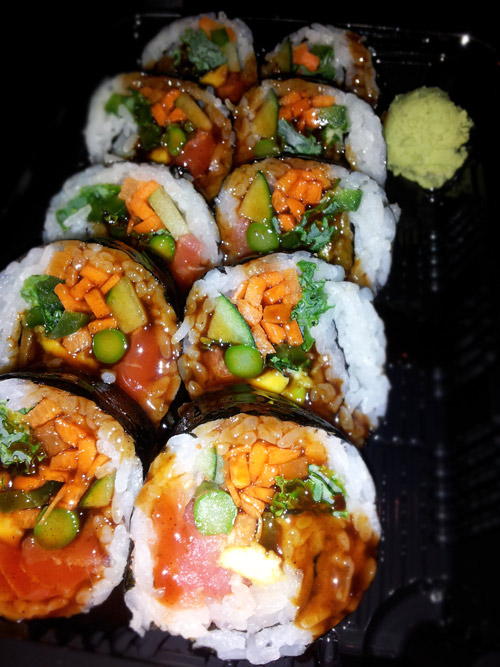 Ordering at Fusian is not unlike a fast-food burrito experience, which makes the assembly-line process both familiar and comfortable. Like Chipotle, Qdoba and Currito, you move down the line, first choosing the style of your sushi wrap (seaweed or soy), your protein, a variety of vegetables (typically carrots, cucumber, asparagus, avocado, green onion, jalapeno strips and a "vegetable of the month"), your sauces and toppings, and optional sides of wasabi and strips of pickled ginger.
My first visit to Soho years ago was a bit intimidating --the people around me all seemed to intuitively know what they were doing, which left me feeling frazzled. Soho's menu wasn't as streamlined as Fusian's is now, so the process is much easier. Still, I remain self-conscious every time I step foot in the place, like I'm the lone disheveled, rumpled plumber in a sea of young, well dressed, worldly socialites.
Ranging in price from $6.95 - $8.95, Fusian's rolls are fairly competitive given they are sliced into 10 unusually large pieces vs. the more typical 8-12 smaller pieces found at the grocery. Everything is made fresh and quickly consumed, with very little chance for ingredients to dry out in bins. Fusian's wasabi is some of the most eye-watering explosive stuff I've tasted, but maybe that's only because I'm used to the tamer store-bought variety.
Fusian's expansion also involves a school lunch program in which they've introduced their product to area students, which I find an intriguing idea --a way to get kids to realize healthy food doesn't have to taste like cardboard. The young entrepreneurs at Fusian are poised for a level of success few restaurateurs have been able to pull off, something well worth admiring.
Fusian
Price: Cheap (under $11 per person)
Service: Good
Rating: 3.0 out of 4

Cincinnati Bites