Posted Tuesday, December 6, 2011
This is the time of year Tom + Chee lives for. An ominously chilly nip fills the air; the flu shot lines get longer; and freshly fallen leaves are replaced by flocks of birds assembling on gnarled branches just before their southern migration. It's soup season.
For many a childhood, nothing beat back the winter blues quite like a steaming bowl of tomato soup complimented by a warm, gooey grilled cheese sandwich. Feeling returns to fingers and a glow warms the cheeks when we bite into that first toasty wedge dunked in hot soup.
Tom + Chee capitalizes on that childhood memory. With humble beginnings serving sandwiches from a makeshift booth on Fountain Square, the restaurant has graduated to two brick-and-mortar locations: one just across the street from the Court House; the other at Newport on the Levee.
I've visited the Fountain Square and Court Street locations many times, but this was our first chance to try the one in Newport, which fills the space previously occupied by Habanero and Moe's. The place was filled to capacity upon our arrival and a line had formed from the register to the door.
Tom + Chee offers more than twenty varieties of grilled cheese sandwiches, some with so many toppings that it stretches the definition well beyond its boundaries. While a smooth, chunky and creamy-style tomato soup remain permanent fixtures on their menu, a daily rotating set of one or more other soups are also available, as well as daily grilled cheese specials. Sweet-and-savory grilled cheese doughnuts are on tap, satiating those with a penchant for insulin shock.
Walking into Tom + Chee's Newport location at the height of the weekend lunch rush is not for the faint of heart. Standing in line, you'll find their full-wall chalkboard menu hard to scan since the people in line ahead of you will be blocking anything at the six-foot level and below. For me, this wasn't a problem. For my girlfriend, who is a foot shorter, it was quite a challenge.
Despite the difficulty, we managed to decide what to order by the time it was our turn at the register. My girlfriend chose the "Hippy + Chee," with cheddar cheese, hummus, cucumber slices, lettuce and tomato on toasted wheat bread. I opted for what has become my go-to favorite, the "Swiss + Shroom," with grilled onions, mushrooms and Swiss cheese on toasted Rye. I also chose a cup of their daily soup special, the beer cheese, a creamy blend that looked well-suited for maximum dunkage.
We stepped aside in a nook opposite the cooks as we awaited our to-go order. Five were manning the line, deftly keeping up with a dizzying and ceaseless onslaught of tickets. Their efficiency and cool-headedness amidst the busyness was impressive. The grill was neatly filled with at least a dozen grilling sandwiches at a time; supplies of toppings were kept perpetually filled; instructions were called off and responded to quickly. Given how many orders had been ahead of us, it was amazing to get our lunch inside of 15 minutes.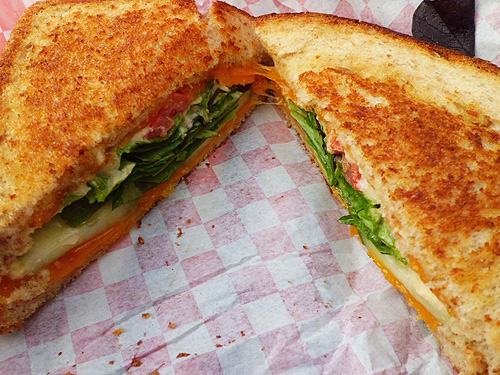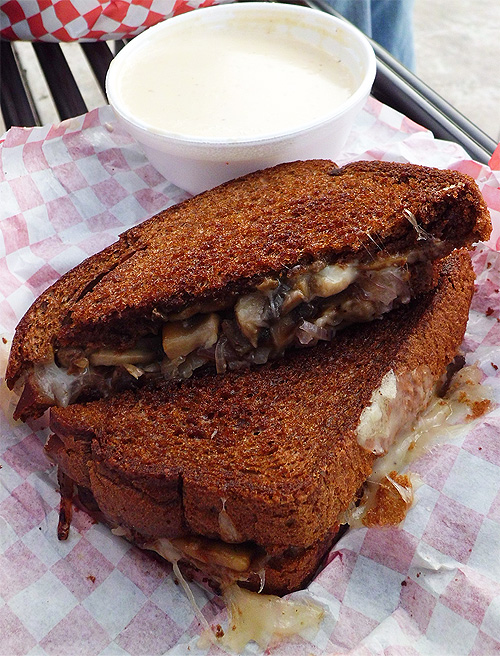 Since all indoor seating was taken, we sat outside on one of the Levy's park benches. The sandwiches looked toasty, gooey and decadent. My beer cheese soup's pale yellow color belied its cheesy flavor, and it was satisfying dunking a half of my Swiss + Shroom into the appropriately wide-mouthed cup (they sell a smaller "dipper" size whose container looked too small for dunking, but I haven't tried it to confirm).
While my girlfriend really loved the look and texture of her sandwich, she felt the mild hummus made the grilled cheese too muted in flavor; it seemed like it needed either a spicier hummus or a stronger cheese to hold up to the watery cucumber, lettuce and tomato. I, however, had no complaints about my soup and sandwich combo.
The only tomato soup variety that I've ever tried at Tom + Chee is the "chunky," and only because they'd run out of the "classic" and "creamy" versions. The soup was more like a chunky marinara sauce, which didn't feel right given my childhood memories of that milky, smooth Campbell's mainstay. I suspect the "classic" and "smooth" directly address those of us who'd grown up on the canned stuff.
Tom + Chee is the perfect lunch year-round, but particularly during the fall and winter seasons. Their prices are reasonable, the service is very good and the childhood flashbacks are priceless.
Tom + Chee
Price: Cheap (under $11 per person)
Service: Good
Rating: 3.0 out of 4

Cincinnati Bites