Posted Wednesday, March 23, 2016
The phrase, "fast casual" was first coined in the 1990s, describing small restaurants lacking table service and serving a very limited, specialized list of ingredients. Panera, Boston Market, Fuddrucker's and Noodles & Company were among the earlier incarnations, but it was Chipotle that set the stage and tone for the future of fast casual dining. Chipotle is simple, sleek and hip, with an easy-to-order menu and food display bin concept that's probably one of the most copied in the industry.
Cincinnati has seen its own share of fast casual restaurants, including Fusian and Tom + Chee. Fusian's meteoric rise began as "Soho Sushi" downtown before rebranding and multiplying to nine locations in three cities with a tenth slated to open in Clifton this year. Tom + Chee, the Cincinnati-based soup and grilled cheese eatery that enjoys seed money from the show, "Shark Tank," now has more than 30 locations nationwide. Fusian and Tom + Chee owe a lot --if not all-- of their success to Chipotle, as do other regional fast casual chains like Currito, Qdoba, Cucinova, Piada and Five Guys.
But what happens when the business model these restaurants have copied falls from grace? As of this writing, most major financial analysts have downgraded Chipotle investments following the company's disastrous E. coli and norovirus outbreaks last year, which shut down 43 Chipotle locations across four states. Stock in the company dropped 39%, from a ridiculously high $750 per share to its current price of a still-overvalued $455 per share. Chipotle is trying to restore its reputation with reassuring commercials from the CEO and a massive employee re-education campaign that included closing all its stores for one day.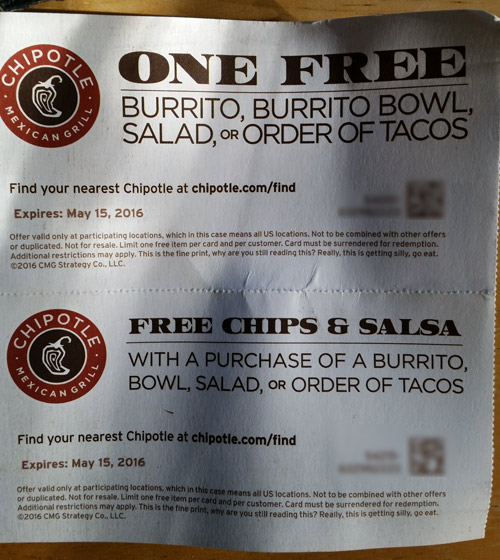 Free burrito coupon. Thanks, Chipotle!
Now Chipotle is spending $70 million on free burrito coupons sent to anyone on its apparently random mailing list. I received mine last week, and it'd been burning a hole in my wallet. And while I'm not the biggest fan of food chains, I also can't claim to avoid them outright. In fact, I grew up on regular doses of Taco Bell, McDonald's, Lee's Famous Recipe, Long John Silvers and, later in life, Skyline. So let's return to the home of "Food with Integrity"™.
I alternate between two kinds of burrito bowls, having long since abandoned the 300-calorie flour tortilla. My first is the barbacoa, with white rice, pinto beans, fajita vegetables, tomato salsa, roasted corn salsa, red-chili salsa and romaine lettuce. This comes to 650 calories and an extraordinary 2725mg blast of sodium and 19.5 grams of colon-blowing fiber. My second option is a vegetarian burrito bowl, with everything previously mentioned, minus the barbacoa, and plus guacamole. This version is actually worse for me than the meat version in terms of calories, but slightly less salty, at 715 calories, 2570mg of sodium and an ass-ripping 24.5 grams of fiber.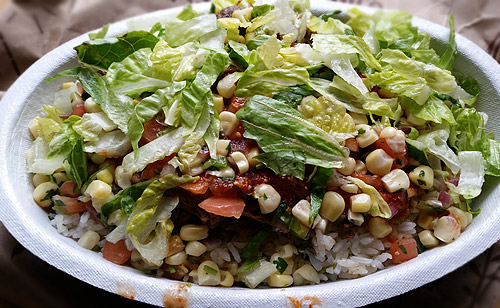 Barbacoa burrito bowl
My latest visit to Chipotle proved uneventful. There was surprisingly no line, though I visited during an off-peak period in the afternoon. I selected my ingredients and watched the pleasant "burrito stylist" pile them into the bowl with abandon. I presented my free coupon and they happily accepted it. Freebie guilt flowed through me so I placed a bill in the tip jar.
The aroma from the barbacoa beef and fixins wafting through my car cabin was as strong as it was relentless on the way home. It's interesting how every fast food and fast casual restaurant item offers reliably identifiable, trademarked smells.
After tearing through my burrito bowl in mere minutes, carefully budgeting morsels of tender beef into each bite, I was overwhelmed by an extreme thirst induced by the bowl's four-digit dose of sodium. But after several hours, I can happily report that there is no sign of pending food-borne illness.
Time will tell whether Chipotle will bounce back from its woes, but given our culture's short attention span, I wager the odds are in the company's favor. Fast casual is here to stay.
Chipotle Downtown
Price: Cheap (under $11 per person)
Service: Good
Rating: 3.0 out of 4

Cincinnati Bites