Posted Monday, February 10, 2014
Coal-fired ovens hold a special place in the hearts of New Yorkers. Lombardi's, said to be the country's oldest pizzeria, has been baking its pies in such an oven since it first opened in Manhattan in 1905. Paying homage to that early American tradition is Delicio Coal Fired Pizza, a new restaurant in Montgomery marrying Italian classics with the flavors of the Southwest.
Delicio's oven makes an impressive centerpiece, a round island of rough-cut stone, gleaming tile and polished metal taking up a third of the room. Tables and booths wrap around it into two distinct dining areas, each set off with a warm, upscale sports-bar feel, complete with an abundance of brightly-lit LED screens.
We sat near a window giving us a full frontal view of the oven's glowing maw. Surrounding the oven like a moat was a semi-circle workstation buzzing with activity. A team of cooks stood behind it tossing pizza dough in the air or arming themselves with long-handled pizza peels, keeping a vigil over blistering pies, mounds of chicken wings and neatly stacked rows of large, doughy "brezels" queued for baking.
The hostess handed us two menus and an iPad before leaving us to puzzle over the items. Fortunately, we'd heard about Delicio's unusual ordering process: you can order either through the wait staff using the traditional menus or by fiddling with the iPad. The "high-tech" option seemed both unnecessary and gimmicky. The iPad given to us had a dirty, smudged screen, which made me wonder whose grubby fingers had last touched it. Unless you're New York City Mayor Bill de Deblasio, you're going to eat pizza with your hands, so why deal with a device that, according to several articles, can harbor more bacteria than what you'd find on a toilet?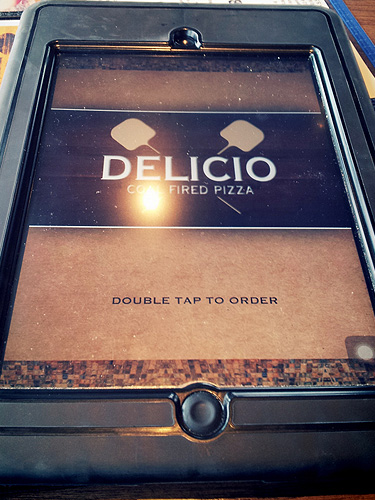 Delicio's Unnecessary iPad Ordering Method
(double tap to ensure the pizza zombie's dead!)
Our friendly waitress arrived to take our drink orders and, when asked about the iPad, said, "Just order through me. Forget about using that." Perfect answer.
In addition to 11 signature pizzas, Delicio's menu offers four enticing starters, five salads and three mouth-watering sandwiches served with toasted pita points. We were intrigued by the Brezels & Dip, gigantic, coal-fired soft pretzels served with either a green chili queso or a fire-roasted tomato sauce, but thought we'd go into carb shock eating it along with a pizza. Instead, we opted for the Coal Fired Wings, oven roasted chicken marinated in a jalapeno-cilantro-lime vinaigrette and smothered in a caramelized mix of peppers and onions.
All the pizzas seemed intriguing, including the Kokopelli, with spicy chorizo, fire-roasted tomato sauce, green chilies and cheese. We ultimately chose the Italian-inspired Eggplant Parmesan, featuring seared eggplant, mozzarella, fire-roasted tomato sauce, roasted garlic and parmigiano-reggiano.
Our pizza arrived slightly ahead of the chicken wing starter, which may have been due in part to our ordering both simultaneously. I suppose it would have been nice to have had these served in their expected order, but given how fast everything's cooked, it wasn't a big deal. The pizza was quite a bit larger than other area artisan pizzas we've seen around town, easily accommodating two hungry people (or three skinny supermodels).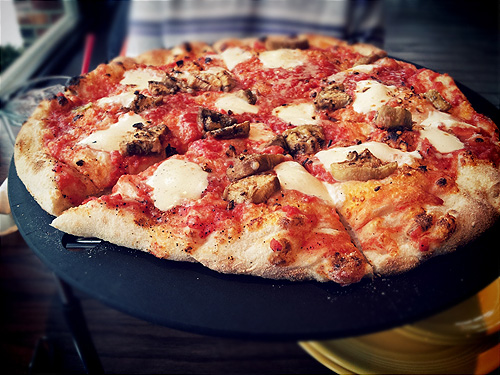 Eggplant Parmesan pizza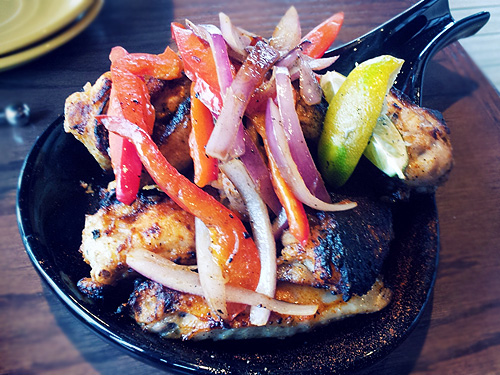 Coal Fired Wings Smothered in Fajita Mix
The pizza sauce was vibrant, fresh and tomatoey and there were good hits of roasted garlic and mozzarella throughout the pie. I didn't expect to pick up even the slightest soupçon of anthracite flavor, and there was none, thankfully. We felt the crust could have used an extra minute or two in the oven as it wasn't very crispy and lacked those signature burnt edges we enjoy so much. The eggplant was good, but we'd expected a more generous amount of the topping given that the pizza features it in the title. It was a good pie overall, with minor flaws.
The Coal Fired Wings were a nice respite from the typical fried buffalo wings. The appetizer reminded me not so much of the Southwest as it did a sizzling Chicken Tikka dish found at any Indian restaurant. I don't believe it arrived sizzling but that would have been a nice touch. The acid from the lime brightened an otherwise mild vinaigrette marinade and the caramelized crust of skin on each wing was particularly tasty. The fajita mix of onions and red peppers helped carry the juicy chicken meat.
Delicio Coal Fired Pizza hit mostly positive notes on our first visit. We look forward to trying their wide array of pizzas and sandwiches next time. We trust by then they'll have dumped the stupid iPads.
Delicio Coal Fired Pizza
Price: Moderately Expensive ($11 - $16 per person)
Service: Good
Rating: 3.0 out of 4

Cincinnati Bites