Posted Monday, July 11, 2016
Cincinnati cuisine gets an undeserved bad rap for not offering enough variety. Yet, if we just took the time to scratch under the shallow subsoil of hipster burger joints and cheese coneys and chili parlors, we'd see a rich, thriving wellspring of diversity that's been here for decades. And it's growing.
Sure, there are cynical, narrow-minded naysayers out there who'd rather we food writers just shut up and "stick to coneys and pizza," but where's the excitement in that?
One of the biggest shifts in population here has come thanks to a healthy influx of Latinos, who have brought not just their rich culture but a wealth of culinary expertise spanning many generations. Who knew, for example, that there'd come a day in which a Cincinnatian could sit down to enjoy the same kinds of dishes eaten thousands of miles away, in Peru?
And yet, with Sabor Peruano, located in Fairfield, one can do just that. The Peruvian restaurant had actually been open for business for more than a decade off Dixie Highway, before a kitchen fire tragically burned the original corner location to the ground in November, 2014.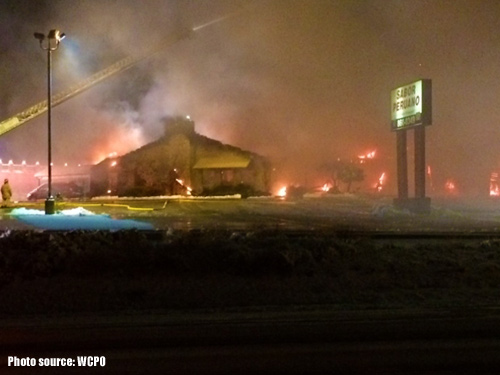 Sabor Peruano fire in November, 2014
But the owners regrouped and soon reopened just a couple blocks from their original location, housed in the same mostly vacant Woodridge Plaza Shopping Center that also hosts the Ohio Valley Antique Mall. The new restaurant is cavernous and unfortunately lacks a lot of personality: it could easily double as a wedding reception event center. Despite sporting a no-frills ambiance and remaining relatively unknown to most area gringos, Sabor Peruano still belts out authentic Peruvian delights to a bustling and mostly latino customer base.
My girlfriend and I have visited Sabor Peruano several times over the years, including a stop shortly before our trip to Peru. We then followed up with our most recent dinner there last month. After all this exposure, you'd think I'd be able to effortlessly describe Peruvian cuisine. Alas, due to it's multicultural origins, it's not very easily categorized. It's very unlike Mexican food, very unlike Spanish cuisine.
We can at least confirm the cuisine's heavy emphasis on potatoes. After all, nearly all forms of potatoes are genetically linked back to southern Peru and Northern Bolivia. The multitudinal varieties of the starchy vegetable there are dizzying. Chicken, beef and fish are also Peruvian mainstays (not to mention guinea pig, or "cuy"), with ceviche being particularly popular along the coastal towns. Peruvian cuisine can be both simple and clean in one location, yet rich and complex in the next. Its diversity matches the country's varying elevations and marriage of Incan and European cultures.
Nothing on Sabor Peruano's menu attempts to Americanize the dining experience: what you've got here is very faithful to the the dishes we marveled over in Lima, Cusco, Puno and other cities. Still, there's a lot for even the pickiest of eaters to enjoy.
I started off with one of my favorite Peruvian non-alcoholic drinks: chicha morada. This purple corn-based concoction is extremely sweet and spicy, with heavy notes of cinnamon and clove.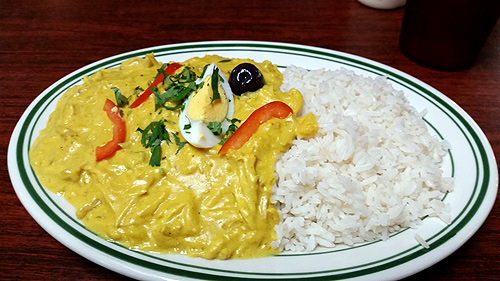 Aji de Gallina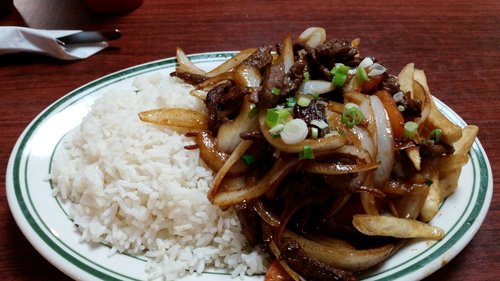 Lomo Saltado
My tried-and-true carnivore-friendly dish is Lomo Saltado, with marinated strips of sirloin stir-fried with onions and tomatoes soaking a bed of french fries and a side of white rice. A chicken version is also available.
My girlfriend opted for the Aji de Gallina, a mildly spicy creamed chicken dish with potatoes made an electric yellow from the Peruvian aji peppers. It's topped with a hard-boiled egg wedge, a black olive and served with a side of white rice.
Arriving just prior to our entrees was a small container of extremely spicy, verdant green aji pepper sauce, which in the United States is made typically with jalapeno peppers, onion and cilantro. Add just a dab to any entree for an extra spicy kick, but be warned: a little goes a long way.
Both dishes arrived piping hot with a striking presentation and generous portions. While my french fry-steak dish was best eaten immediately, the Aji de Gallina actually gets better as morning leftovers.
Sabor Peruano is a Cincinnati institution to be cherished as much as we do our LaRosas' and Skylines. Kick your trepidation squarely in the nuts and give this place a try.
Sabor Peruano
Price: Moderately Expensive ($11 - $16 per person)
Service: Good
Rating: 3.5 out of 4
Cincinnati Bites