Posted Sunday, February 2, 2014
Note: the following review is for a restaurant that has since closed.
Meatball Kitchen opened less than a month ago on Short Vine in Corryville, near the UC campus and Clifton. I'm not originally from Cincinnati, but my girlfriend, who is, says they've been trying to "revitalize" Short Vine for the last 30 years. Perhaps with the help of new restaurants like this one, 2014 will mark the year they finally achieve this feat.
We stopped by a couple times to try their various menu items. Meatball Kitchen lives in the newer developments north of the Vine and University Ave. intersection, next to Donato's. Parking improves the farther north you get from Bogart's and we had surprisingly little difficulty securing a spot along the street.
Meatball Kitchen has adopted the popular Chipotle barebones model both in menu organization and interior design: the gray-painted space is sparsely decorated, with simple tables and metal chairs, exposed pipes and an overall "industrial motif" that complements the redeveloped end of Short Vine and the UC Central Utility Plant it overlooks.
The simple menu is divided into a three-step meatball-assembly process ranging in price from $6-$8. At the counter, choose among four types of meatballs: beef, turkey, spicy pork or vegetarian; decide whether you want the meatballs to rest on a bed of house-made focaccia, topped on pasta or on a bed of greens; and finally choose among a marinara, meat and béchamel sauce (the salad option comes with an apple/parsley red wine vinaigrette).
Six side items are featured: a savory onion/garlic "bread pudding"; smoky coleslaw; a Sriracha sweet potato mash; spicy sauteed kale; a seasonal roasted vegetable; and a side salad. A single side is $2 while two sides are $3. A meatball "burger" and mini buffalo chicken meatball dish are also available.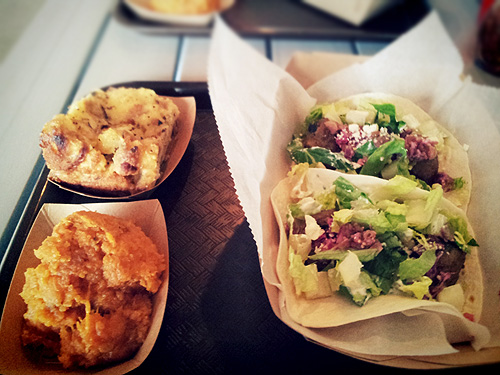 Chicken Meatball tacos with a side of Sriracha sweet potato mash and onion-garlic bread pudding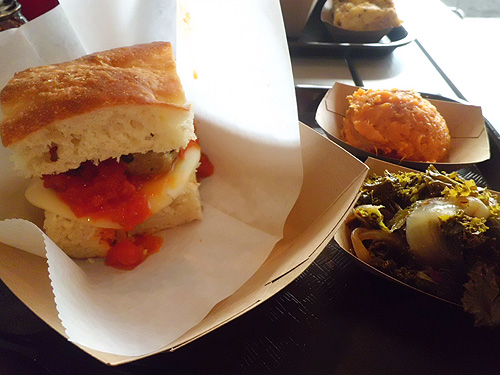 Turkey meatballs on foccacia bread with a side of spicy kale and Sriracha sweet potato mash
On our first visit, a chicken meatball taco special was offered, which sounded too delicious to pass up: chicken meatballs mixed with black beans, resting on two flour tortillas topped with cilantro crema, romaine lettuce and feta cheese. I also chose a side of the garlic/onion bread pudding and the Sriracha sweet potatoes.
My girlfriend ordered the turkey meatballs in the focaccia sandwich format, topped with marinara and a slice of melty provolone. She opted for a side of the spicy sauteed kale and the sweet potato mash.
Our orders arrived fairly quickly and I was pleased with the overall size of our selections. Each meatball order comes with three meatballs, which are a little larger in diameter than those you'd find at Subway. My tacos were easily my favorite: the saltiness of the feta along with the rich black bean flavor worked harmoniously with the chicken and textural crunch of the romaine. We both loved our side of Sriracha sweet potatoes thanks to a very assertive sweet potato flavor, and despite it lacking the expected Sriracha heat.
The side of onion/garlic bread pudding was akin to a slab of Stove-Top stuffing. I enjoyed it, as stuffing usually evokes happier childhood memories. What a great combo it would be if Meatball Kitchen offered a Thanksgiving plate, utilizing their turkey meatballs in combination with some sort of inventive cranberry relish, a nice slab of their bread pudding topped with gravy and a side of sriracha sweet potatoes.
My girlfriend's turkey meatball sandwich with marinara and provolone was good and the fresh-made focaccia was tasty, but she felt the two separate fluffy slices of bread were the wrong vehicle for the meatballs. She thought the bread needed to be a crustier Italian variety, cut on one side like a bun to enclose the meatballs rather than served open sandwich style. She found some difficulty securing the ingredients as she took each bite.
The spicy sauteed kale was similar to collard green preparations found at many barbecue restaurants. This version was too vinegary for our tastes and lacked much heat. The selection of sides overall seemed a little too healthy given the restaurant's proximity to UC and their late-night weekend hours. If I were an inebriated college student, I think kale, coleslaw and sweet potatoes would be the farthest from my mind. I'd instead be seeking something greasy and maybe fried to accompany the meatballs.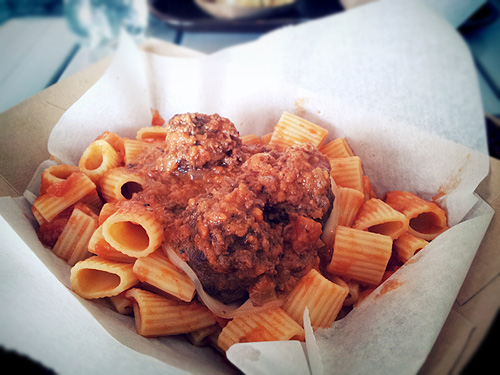 Pork meatballs on mini-rigatoni pasta
On a follow-up visit, I really enjoyed the spicy pork meatballs resting on a generous bed of mini rigatoni pasta, meat sauce and provolone cheese. The combination is my favorite so far, featuring a stick-to-your ribs heartiness that's quite satisfying. The sauce was bright and tomatoey and the meatballs harbored a sly hint of Cincinnati-style chili flavor --perhaps a smack of cinnamon or allspice was slipped in to bring out a bit of locality to the dish.
Meatball Kitchen showcases the versatility of the meatball very well. The restaurant is a great addition to the Short Vine area and we are looking forward to trying all their varieties.
Meatball Kitchen
Price: Cheap (under $11 per person)
Service: Good
Rating: 3.0 out of 4

Cincinnati Bites