Posted Saturday, March 29, 2014
Elephant Walk Injera & Curry House, which opened this month in Clifton, is among a very short list of area restaurants featuring Ethiopian cuisine, a list that includes Habesha in Cheviot and Emanu in Pleasant Ridge.
The married couple who own Elephant Walk offer a unique twist: two very different menus representing their respective homelands: one featuring North Indian cuisine as well as a menu highlighting delicacies from across the Arabian Sea, in Ethiopia. Mixing items from the two menus is encouraged. The restaurant resides in the new U Square @ the Loop development along West McMillan St. in Clifton, next to Mr. Sushi and across from Pomodori's Pizza and a Stop -N- Go.
We entered one weekend evening and were slightly taken aback by the sheer size of the place. It's a vast and open space with plenty of elbow room, a semi-open kitchen in the back, a long bar, an abundance of tables and barely broken-in booths set with purple linen napkins.
The menus are expansive and perhaps a bit intimidating, particularly for most of us with little-to-no experience with Ethiopian food. The Indian menu is the easy part: if you've ever been to one of the many Indian restaurants in town, then you'll find most of your usual favorites here, including Chicken Tikka, Rogan Josh, an assortment of Naan and many other familiar North Indian entrees.
The Ethiopian menu is slightly trickier. The key to liking Ethiopian cuisine is embracing Injera, the uniquely flat, spongy bread on which many dishes are served. For many, this is the deciding factor on whether they'll like Ethiopian food at all. The texture of Injera, which is made from an allegedly gluten-free grain called "Teff," is unlike anything most Americans have ever experienced. Some people bred exclusively on crunchy French loaves, biscuits and Wonder Bread may find Injera's texture too foreign to enjoy. But it's certainly nothing to be scared of --Injera is quite delicious and, truth be told, a great deal of fun.
Ethiopian entrees usually arrive on a platter and are best experienced sharing with two or more people. The platter is covered with a layer of Injera bread, then topped with ordered sides and entrees. Additional rolls of Injera usually accompany the platter so patrons can tear off pieces of the bread and use them as edible utensils. Simply identify the morsel of food you want, slap a swatch of Injera over it, then pick it all up by pinching the bread with thumb, middle and index fingers.
Beyond the bread, Ethiopian cuisine is an assortment of pleasingly familiar flavors: hearty beef simmered in thick, tomatoey sauces; sauteed, marinated chicken breast; tender lamb; and a variety of vegetarian options like smokey collard greens, spiced cabbage and thick, stewed lentils in either a red or yellow sauce.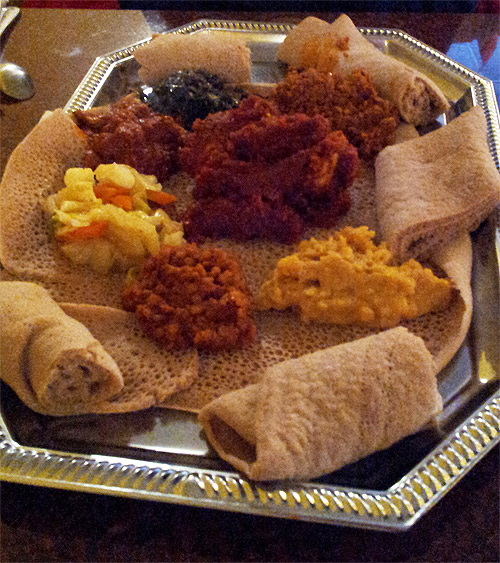 Ethiopian combo platter
We ordered one of the $28 Ethiopian combos for two, which included three meat and four vegetarian entrees, all served on a platter. The amount of food was extraordinary and easily would have fed three people. As it stood, we had plenty of leftovers.
Having visited Emanu in Pleasant Ridge quite often, we were familiar with the tear-and-eat program. The best part of the platter dining experience is eating the bottom layer of Injera that the entrees had been resting upon, giving time for all the meats and sauces to infuse into it. Injera holds up surprisingly well given all the wet sauces it comes into contact with; I had expected my day-old leftovers to be a soggy mess but instead found a delicious, intact meal awaiting me.
Elephant Walk is a great place to experience Ethiopian food for the first time, and you should avail yourself of the opportunity, for there are only a few options in Cincinnati. We look forward to trying the Indian side of their menu very soon.
Elephant Walk Injera & Curry House
Price: Moderately Expensive ($11 - $16 per person)
Service: Good
Rating: 3.0 out of 4

Cincinnati Bites