Posted Sunday, September 18, 2016
There's an unusually high concentration of Asian restaurants in the Hyde Park/Oakley area. Indeed, I often regard this region as "Little Asia." The area sports a host of Indian, Vietnamese, Chinese, Thai, Turkish and Korean restaurants, often only a couple doors from one another, as well as myriad sushi options. The latest addition, 3501 Seoul, sits across the street from Bangkok Bistro, and both restaurants are only a couple blocks from China Gourmet.
The new restaurant is owned and run by Shelly and Mike Choi, who also opened The Korea House in Symmes Township more than a decade ago. The name, "3501 Seoul" is a nod to both the new restaurant's physical address on Erie Avenue and its cuisine's Korean roots (except, of course, for the obligatory sushi menu that discriminating Hyde Parkers seem to demand from every Asian restaurant, no matter how out-of-place it seems).
Aside from the sushi, the menu looks as impressive as it is intimidating in spots, with hard-to-pronounce names like "Yachae Pajon" (Korean-style pancake), "Mae Woon Dak Bokgum" (stir-fried chicken in chili sauce), "Yook Gai Jang" (beef and sweet potato soup in a spicy broth), and many more. Entrees are accompanied by the traditional "banchan" side dishes typically served just prior to the meal.
3501 Seoul's parking lot is so tiny and hard to navigate that it might as well not exist. With only a few parking spaces, it's always full, so there's no point in trying unless you have a masochistic need for frustration. Seoul inherits the parking shortage that virtually all restaurants on Erie Ave. endure. If you want to save a lot of headache and anxiety, it's best to park along the residential streets behind Bangkok Bistro and walk.
We sat down to find the place half full but filling quickly. A sushi bar was up front along with a tacky big screen TV hanging from the wall. With everyone carrying a smart phone these days, do we really need one more distraction from our meal?
Our starter item was the sweet potato tempura, which I mistakenly imagined would be similar to an American sweet potato. Instead, this seemed more akin to a regular potato, starchier, cut into slices and deep fried. The appetizer was ok for the first few minutes, but was essentially flavorless as the lightly-battered pieces got cold. They desperately needed some kind of dipping sauce to cut through the starchy heaviness.
My girlfriend ordered the chicken dolsot bibimbap, the classic crispy rice dish of meat and vegetables and egg mixed with a spicy gochujang sauce. I chose the Je Yook Bokgum entree from the grilled section of the menu: stir-fried spicy pork with onions, carrots, cabbage and bell peppers.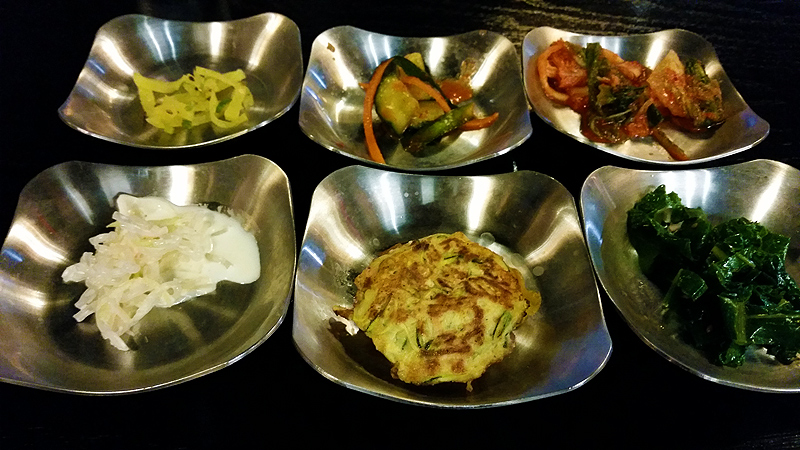 Banchan (Korean side dishes)
There were six banchan side dishes that arrived ahead of our entrees: pickled daikon radish, pickled cucumbers, kimchi, a strangely mayonnaisey coleslaw concoction, a couple of cold, mini Korean egg pancakes and some lightly dressed kale. These were overall a disappointment: the coleslaw and kale seemed immediately alien and discordant options in relation to the remaining sides, and the cold temperature of the Korean pancakes was a bit jarring. The kimchi and pickled cucumbers were high points.
The entrees arrived relatively quickly, heralded by the sizzling cracks and pops of the dolsot stone bowl as it was carried across the dining room. The pre-mixed presentation of the bibimbap was appropriately stunning and my girlfriend gave a thumbs-up to signal that the flavors were to her liking.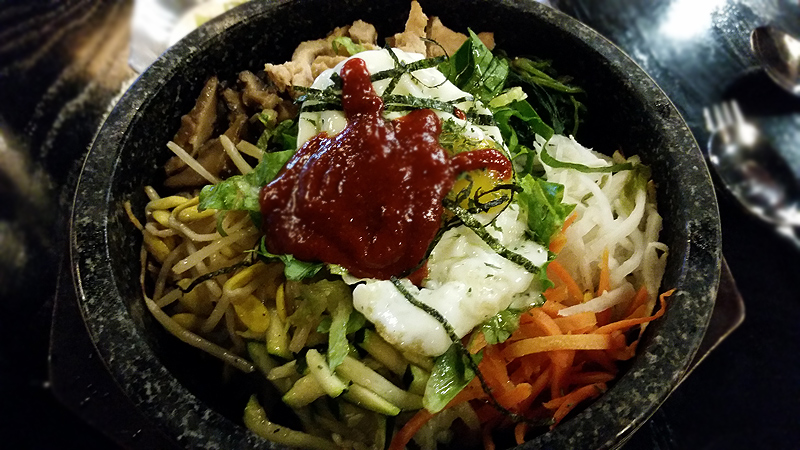 Dolsot Bibimbap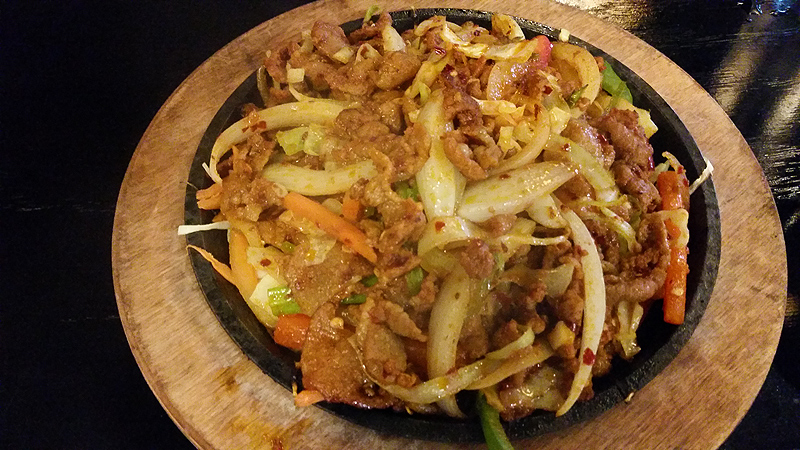 Je Yook Bokgum
My pork dish was pleasantly spicy, though I could have used more caramelization from the onions, peppers and meat resting on the hot cast iron plate. Portions were generous, though I managed to power through without the need of a to-go box.
3501 Seoul offers authentic Korean dishes coupled with the sushi options Hyde Park residents come to expect from their Asian restaurants. It's not ground-breaking, but it's satisfying fare.
3501 Seoul
Price: Expensive ($17 - $30 per person)
Service: Good
Rating: 3.0 out of 4

Cincinnati Bites