Posted Sunday, September 4, 2016
Many years ago, a Taiwanese co-worker of mine would occasionally arrive at my desk to share his latest spicy lunch derived from his mother's old recipes. "Try this one," he would say to me excitedly, knowing full well my penchant for fiery flavors. His latest dish looked tame enough: sticky rice with bits of minced pork, fried basil, egg and tiny, innocent, infinitesimally-diced chilies.
I popped a bite into my mouth as he stood there waiting for my reaction, smiling all the while. The flavors were amazing. Such complexity from such a deceptively simple dish! And just as I had relished those few moments reflecting upon its simple elegance, a tidal wave of tear-inducing heat slammed into my head with such force that I momentarily lost my breath.
Now that's what I call Thai food.
Since that time many moons ago, I've struggled to find something --anything-- remotely resembling that experience. The closest I came was last month, when I was introduced to a spicy, soupy noodle dish called Khao Soi. But otherwise, well...let's be honest: most Thai restaurants in town adopt a cookie-cutter approach to their menus. If you've seen one Drunken Noodle, you've seen them all.
Singha Thai is hoping to shake things up a bit. Formerly known as Blue Elephant, the Thai restaurant is now run by one of its former servers, offering dinner specials and other small touches she hopes will set it apart from the seemingly endless list of carbon-copy Thai options the area has to offer.
They certainly have their work cut out for them. A stone's throw from Singha are direct competitors like Wild Ginger, Green Papaya, Fusian (for sushi) and Lemon Grass. Toss in similar nearby restaurants like Ruthai, Yat Ka Mein, Beluga, Dancing Roll, Bangkok Bistro and 3501 Seoul, and you might as well call Hyde Park, "Little Asia."
We stopped by one weekend evening to find the interior layout nearly identical to its predecessor. I couldn't be sure, but it seemed to be the same furniture from Blue Elephant's 2009 opening. A steady stream of takeout orders were being picked up at the front register, but only one group of people were seated (though it was still fairly early for dinner).
The menus handed to us were small paper printouts --likely the takeout menus-- which punctuated the restaurant's newness. Thai curry entrees as well as soups, rice dishes and noodle dishes were available, as well as the apparently obligatory sushi offerings Hyde Park residents expect from their Asian restaurants, even when it doesn't fit the culture (Thailand isn't exactly known for its sushi...that would be Japan).
I honestly wasn't expecting much from Singha. Our initial visits to its predecessor, Blue Elephant, were positive, but after a couple years, the place had started to take a slight turn for the worse in quality. I was anticipating more of the same from Singha. I was wrong.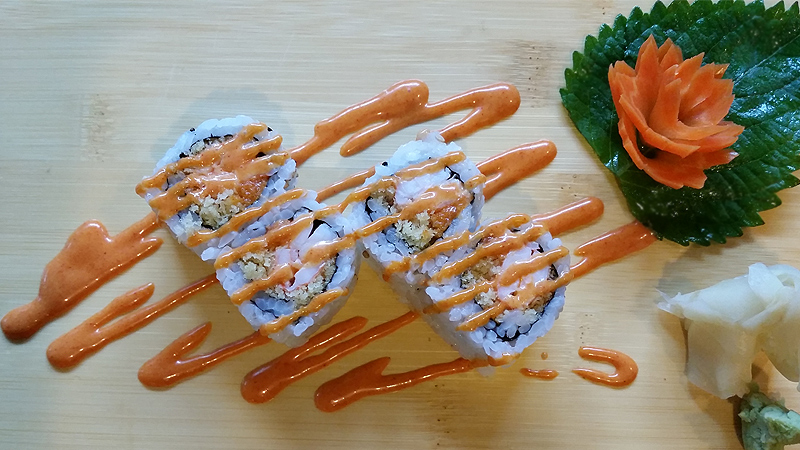 Complementary sushi appetizer
The first thing we noted was how friendly and attentive the staff were here. They seemed genuinely enthusiastic and hospitable, two refreshing qualities in this day and age of routinely surly and indifferent customer service. The chef surprised us by arriving with two servings of complementary sushi: a shrimp tempura drizzled with a spicy mayo sauce. The pieces arrived beautifully presented on a wooden board with an edible leaf and carrot "flower." The appetizer was unexpected and delightful.
Singha's "special entree" menu includes sauteed sea scallops served with a house tamarind sauce, salmon carpaccio awash with citrus and mint, and the Luau Shrimp & Chips, with pan fried garlic and pepper shrimp served with a pineapple guacamole. But we felt the best way to compare Singha to other Thai restaurants, at least initially, was to order our "usual" dishes off the typical Thai menu.
My girlfriend ordered the Singapore noodles, very thin rice noodles mixed with curry, egg, bean sprouts, broccoli, mushrooms and carrots. I opted for the Pad Kee Mao, long, fat rice noodles stir fried with basil, tomato, onion, broccoli, mushrooms and bell peppers in a spicy brown sauce. We were somewhat disappointed to note that available proteins included only meat options: chicken, beef, pork or shrimp. Tofu was nowhere to be seen, so chicken was our runner-up selection (note: they have since updated their menu to include tofu).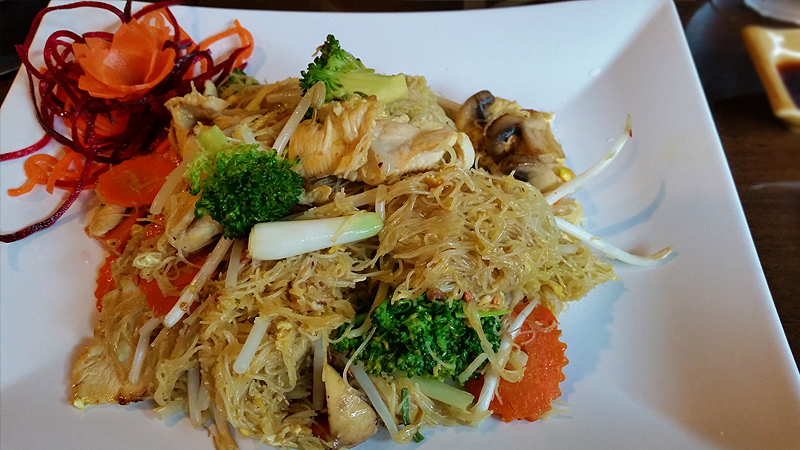 Singapore Noodles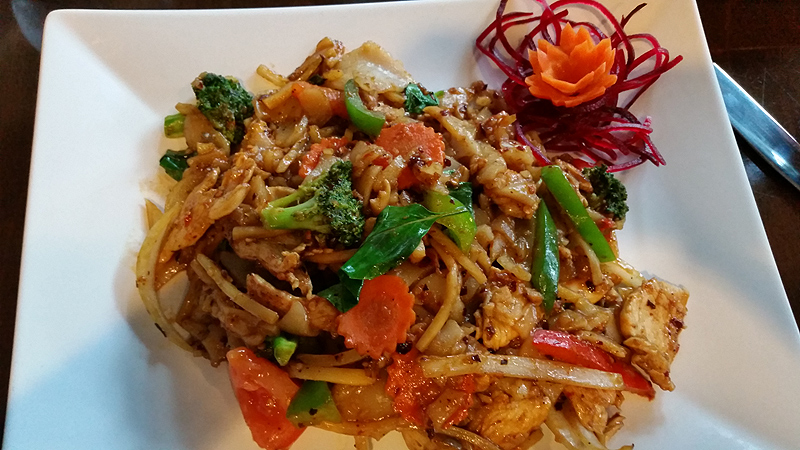 Pad Kee Mao
I was pleased to see Singha's simplified spiciness levels, a trend I've noticed lately in newer Asian restaurants. Gone are the 1-to-10 or 1-to-6 scales that seemed both inconsistent and arbitrary. Singha's options are mild, medium, spicy and very spicy.
When the entrees arrived, I was happy to see they didn't exhibit the oiliness we often endure with Thai noodle dishes and stir fries in general. The oil used in our entrees was treated with a thankfully light touch.
We appreciated the fact that the dominating profiles in our entrees: curry and soy/oyster sauce, were not overbearing. Everything was in balance, allowing the vegetables to shine through with their respective natural flavors and aromas. This made the dishes seem fresher, healthier.
On a sheer heat level, I could have used more from my Pad Kee Mao --the kind with which my former co-worker would kick me in the head. I'd chosen the "spicy" option, which was fine, but next time I'll choose the highest level.
I love the direction Singha has taken, which is a clear and obvious improvement over its predecessor. But I'm disappointed Cincinnati still doesn't offer a Thai restaurant aiming for more variety over its competitors. Simply look at this list of authentic Thai dishes and you'll see a sample of what we've all been missing. Is it too daring for area Thai restaurants to abandon their Americanized versions of exotic flavors?
Singha is one of the better Thai restaurants in town, and while Cincinnatians are not wanting for more Thai options, they're there when you need your fix.
Singha Contemporary Thai & Sushi
Price: Moderately Expensive ($11 - $16 per person)
Service: Excellent
Rating: 3.0 out of 4

Cincinnati Bites