Posted Tuesday, February 19, 2013
Note: the following review is for a restaurant that has since closed.
Very good food can be had at Eat Well Cafe: they've completely remodeled the former "What's for Dinner?" space in O'Bryonville, lending it a flair for the hip and the upscale.
Take a menu from the basket near the door, grab a drink, and then marvel at the glass case of absolutely gorgeous, diminutive desserts before ordering meals at the register.
We arrived one weekday evening around 6:30 pm, at a time when most restaurants are just starting their dinner service. Eat Well Cafe, however, closes at 7 pm, so we were just in the nick of time.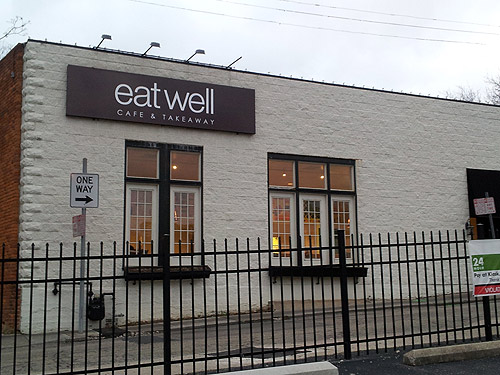 My girlfriend ordered the "Swell Veggie" sandwich, served with marinated and baked tofu, avocado, cucumber, greens and a ginger beet chutney packed between two thin slices of toasted focaccia bread. A choice of either kettle chips or one side item is available, so she opted for the ancho chili roasted sweet potato wedges.
I chose the "Dr. Meat" sandwich, with braised beef short ribs and baby arugula slathered with horseradish on toasted focaccia. A side of broccolini with lemon, chilis and garlic sounded appealing to balance the sandwich's meatiness.
The attendant handed us a number and we sat down to await the arrival of our dinners. As I looked around the room, I could still see ghosts of the former "What's for Dinner," though Eat Well's predecessor exuded a decidedly more "granola" ambiance. Our plates soon arrived, and we noted the beauty of the ingredients and presentation, while lamenting the somewhat emaciated size of our sandwiches.
While tiny, each sandwich came packed with bold flavors, as did our respective side items. All too often, veggie sandwiches tend toward the bland side of the spectrum, but the Swell Veggie lived up to its name, with a rich meatiness of the marinated tofu and a sharp beet kick from the chutney that made it hard to put down. My braised short ribs were hearty and tender, each bite tinged with a horseradish tickle. The broccolini florets and stalks were refreshing and delicate, with just enough citrus to brighten their appeal and offset the green's naturally mild bitterness. My girlfriend's sweet potato wedges were a particular favorite; I was happy to help her finish them off.
Still feeling hungry, we returned to the counter to split a densely rich, fudgey, gluten-free chocolate torte. The desserts are beautiful --you'd be hard-pressed to find a mediocre one in the bunch. Paying $3.80 for a miniature cupcake, however, is a punch to the gut no sugar rush can cure.
Eat Well's focus is on quality over quantity and, perhaps to a fault, they forget that the two aren't mutually exclusive. The prices are a bit steep for what you get: our two small sandwiches with their sides came to $25. If you add any of their canned or bottled drinks, you'll easily hit $30 for a meal that may leave you feeling snacky later. Parking in the adjacent lot will set you back another $1 per hour, so the experience is quite an investment for a small meal. Still, we were pleased with all the flavors and, should I become flush with cash in the near future, we may visit again.
Aside from the high prices, the owners of Eat Well Cafe have unfortunately adopted the fairly inconvenient hours of their predecessor. So, if you want to swing by for a quick bite after work, pray for light traffic.
Eat Well Cafe and Takeaway
Price: Moderately Expensive ($11 - $16 per person)
Service: Good
Rating: 3.0 out of 4

Cincinnati Bites