Posted Sunday, July 26, 2015
Note: the following review is for a restaurant that has since closed.
Son of a Preacher Man is a new restaurant in O'Bryonville located behind Enoteca Emelia. The site has seen a number of restaurants come and go, including What's for Dinner and Eatwell Cafe.
The restaurant's specialty is its Southern-style, buttermilk fried chicken. When we stepped in one hot Sunday afternoon, the delicious aromas coupled with the heat and the whine of a nearby fan transported me back to my summers spent in South Carolina.
Ah, the South. From the sweet tea and boiled peanuts to the heaping mounds of Frogmore stew, the region I recall from my youth evokes such sweet memories.
Many of my childhood and adolescent summers were spent in Beaufort, South Carolina, a small coastal town near the Parris Island Marine Base. It was hot, steamy and, later in my years, backbreaking, as I began earning my keep digging ditches, cleaning sewer lines and installing sprinkler systems for my uncle's plumbing company. Exhausted by day's end, my cousin and I would clean up and, if lucky, were treated to a chicken dinner from a Bojangle's drive-thru or to fresh seafood from The Steamer on Lady's Island. In the morning we'd fill up on eggs and grits from a nearby Huddle House and then hopped back into a plumbing truck to start the cycle over again. It was a magical time.
I was shaken from my reverie when the waitress arrived with water and the short-but-sweet menu. If you didn't come for the chicken, your options are a bourbon BBQ meatloaf, shrimp & grits or a small selection of soups, salads and starter items. As short as the menu was, I still found myself torn over the shrimp & grits and the two- or three-piece chicken dinner, which come with one side and a fluffy buttermilk biscuit. Of course, I chose the two-piece chicken with a side of Carolina Collard Greens ($10.89). I also chose a fresh-brewed iced tea.
My girlfriend opted for one of the three available biscuit sandwiches, the "Nashville Hot" chicken, doused in a vibrant-red cayenne pepper sauce, along with a side of "Weisenberger" Cheddar Grits (Weisenberger is a 150-year-old mill located in central Kentucky). We also selected a side of the Preacher's Mac & Cheese, a peppery, creamy concoction topped with bread crumbs and served in a mini-iron skillet.
The plates soon arrived and I was impressed with the ample, square biscuits and the overall size of my chicken dinner, which included a thigh and a breast. The steaming hot meat was tender and well seasoned with a mouth-watering, crunchy and peppery skin.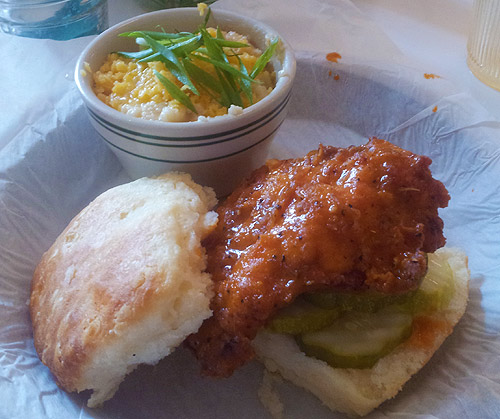 "Nashville Hot" chicken biscuit sandwich w/cheddar grits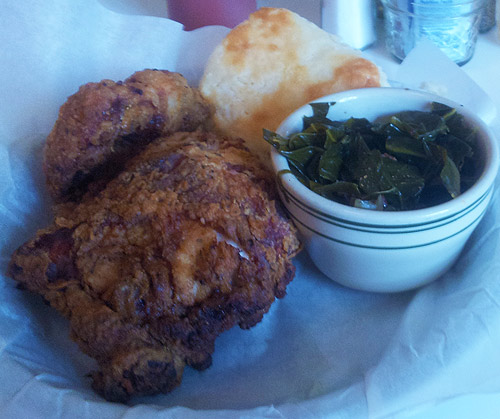 "Sunday's Best" 2-piece fried chicken and Carolina collard greens
My collard greens were cooked down just enough so that they still maintained some bit of welcome texture --it wasn't mushy, but smoky with bits of ham and a pleasingly mild vinegar finish.
The grits were thick, cheesy and delicious, with an assertive hominy flavor. The extra side of mac & cheese was a little pricy for its size ($5.89) but tasty, with a crunchy topping blanketing a layer of creamy, cheesy pasta.
My girlfriend's spicy chicken and biscuit sandwich was also quite good, though I was thankful to have not doused my meat in hot sauce, as the chicken's buttermilk spice blend easily stood on its own.
Son of a Preacher Man is now our favorite fried chicken restaurant. It manages to oust other Cincinnati favorites like The Hitching Post and The Eagle as the city's best chicken, which is no small feat.
Son of a Preacher Man
Price: Moderately Expensive ($11 - $16 per person)
Service: Good
Rating: 3.5 out of 4
Cincinnati Bites