Posted Wednesday, December 14, 2016
Though it's great year-round, a big bowl of soupy, noodly pho is particularly enjoyable throughout the winter months. Fortunately, there are quite a variety of Vietnamese restaurants in town serving this classic form of steamy love. One of the newest is iPho Vietnamese Cuisine, located on Montgomery Road in the same unassuming strip mall that once housed a German restaurant called Oleg's Tavern.
iPho's menu features five pho variants that include a choice of medium-rare round eye steak, chicken, beef meatballs, brisket, tripe or tofu. Each protein is steeped in a fragrant, intricately spiced beef or chicken broth filled with long strands of rice noodles, strips of onion and garnished with cilantro, Thai basil, jalapeño slices and prodigious heapings of bean sprouts. The menu also includes spring and summer roll appetizers along with several rice and vermicelli noodle bowls. Noticeably absent are the Banh Mi sandwiches typically available at most other Vietnamese restaurants.
We stopped in on a weekend afternoon to find the place bustling. The interior has been overhauled since Oleg's Tavern vacated the space: gone is the cheesy 70s wood paneling but, unfortunately, the low-hanging drop ceiling with the poor lighting remains. It was a dreary, cloudy day outside when we visited, and while the restaurant features large windows in the front of the dining room, it's not nearly enough light to eliminate the shadows. Still, the diners slurping away at their noodle bowls didn't seem to mind.
As we attempted to communicate with our waiter, it soon became clear that our Midwest accent made it difficult for him to understand. Instead of citing the exact name of the dish we wanted, the waiter encouraged us to use the menu's numbering system. For example, "P1" was the beef pho ($8.50); "P2" was the chicken pho ($8.50) and so on. My girlfriend and I chose these two dishes along with an order of the "A1" summer rolls ($4): rice paper wrapped with shrimp, a slice of pork, vermicelli, lettuce and bean sprouts accompanied by a hoison/Sriracha dipping sauce topped with chopped peanuts.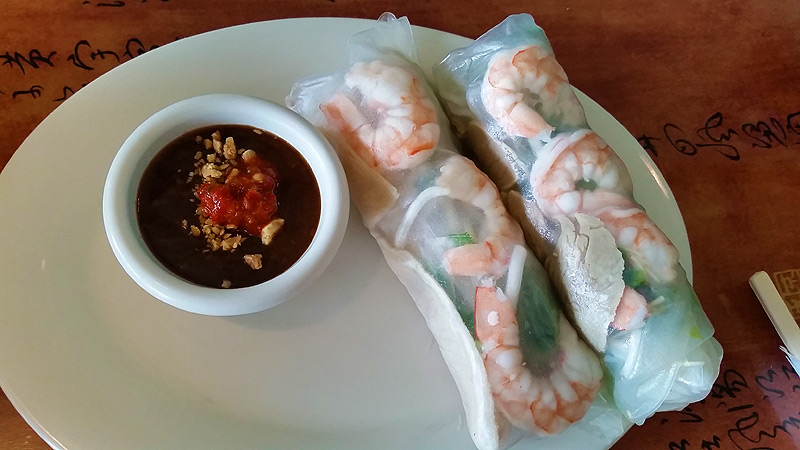 Summer rolls w/dipping sauce
There's something texturally appealing about summer rolls: they're large and plump, with neatly-arranged, vibrant orange shrimp securely sealed behind a thin, translucent layer of rice paper. iPho's version was the first we'd tried that included a slice of pork, which we found unnecessary. It didn't seem to add much flavor. The shrimp alone were more than sufficient, accentuated by the spicy, nutty dipping sauce.
When our bowls of pho arrived, we briefly considered the available condiments on the table that many patrons absently sprinkle into their pho with liberal abandon: bottles of Sriracha, hoisin, soy and fish sauce. I was once one of those people, but recently stopped the practice so I can better appreciate the original intended flavor of the broth. And you know what? Good pho doesn't need all those extra flavorings.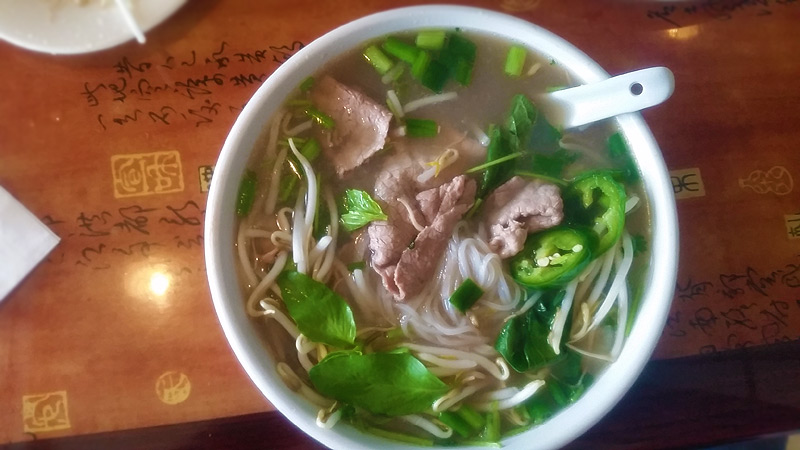 Beef Pho
My beef pho broth was pleasingly silky with a rich, satisfying fattiness that makes this dish one of the ultimate comfort foods. Both an Asian soup spoon and a pair of chopsticks are provided for interchangeably slurping up the broth and pecking at the hunks of beef, noodles, basil and onion. The long plastic chopsticks were a little bit unwieldy, however. We have better luck with the smaller, disposable wooden ones offered at other restaurants. My girlfriend opted for the same beef broth for her chicken pho and showered it with similar accolades.
iPho is one of the better Vietnamese restaurants in Cincinnati. It could use more lighting and should lose the low-hanging drop ceiling, but these are trivial gripes for an overall enjoyable lunch.
iPho Vietnamese Cuisine
Price: Cheap (under $11 per person)
Service: Good
Rating: 3.0 out of 4

Cincinnati Bites