Posted Monday, December 26, 2016
There are several restaurants we love in Cincinnati that we rarely visit anymore. They're so outrageously popular now, so overrun with crowds, that it's virtually impossible to get food there without a long wait. Eli's BBQ and Mazunte are prime examples. It's always interesting to me how a few restaurants like that can be so outrageously overrun with people while there are so many other great restaurants in town that can't seem to drum up enough word-of-mouth, and soon end up going under.
The owners of a semi-popular restaurant on Court St. called, "Huit" (which is French for, "eight") have decided to rename and relocate their restaurant (it's now called, "Neuf," or the French word for, "nine," and now resides on Main St.), while opening up a brand new concept at their Court St. location called, "Lalo" (which, as far as I know, is a nickname for "boy" in Spanish). If all of that sounds hard to follow, it's because it is.
Lalo is apparently going for a concept they call, "Chino Latino." Yet when I look at their menu, it looks very much all Latino save one potsticker appetizer and a dish with the word, "Asian" in it. Lalo's predecessor, Huit (now Neuf), underwent a similar identity crisis. Was it Asian? Was it BBQ? Who the hell knows. All I know is: it was good. Is good. Whatever.
The folks at Lalo are clearly trying to break molds and push boundaries with their fusion concepts. They're trying to think outside the box. They're defying categories and don't want to be pigeonholed as just another Latin-American restaurant or just another Asian eatery. But to the lay diner, an ambiguous phrase like, "Chino Latino" can generate needless doses of apprehension.
I first stepped foot into Lalo during a recent lunch visit. It's a small space that seats about 30 people. Whenever I walked by it on my way back from Le's Pho and Sandwiches a few doors down, it looked empty. But what I'd read about the food seemed overwhelmingly positive.
Lalo has table service, which I think is wholly unnecessary for lunch, as it adds a needless expense and an anxiety over getting back to work in an hour (table service is more appropriate for their dinner hours). My typical lunch budget is between $6 and $10. Throw in table service and suddenly you're looking at between $11-15 with tip. That's enough to deter many people like me from visiting at all. There's no reason their short menu couldn't be ordered at the counter.
The menu offers guacamole, empanandas and potsticker appetizers; several soups and salads; tacos, burritos and tortas; rice bowls; and several "specialty plates." Much of the menu reminded me of Mazunte, located in Madisonville. And given how ragingly popular Mazunte is, wouldn't it be great if there were something like it downtown? Based on first impressions, there is.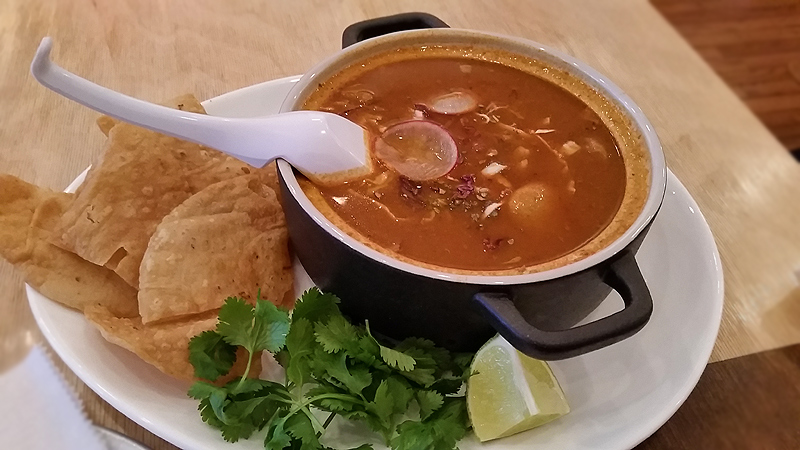 Brisket Pozole
I ordered a bowl of Lalo's brisket pozole ($9), a variant of the traditional Mexican stew. It comes filled with hunks of brisket, hominy and ancho chilis, garnished with cabbage, radish, onions, oregano, cilantro and a squeeze of lime. The bowl is served with a side of house made tortilla chips. I also chose a battered fish taco ($3.50), topped with Sriracha mayo, mango cabbage slaw and pico de gallo.
For a chilly December day, the arrival of a hot bowl of pozole was a welcome sight. The broth appeared deeply rich, almost chocolatey, and the flavor was hearty, earthy, complex and satisfying. Tender hunks of brisket and bits of hominy offered substantial, delicious bites. The tortilla chips were light, airy and brittle, best suited for crushing into the bowl for added texture. Mazunte offers pozole similar to this, and the two are equally good.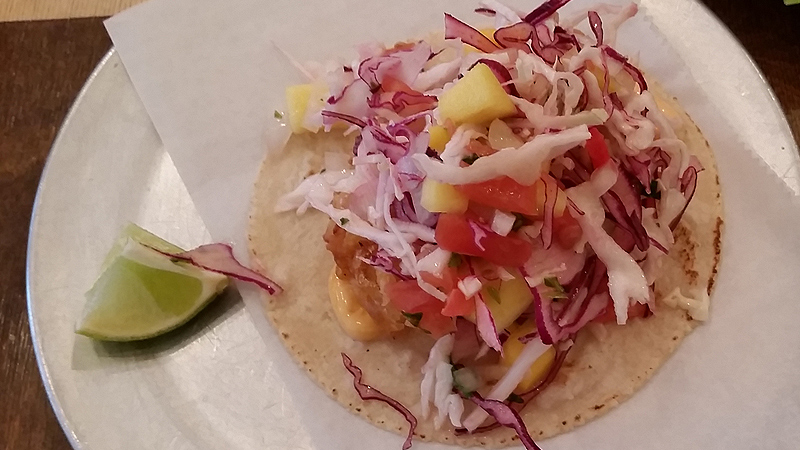 Fish taco
My fish taco was both beautiful to behold and so obviously overrun with mango slaw that I wasn't sure I'd be successful eating it without the entire taco breaking apart. But, the single hand-made corn tortilla was deceptively sturdier than it appeared, and I somehow managed to enjoy it without a collapsing taco catastrophe. The batter was light, crispy and delicious. The fish tasted fresh and not fishy. If I had to compare this taco to Mazunte's version, I'd say Lalo has Mazunte beat. The mango slaw, while abundant, was refreshing and perfectly countered the Sriracha mayo.
Lalo is definitely not a place to overlook. Yes, you're going to pay a little more for lunch unless you get take-out. Yes, their concept is a little hard to explain to friends. From my perspective, it's all about the Latin side of their "Chino Latino" concept that makes their menu shine.
UPDATE, 2017:: Lalo has moved to 709 Main St. And Huit is coming back to Court St.
Lalo
Price: Moderately Expensive ($11 - $16 per person)
Service: Good
Rating: 3.5 out of 4
Cincinnati Bites