Posted Tuesday, October 18, 2016
Gyro Hero is a Greek and Middle Eastern restaurant featuring an abbreviated list of popular Mediterranean fast food, including falafel, kofta (a Lebanese meatloaf), chicken or beef shawarma and, of course, gyros.
The place is apparently owned by the same guy who'd brought us the now defunct Jordan Valley Restaurant, formerly on 4th St. That was a bit before my time, so I have only this restaurant to form an opinion.
Gyro Hero resides in a notoriously, inexplicably doomed location on Walnut St. next to a Subway and across from J Gumbo's. Several restaurants have come and gone over the years there, including Capri Tavola Calda and one of the first Tom + Chee's. That fact doesn't bode particularly well for Gyro Hero's future, since there are at least a half dozen competing downtown restaurants serving gyros, kababs, falafel and sharwarma.
The one thing Gyro Hero does have over its competitors is its sheer volume of gyro "wrap" varieties, of which there are eleven. Other familiar fare include fries, onion rings, dolmas (stuffed grape leaves), gyro "burgers," hummus, baba ghanoush and assorted salads.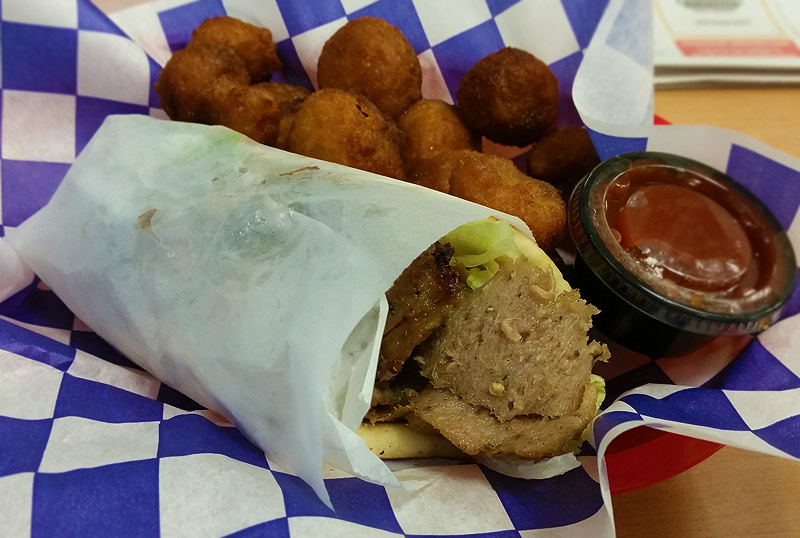 Gyro Hero wrap w/breaded mushrooms
My signature Gyro Hero wrap ($5.59) was solid Greek fare, at least for what you find in the States, with hot, thick shavings of gyro meat, tomato, lettuce, onion and tzatiki sauce rolled into a toasty pita. I also tried a side of breaded mushrooms ($3.50), which I can't imagine are Mediterranean anything. Then again, what culture doesn't enjoy frying its food?
The flavors were solid, equally on par with any one of the Mediterranean restaurants downtown. I would have liked to have seen a grilled fish option, as I've enjoyed elsewhere, but this is a minor quibble. Portions are generous and the prices are reasonable.
If you're looking for a good falafel or gyro lunch option, Gyro Hero is worth your dime.
Gyro Hero
Price: Cheap (under $11 per person)
Service: Good
Rating: 3.0 out of 4

Cincinnati Bites