Posted Tuesday, November 29, 2016
Mardis Gras on Madison, located in East Walnut Hills, is a queer restaurant anomoly in Cincinnati. It's closed more often than not. In fact, the owners don't consider it a restaurant at all: they've coined it a "homearaunt" or a "pop-up style" restaurant. As they see it, this gives them license to keep their hours and inventory in a constant state of flux. To patrons, the homearaunt setup can evoke a lot of frustration --you can never reliably count on it being open and must religiously check their Facebook page in order to discover the one short window in which they are available. And even if you do manage to get your foot in the door, there's no guarantee the menu item you want won't be sold out.
Why would anyone put themselves through such torment? It's simple: Mardis Gras on Madison offers the best Cajun and Creole food in Cincinnati, hands down. So buck up, fellow diners, and get in line.
Owners LaToya and Randy Foster-Filson began their restaurant venture more than a decade ago with their first shop, New Orleans to Go, in Springdale. Their hours there were more stable, though it did sometimes close while they visited their native Algiers Point, Louisiana. Years later, they closed their brick-and-mortar business to be one of the first "pioneers" in the local food truck scene. Bolstered by their roving New Orleans to Go venture, which remains active, the couple returned to the brick-and-mortar concept with Mardis Gras.
The menu at Mardis Gras on Madison is as fluid and unpredictable as the restaurant's hours, displayed on a chalk board near the bar. There typically is at least one type of Po'boy available and it's usually either the shrimp or catfish variety. Sometimes you'll see an étouffée, shrimp and grits or a seafood gumbo. Rarely, and only in season, will you be lucky enough to stumble upon their oyster Po'boy. They also offer several sides like red beans and rice, dirty rice, green beans, sweet potato casserole and Zapp's kettle chips, a Louisiana favorite.
The colorful, quirky interior offers upscale furniture amid colorful, mustard-yellow walls flecked with purple and green and adorned with beads, street art and other Mardis Gras-related paraphernalia.
My girlfriend and I were fortunate enough to land a coveted seat one Friday night. We arrived early, well ahead of the dinner rush. On the menu were shrimp and catfish Po'boys, dirty rice with red beans, green beans and sweet potato casserole. I ordered the catfish platter, which came with two breaded catfish fillets and two sides (the dirty rice and green beans). My girlfriend opted for the shrimp Po'boy and a bag of Zapp's "Spicy Cajun Crawtators" kettle chips.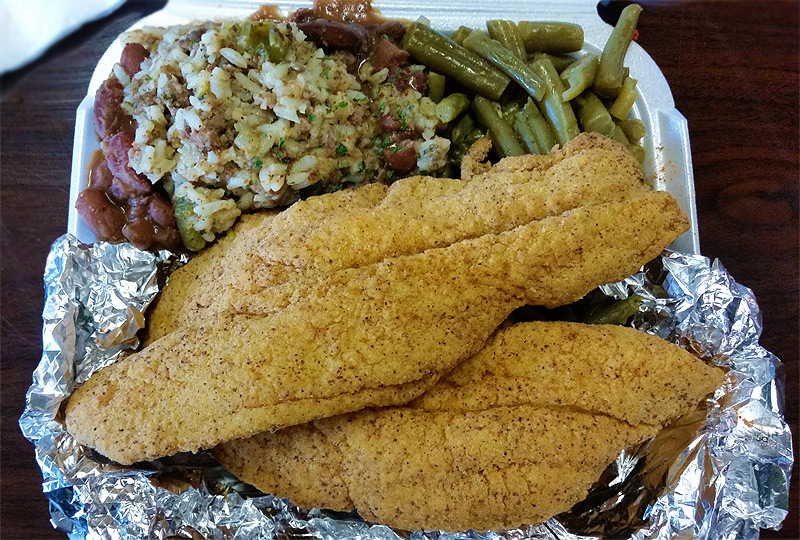 Catfish w/dirty rice and beans
Shrimp Po'boy w/chips
The food arrived at the table in Styrofoam take-out containers. This isn't always the case: sometimes it's served in dishes, though it depends on how long the "homeaurant" staff expect to remain open on a given day. This left us unfazed --what we always focus on upon receiving our meals is the sheer, overwhelming volume of food presented before us. For less than $25, we easily got our money's worth.
Though I don't profess to being a catfish fan, the wonderfully mouth-watering breading easily makes Mardis Gras' variant my favorite. The fish was flaky and moist inside the crispy, spicy, peppery outer core. Their dirty rice with red beans is unlike anything you may have had at a Popeye's or Bojangles: it's heartier, meatier and more abundantly seasoned.
My girlfriend's Po'boy was so inundated with heaping mounds of fried shrimp that it was all she could do to keep them secure in her sandwich as she took a bite. The unique, sweet and spicy glaze added a perfect combination of heat and savoriness to the mouthful of french bread.
Even if you're not a foodie masochist, routinely tortured by the restaurant's unpredictable hours, you'll find that Mardis Gras on Madison is well worth a little pain.
Mardi Gras on Madison
Price: Moderately Expensive ($11 - $16 per person)
Service: Good
Rating: 3.5 out of 4
Cincinnati Bites