Posted Sunday, July 11, 2010
Sammy's Craft Burgers and Beers is located in Blue Ash at 4767 Creek Rd, catty-corner to another area restaurant called Through the Garden. A second location is now open in Mason.
The burger joint is operated by the same owners of El Pueblo, a popular Mexican restaurant also located in Blue Ash. Sammy's seems fairly large inside, yet simultaneously cramped: they really pack them in here.
The feel of the place is very much like you'd expect from a sports bar: lots of baseball and football paraphernalia; multiple LCD screens hanging at the bar; and patrons fighting to hear one another over the din of loud chatter. The ceiling seems low and the tables are arranged at angles to utilize every possible nook and cranny of floor space; on a busy day, you'll feel like you need a machete to hack through to your table (not recommended). Like El Pueblo, Sammy's also offers a large outdoor seating area to escape the potential mob inside.
While burgers were their obvious specialty, other popular menu items included sandwiches, soups, wings, wraps and gourmet hot dogs (the "Loco Dog," a bacon-wrapped hot dog with diced pineapple, black olives and guacamole, sounds as scary as it is intriguing).
I ordered the "Mushroom Burger," which comes with mushrooms, cheddar cheese, grilled onions and a side of fries. I chose the "garlic fries" as a substitute, which they did at no extra charge. A glass of sweet tea rounded out my order. My girlfriend tried to stay health-conscious by selecting the turkey sandwich and a side of fresh broccoli. The server was prompt and repeated our orders but did not write them down, as is apparently their custom.
Sammy's burgers come partially wrapped in butcher paper to help hold everything in place. They are topped with a thousand-island-looking "Sammy's Sauce" mixture of mostly mayo and ketchup. It doesn't add much to the party and only served to make the sandwich messier. In retrospect, I would have asked for my burger without it.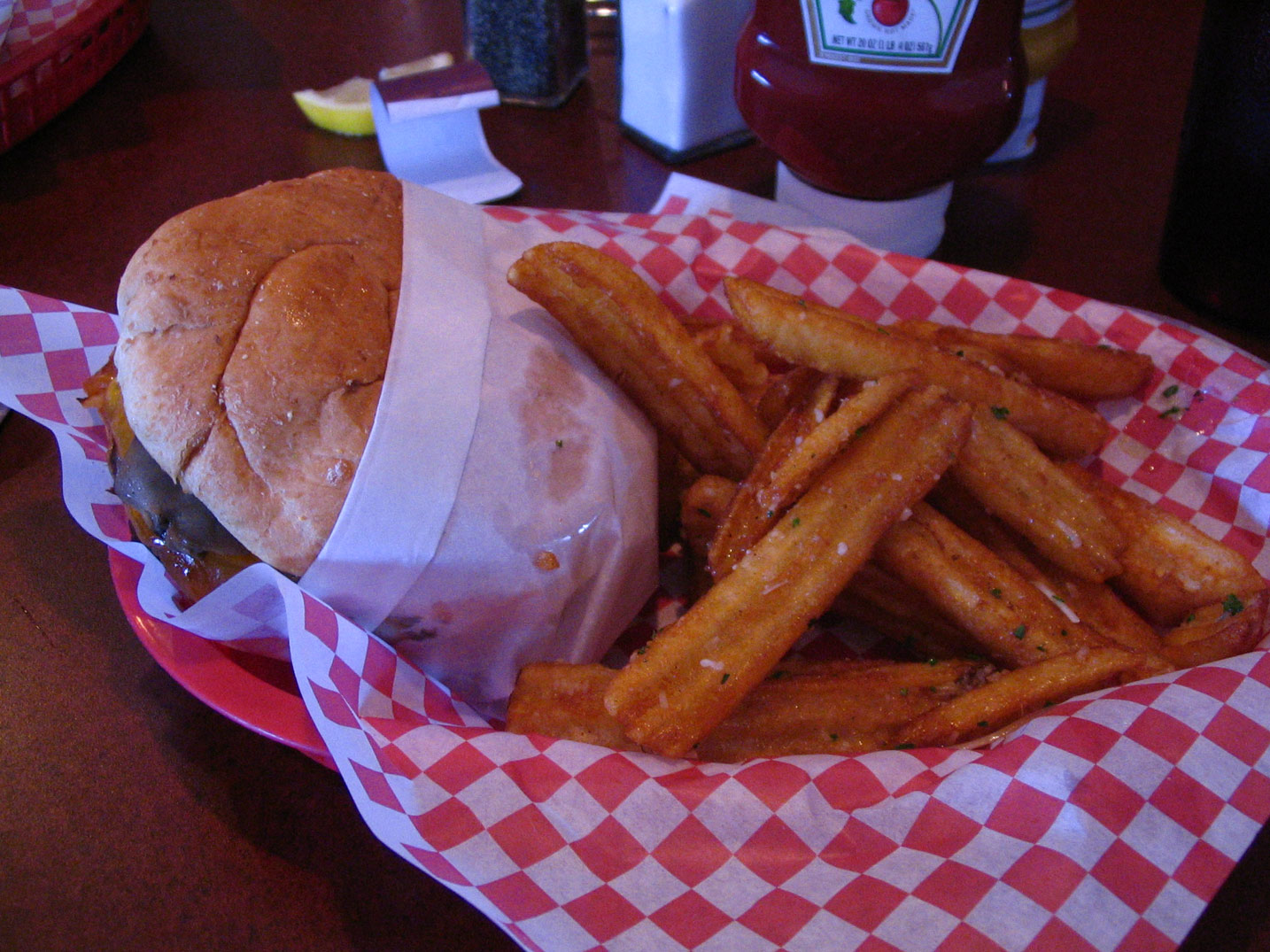 Mushroom Burger with Garlic Fries
The honey buns were tasty and held up moderately well, though about half way through my meal, the bread had slowly succumbed to the combined moisture of the burger, the Sammy's sauce, the grilled onions and the mushroom sauce. I thought the flavor of the bun was pleasing; it had a doughy (though not undercooked) aftertaste that reminded me of the onion-buns you'd find in the deli section of a grocery store.
What made the burger for me was not so much the meat, but all its surrounding toppings. There was a generous portion of mushrooms on the burger, as well as grilled onions and a molten mound of cheddar cheese. But the meat itself was nothing special. It was moist --cooked through, yet alone lacked a lot of flavor.
The most memorable part of the meal were the garlic french fries. The fat, uniquely, double-grooved fries had a strong but pleasant garlic odor and flavor; so good were they that I actually felt guilty dipping them in ketchup. As it turned out, I thought they tasted much better au naturel. Sammy's has definitely got something special here, a menu item well worth keeping.
There are reports from other reviewers who believe the burgers arrive pre-formed and frozen from some sort of yet-to-be-unidentified food service and are simply reheated later. A gourmet burger place cutting corners on their signature item? I'm not sure I can buy that, but it's hard for me to say definitively. One possible clue is that the burger was cooked through and I had no option to choose, for example, medium-rare or well done meat. But there are plenty of burger places that don't allow you to choose how you'd like the meat cooked and are clearly not pre-made by an outside vendor: Quatman Cafe is a fine example.
My girlfriend liked that her turkey sandwich wasn't one of those wildly stacked monstrosities (though we're sometimes in the mood for exactly that). It had good flavor, with a generous slice of avocado. There were enough toppings to ensure a bit of bacon, avocado and tomato in every bite. Her broccoli tasted fresh and pleasing.
Sammy's made sure to advertise that they'd been listed among the top 40 burgers in the city as deemed by Cincinnati Magazine, ranking 33rd. The advent of gourmet burgers, which can be traced as far back as the mid-1980's with the likes of such places as Chili's and Fuddrucker's, seems an almost disingenuous, exploitative trend that gives restaurants license to charge people as much as $15 for a hamburger. You'd think such a trend would be on its way out in this economy, yet places like Terry's Turf Club, Senate, Mayberry and Sammy's seem to be thriving. Was my burger worth $8.95? Was my girlfriend's turkey sandwich worth $7.95? Maybe not. Still, with tax, drink and tip, $24 for two people is not uncommon for a lunch in this town.
Sammy's offers decent food but, as of this writing, doesn't quite live up to the gourmet or "craft" hype. But do try the garlic fries. They'll stay with you for hours.
Sammy\'s Craft Burgers and Beers
Price: Cheap (under $11 per person)
Service: Good
Rating: 3.0 out of 4

Cincinnati Bites