Posted Tuesday, June 15, 2010
On the sage advice of The Food Hussy, we lunched one weekend afternoon at Silverton Cafe, located at 7201 Montgomery Road in (surprise!) Silverton, Ohio.
I'd been there once before, ordering a massive take-out dinner of BBQ boneless wings, a giant double-decker sandwich known as the Manhattan Club, and a batch of spicy, fried jalapeno slices they call "bottle caps." It was all very impressive and economical, so I was excited to introduce the place to my girlfriend.
Silverton Cafe is dimly lit inside and cavernous. The browned drop ceiling tiles served as mute testimony to a very smoky past. The place vaguely reminded us of Sorrento's Pizza in Norwood. There are a number of booths along one wall; tables in the center; a gaming area in the back; and the bar and kitchen along the other half of the room. There's also a large stage near the front. In fact, a band member was just beginning to set up his equipment toward the end of our meal.
The menu caters to all variety of gluttonous, fattening pleasures, including burgers, wings, nachos, gyros, subs, hoagies, pizza and calzones. Their signature items are their 34 double decker sandwiches (and three triple deckers). The tall stacks of meat and sundry fixins are piled inside three slices of toasted bread and served with potato chips and a dill pickle slice.
Our waitress was prompt with the glasses of water, asking us if we'd like anything else to drink. I'm always pleasantly surprised at just how many Ohio restaurants now serve sweet tea, so I decided to ask. "No," she replied, "but there's sugar on the table." I couldn't help but wince. You can't use packets of sugar to make tea sweet. The sugar will just settle, undissolved at the bottom, and no amount of stirring will change that. I smiled and shrugged, resolving to stick with water. It was a long shot, anyway.
Since I had pre-warned my girlfriend about the size of the sandwiches, we decided to split the Manhattan Club, sliced turkey, bacon, lettuce tomato and mayonnaise on wheat toast (also available are white and rye). We also ordered the jalapeno bottle caps, which is served with an addictive chipotle-mayo dipping sauce.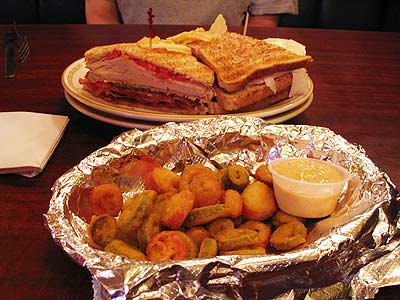 The sandwich arrived, generously filled with heaps of turkey and bacon, each slice held together with a toothpick. The turkey had a pleasing smoky flavor, accentuated by a mound of crispy bacon. The layers of pesky lettuce and tomato were comparatively thinner, just enough vegetable to slightly temper the guilt of ingesting so much meat.
The jalapeno bottle caps lent a lingering sting on the tongue; I couldn't stop popping one after another into my mouth even as the heat slowly began to build.
Silverton Cafe is a great dive serving simple American classics in a big way. I'm as incredulous as The Food Hussy that no other food bloggers had written about this place. After all, it's only been there 17 years. I must have passed it a thousand times, but it took her review to finally pull the trigger. We'll definitely return to embrace their diet-busting delights. Diet? Yeah, right.
Silverton Cafe
Price: Cheap (under $11 per person)
Service: Good
Rating: 3.0 out of 4

Cincinnati Bites