Posted Monday, March 8, 2010
For several years, I'd lived less than a mile from Sorrento's Pizza, located at 5143 Montgomery Road, in Norwood. That didn't stop me from ignoring it like the plague, however. We'd heard a lot of good things about their pizza yet, despite that, we still remained unmotivated. Tonight, however, that attitude would change.
The Deluca family are well known and well loved in the Cincinnati area. Enrico Deluca and his wife, Santina, arrived in Cincinnati in 1956, emigrating from Pietramelara, Italy. They soon started Sorrento's, making a name for themselves over the years through unremitting grit and elbow grease. In its heyday, the restaurant enjoyed a following by a number of celebrities who'd sung its praises. Pete Rose, a long-time friend of the owner's son, Willie, had once even kept his prized, Ty Cobb record-breaking bat on display at the restaurant.
Sorrento's suffered a series of tragic losses in 2005 and 2006. In April, 2005, a fire gutted the building and severely burned 82-year-old Enrico DeLuca, who died 15 days later. In October, 2006, his son, Willie, died of a heart attack at the age of 58. Mourning their losses, the remaining family licked their wounds and pushed onward, reopening Sorrento's in the summer of 2007.
We visited the restaurant and sports bar on a Friday night, parking in its small lot just off Montgomery Road. The entrance opened up to a short flight of stairs leading to a large, dimly-lit room with a long bar, plenty of HDTV's and a moderate number of diners.
The Winter Olympics were being broadcast at the time of our meal; we were amused and bewildered by the sport known as Curling, in which one member of a team pushes a stone on a long sheet of ice toward a round target, while two other team members slide along just ahead of the stone, vigorously brushing the ice with brooms to alter the stone's trajectory. It was comical to watch between breaks in our dinner conversation.
Sorrento's menu boasts many popular Italian delights in addition to a smattering of the usual bar fare. In addition to the pizza, there are several traditional pasta dishes, such as Spaghetti, Lasagna, Ravioli and Manicotti. A number of sandwiches are available, including Italian Sausage, Meatball, Cod, Steak and "Mama Santina's Hoagie," made up of various Italian meats.
My girlfriend ordered the spaghetti with marinara sauce along with the Sorrento's Salad: lettuce, tomatoes, mushrooms, pepperoni and provolone cheese with a slice of bread. I was determined to try their pizza, opting for the 8-inch Deluxe, topped with pepperoni, sausage, mushrooms and onions.
Pizza, of course, is a nearly universally liked food, and we all have our favorites. Having grown up well north of Cincinnati, I prefer pizza unofficially known as "Dayton, Ohio style." It's a thin-crust variety, with a salted bottom and edge-to-edge toppings, cut into squares. Dayton, Ohio style pizzas include Cassano's, Marion's and Donato's. I'm also a big fan of New York-style pizza, like those found at Noce's Pizzeria and Capri Tavola Calda. I don't like the really doughy pies or the ones with cheese-filled crusts found at chains like Papa John's, Domino's and Pizza Hut.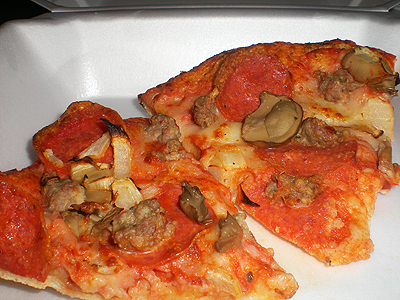 Sorrento's pizza slightly leans toward the doughy side, but was well within my acceptable limits. It boasted a tangy sauce --still prepared by Enrico's wife, Santina-- and the taste immediately evoked memories of my childhood. There was something about it that reminded me of Cassano's pizza sauce, but I couldn't quite put my finger on what. All I knew was that I liked it. This wasn't a pizza drowning in melted cheese; there was a careful ratio of sauce to meat to cheese that was very much appreciated. Better still were the pizza leftovers the next morning. Though I rarely met a cold pizza I didn't like, Sorrento's held up well in the fridge and made for a tasty breakfast.
My girlfriend was also quite pleased with her spaghetti, complimenting the well-balanced spiciness of the sauce. Her salad wasn't heavy on cheese like similar area salads can be. She'd just endured one of the most insanely meaty and cheesy salads at Pasquale's the week before, where she'd spent five minutes excavating more than a cup of bacon and cheese from her bowl.
We were salivating at the prospect of Cannoli for dessert, but when two pieces arrived, we were taken aback by their tiny, pinky-length size. Also disappointing was how soggy the shells were, a sign that the Cannoli had sat out too long.
When it came time to leave, we arrived at a completely full parking lot, leaving no room to turn our car around. Visitors must back their cars out of the lot and onto the busy strip of Montgomery Road, so use extra caution if you choose to park in the lot.
Sorrento's carries on the tradition of offering no-nonsense Italian fare and pizza worthy of its years of accolades. But this time, Rocco, make sure you take the pizza and leave the Cannoli.
Sorrento's Pizza
Price: Moderately Expensive ($11 - $16 per person)
Service: Good
Rating: 3.0 out of 4

Cincinnati Bites