Posted Sunday, March 20, 2011
Note: the following review is for a restaurant that has since closed.
El Establo is a Mexican restaurant located in Silverton at 7133 Montgomery Road, next to Silverton Cafe. They're the new tenant of a building that, for more than a decade, housed a Chinese restaurant.
We'd been anticipating El Establo's opening for more than a month. There are few Mexican restaurant options in the Kenwood/Silverton/Deer Park area; the next-closest are El Rancho Grande seven miles up the street and El Pueblo in Blue Ash. I'm hoping that will soon change. The latest Census numbers show Hamilton County's Hispanic population has doubled over the last decade and we can all benefit from the added culture, particularly on the culinary front.
Alas, El Estabo didn't take the taqueria-style route I'd hoped for. But their approach to Mexican and Tex-Mex is still something one can embrace and enjoy; there's no sense looking down our noses at them just because they aren't preparing the same food Taqueria Mercado serves.
We stepped into a place that beared little resemblance to the dingy-white Chinese restaurant that once made its home here. The interior was large, open, with striking burnt-orange walls, a couple faux-brick archways, one fetching Mexican-themed mural and minimal wall hangings. Familiar Latin-American music emanated softly through speakers.
I did a double-take at the full-sized cut-out of the Dos Equis guy staring back at me. For a split second, I thought he'd saunter over to us and say, "Welcome to El Establo. Allow me to escort you to your table and, as always, 'Stay Thirsty, My Friends.'"
Instead, our waitress led us to a booth in the half-full dining room. An empty bar was nearby where I was surprised to find no TVs. It seemed like they'd want to better utilize it to help draw business, particularly because we had visited in the midst of the NCAA tournament. Their bar would be a great spot for sharing a plate of nachos and knocking back a few while watching hoops --a nice alternative to the more crowded bars sharing the same block.
The obligatory-but-appreciated warm chips and mild salsa were served as we perused the two-sided, laminated menu. It was not as overwhelmingly expansive as we've seen in other area Mexican restaurants, but it hit all the essentials: tacos, nachos, quesadillas, fajitas, burritos, chimichangas, enchiladas, carnitas, tamales and chili rellenos.
I'd usually go for an enchiladas mole, but I couldn't find the sauce on their menu. My backup plan was a seafood entree. Pleased to see something other than shrimp listed, I chose the blackened tilapia, which came with a side of Spanish rice and a vegetable medley. As expected, my girlfriend went for the veggie enchiladas, replacing her refried beans with an order of charro beans.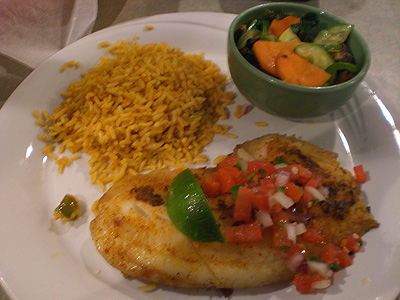 The food arrived in less than ten minutes and looked tasty. I could have used more blackened seasoning on my fish--it was a much lighter shade than what you'd expect from a truly blackened protein and lacked the charred crust you'd find in such a preparation. Still, the fish was moist, cooked perfectly and worked well with the pico de gallo-style topping (though my dish was missing the chipotle cream drizzle described on the menu).
My vegetable medley of yellow squash, zucchini, spinach, carrots and mushrooms was the same medley used in the girlfriend's vegetable enchiladas.
The side of charro beans were well seasoned and quite pleasing, a nice alternative to the standard refried beans. Our Spanish rice was a little on the dry side, but still packed good flavor.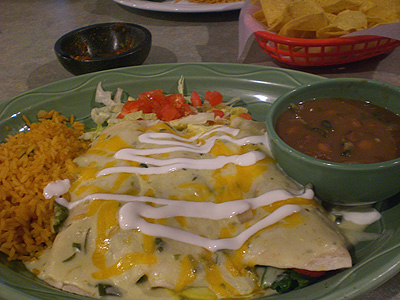 I liked the sour cream and cheese sauce on my girlfriend's enchiladas, which thankfully had been applied with a light hand. She didn't care for the sliced carrots in her enchilada mostly due to their harder texture, which seemed to clash with the other softer ingredients. A shredded carrot may have been more appropriate here. But she really enjoyed and appreciated the variety of vegetables, particularly the spinach and mushrooms. It's relatively rare to find a Tex-Mex restaurant that offers good vegetarian options beyond just beans and rice.
El Establo offers satisfying Tex-Mex and Mexican entrees. We're hoping the menu will expand and evolve over time. It's good to have another Mexican option, and at $20 for two people, their prices are hard to beat.
El Establo
Price: Cheap (under $11 per person)
Service: Good
Rating: 3.0 out of 4

Cincinnati Bites