Posted Saturday, September 6, 2014
The biblical story of David and Goliath is humanity's premier classic tale of an underdog emerging from virtual obscurity to defeat the mighty favorite. Just Q'in, a Newtown-based barbecue restaurant and catering service, is poised to become the "David" of Cincinnati's barbecue scene.
Just Q'in's founders know all too well about the Old Testament legend. Their logo and menu are steeped in Christian overtones, with entrees named after Bible highlights. David, Adam, Judas and Goliath all make appearances here as pulled pork, St. Louis style ribs, chicken and brisket specialities. The menu's pervasive religious theme may make us heathens initially uncomfortable, but after one bite of their delicious meats, preachiness takes an irrelevant back seat.
Just Q'in started off as a food truck; I recall visiting them downtown a number of years ago. Their brick-and-mortar location sits on what looks to have been a former gas station overlooking a golf course, with just enough room for parking, a prominent smoker and a cubby-hole dining room of six small tables.
On our first visit, I chose the David, a pulled pork and cole slaw sandwich, along with a side of mac & cheese and jalapeno cornbread. I decided to have my pulled pork served without the bun. My girlfriend opted for the Goliath, four giant slices of brisket with a side of smoked baked beans and mac & cheese.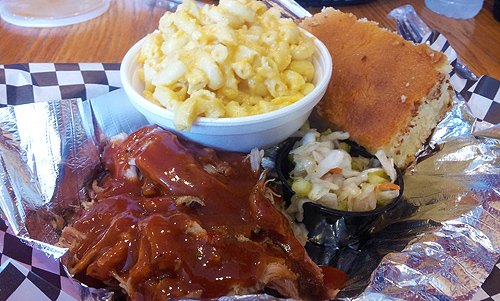 Pulled Pork with cornbread and mac & cheese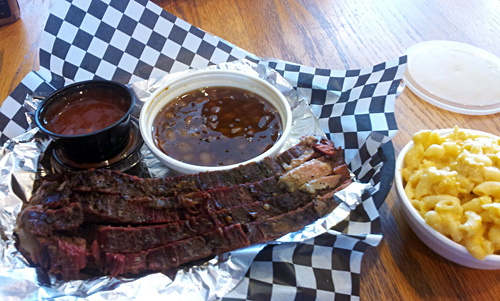 Brisket with smoked baked beans and mac & cheese
The pulled pork came topped with Just Q'in's house barbecue sauce, which is a milder, sweeter variety than I would normally opt for, but good in its own right. Next time, I'll ask to have it served on the side. The pork was delicous, with a welcome hint of smokiness. The accompanying slaw was of the vinegary variety, which I personally prefer over the mayonaissey ones. It's acidity helped cut through the sweetness of the sauce.
My girlfriend's brisket was a true highlight: tender and moist, it was easily the best tasting and best-prepared brisket we've ever had anywhere. Most briskets suffer from varying degrees of leathery toughness or dryness. Not so at Just Q'in. Its popularity is clear: the restaurant had run out of brisket on subsequent visits, so if you want to try it, make sure to get there early.
A couple of Just Q'in's side dishes need tweaking. While we enjoyed the sweet, fluffy jalapeno cornbread and heaping mounds of semi-creamy mac & cheese, we were disappointed in the smoked baked beans. Their overwhelming oily smokiness and spiciness made them barely edible. We didn't try the BBQ green beans because we saw another customer's and were put off by the idea of topping perfectly good green beans with BBQ sauce. Side dishes should serve to compliment the meat --instead, these two particular sides conflict with the experience. We would have liked to have seen something like collard greens or cheese grits on the menu.
Still, Just Q'in's meats easily make up for any side dish shortcomings. Their care in preparation shines through, and the brisket is clearly miles ahead of the competition. If you're frustrated by all the crowds at the Goliath of Cincinnati's barbecue scene, give David a try.
Just Q\'in
Price: Cheap (under $11 per person)
Service: Good
Rating: 3.0 out of 4

Cincinnati Bites