Posted Friday, July 4, 2014
Cincinnati is surprisingly flush with Korean food offerings, all tasty in their own right. Downtown, you'll often find me hanging out for lunch at Sunny Deli in Carew Tower, which offers a simple but yummy take on Bibimbap; or dinner at Sung Korean Bistro, enjoying their particularly good banchan selection. We personally know the owner of Riverside Korean in Covington, and it still reigns as my first love in terms of both authenticity and ambiance.
Stone Bowl is the latest Korean/Japanese-themed restaurant to open in the area, setting up shop in Oakley in the former Great Scott restaurant on Madison Road, which was also the former home of the long-running Nick's Chops and Chasers.
The restaurant is housed in a strange, German Tudor-style building whose dark-wood interior, while interesting, hearkens back to something out of the 1970s. A Benihana's would be perfect here. It's been a doomed spot for fledgling eateries in recent years: Great Scott didn't last long and died in painful stages, closing only after it had morphed into some bizarre flea market/restaurant hybrid in which patrons were expected to sit and eat food amidst a room stacked with musty-smelling trinkets from the past.
Still, the building exudes a sort of ineffable, rustic charm. I'd love to see a restaurant like Stone Bowl have as long and as successful a run here as Nick's enjoyed. They've cleaned up the space: the musty clutter is gone, leaving the dark wood and familiar ambiance intact. Stone Bowl has turned the smaller adjoining room into a sushi bar, which provides a perfect, cozy intimacy with their friendly itamae.
We sat down one recent weekend evening, setting aside Stone Bowl's sushi menus to focus on their Korean offerings. Of course, among the dozen entrees is the signature Stone Bowl Bibimbap, the deliciously en vogue, sizzling dish that caramelizes the rice on the bottom to crispy perfection before it is mixed with fresh veggies, spicy gochujang paste, a fried egg and a choice of beef bulgogi, chicken, tofu or seafood. My girlfriend opted for the chicken variety, while I chose the $20 pork belly entree stir fried with veggies and served with rice.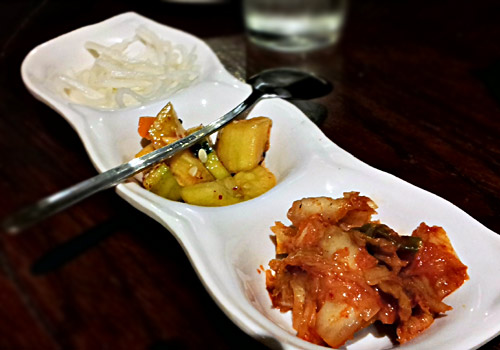 Banchan side dishes
The customary plate of banchan soon arrived, a traditional selection of tiny side dishes served either alongside or just before a Korean meal. Typically, Korean restaurants in the area offer at least six Banchan dishes, but Stone Bowl only offered three, which was disappointing. The three dishes were a delicately-spiced Kimchi; pickled cucumber and a shredded daikon radish. We didn't find any of them particularly compelling. While the Kimchi was fine, the pickled cucumber was a bit too vinegary and the daikon radish seemed too sugary-sweet.
The entrees, however, fared much better. We were pleasantly surprised at the portion sizes: my pork belly plate was piled high and the fat-to-meat ratio, combined with the pleasant, 7-out-of-10 spice level, made for an enjoyable, pork-infused experience. As the heat from my sizzling platter continued to reduce and intensify the marinade, I began transferring and mixing bits of meat and vegetables into the small cup of sticky, white rice, then greedily shoveled the mixture with my chopsticks.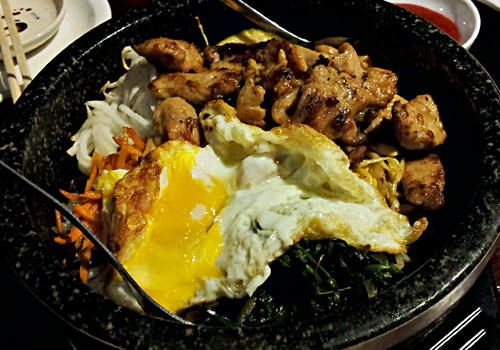 Bibimbap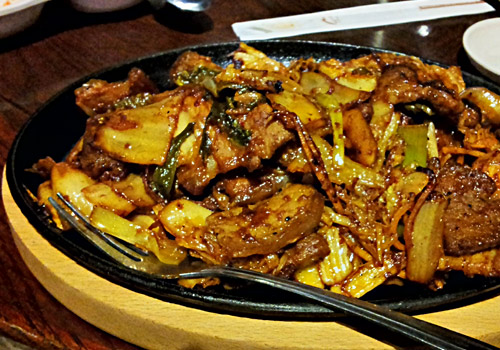 Pork Belly plate
My girlfriend's bibimbap was both colorful and plentiful, her stone bowl remaining hot to the touch well after the food had been devoured. The dish made better use of the shredded daikon radish, with a more savory treatment than its overly-sweet banchan counterpart. The fried egg was not overcooked, allowing the coveted egg yolk to blend uniformly into the mixed dish.
Stone Bowl is a welcome addition to a town thankfully rich with Asian culinary options. We look forward to repeated visits and hope they'll consider offering a wider and more diverse banchan selection.
Stone Bowl
Price: Expensive ($17 - $30 per person)
Service: Good
Rating: 3.0 out of 4

Cincinnati Bites