Posted Wednesday, June 13, 2012
Until last month, the 15th floor of the URS building on E. 7th St. had housed one of Sunny Deli's two locations. But after more than a decade there, Sunny closed its doors: the tiny glass-walled soup-and-sandwich nook went dark, the smell of sesame oil wafting down the hall gone forever.
Fortunately, Sunny and her husband, both originally from Seoul, Korea, will continue to operate the deli that is her namesake out of Carew Tower. You can find it via the Vine St. entrance by hanging a left at the first floor lobby and continuing past the elevators.
The eatery is more than just a sandwich shop: Tasty Korean food is also available, including Bibimbap; Ma Po Tofu; Asian dumplings; a spicy chicken and veggies concoction; Bulgogi beef and rice; Curry chicken and beef dishes; and homemade kimchi.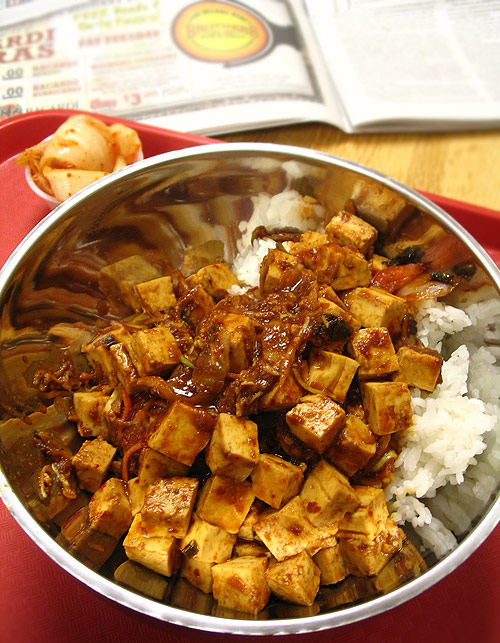 In the years I've worked downtown, Sunny Deli has been my go-to for both Bibimbap and especially the Ma Po Tofu, a bean curd dish mixed with shredded veggies, a spicy bean paste and served over either white or brown rice in a gleaming metal bowl. A couple vegetable dumplings or kimchi are typically added as a side, making for a very hearty $8 lunch. Their Korean specialty dishes (what Sunny refers to as, "Well Being Food,") also come with a free bottle of water.
For those more aligned with American food, there are plenty of options, including an array of breakfast sandwiches and bagels; popular deli sandwiches like the Sunny Tuna Melt Bagel; the Sunny BLT; Lox and Cream Cheese; Reuben; Veggie Wraps; Chicken and Tuna Salads and more. You can also get a soup and sandwich combo --my favorites over the years have included the Chicken Noodle, Clam Chowder, French Onion and the Potato Cream Cheese soups.
Their Korean food is addictive enough that I crave Sunny Deli at least once a week. Sunny's dining area is small and cozy, with about six tables, and it's always fun to try to chat with Sunny and her family. Between my penchant for mumbling and Sunny's Korean accent, we honestly struggle sometimes to understand each other, but with a few smiles, nods and abbreviated sentences, a friendly conversation is always had.
Sunny Deli is one of those cubby-hole joints that make me happy I work downtown.
Sunny Deli
Price: Cheap (under $11 per person)
Service: Good
Rating: 3.0 out of 4

Cincinnati Bites