Posted Thursday, February 11, 2010
There's nothing like a brisk winter wind to spark a hankering for Bibimbap, the popular Korean rice bowl. And so we were off to try The Korea House, located at 11371 Montgomery Road, at Harper's Station.
The place has been around for five years, but this was our first time eating there. We once peeked inside the restaurant to grab a menu. When we entered, I immediately felt a little uncomfortable, as I'd gotten the impression it was a little too upscale for my tastes. That was nearly two years ago. Our second try dispelled that impression --maybe they had since changed the lighting and decor, because it was now bright, open and most patrons were dressed casually or wearing jeans. That's much more to my liking.
The food photos on their website are as eye-catching as they are mouth-watering; I wanted to try everything. But most of all, I wanted to experience yet another variation of that Korean staple known as Bibimbap. Usually the rice mixture is served in a hot, stone bowl, decoratively filled with various vegetables, marinated strips of beef called Bulgogi and a hot pepper paste known as gochujang sauce. Finally, the bowl is topped off with a fried egg. You then mix the contents together, being sure to dig up the tasty, crusty rice from the bottom of the bowl. It's an interactive treat.
My girlfriend ordered a steaming bowl of DwenJang Chigae, a vibrantly red bean paste soup with beef, tofu, zucchini, onion and jalapenos.
Most Korean restaurants serve about six or seven small side dishes to try prior to and during the meal. They are collectively known as "Banchan." Usually you'll get Kimchi, marinated bean sprouts, glazed potatoes and other sides. Korea Houses' Banchan was an interesting mix that also included an apple/potato/mayonnaise concoction that reminded me of Waldorf salad.
Our booth was near the kitchen door, which may explain why a fly kept pestering us throughout our meal. I could have used Danielson's help from "The Karate Kid" to snare it ("Man who catch fly with chopsticks, accomplish anything"). It made me a little uneasy that there was a fly buzzing around in the heart of winter. Where did it come from? In what environment did it have time to mature? Let your imagination run with that a moment.
Korea House provides each diner with an unusual pair of metal chopsticks. While I imagine they're environmentally friendly, I discovered I was much clumsier with them than I am with the cheapy, tree-killing variety. It took some practice to get the hang of their utensils.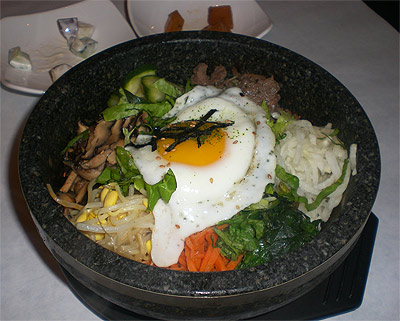 Korea House's version of Dolsot Bibimbap is probably one of the most aesthetically pleasing bowls in the city. The flavor wasn't bad, but their gochujang sauce didn't pack the spicy punch I'm accustomed to at other Korean restaurants. At $15.95, it's on par in price with Riverside Korean and a dollar less than Sung Korean's version. The cheapest dinner price for Bibimbap is still Suzie Wong's, at $10.95, but they don't serve Banchan.
My girlfriend found her soup bowl to also be on the bland side, which is surprising, considering that it was 90% spicy bean paste and jalapenos. Perhaps we both unwittingly suffered from nasal congestion that day. Still, wouldn't you think a bowl of spicy broth would cure you of that?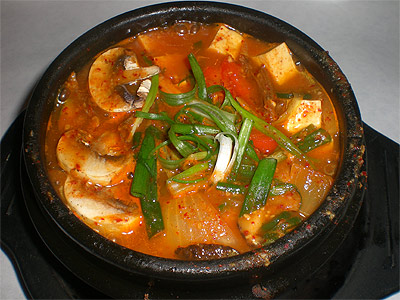 Our waiter was very friendly, helpful and enthusiastic; he saw us photographing the food and offered to take our picture with it. I don't think he quite understood why we were taking snapshots of our entrees. A few people I know find it odd I take pictures of my food. I suppose it is, to a degree. But, really: in the age of cell phones, is it really that unusual these days?
The Korea House is satisfying Korean, but doesn't quite match the caliber of Sung or Riverside. Still, it's always nice to have another Bibimbap option at one's disposal.
Korea House
Price: Moderately Expensive ($11 - $16 per person)
Service: Good
Rating: 3.0 out of 4

Cincinnati Bites