Posted Wednesday, December 16, 2015
I was looking forward to experiencing Bru Burger Bar in Cincinnati after it had recently opened in what's become a rather doomed location cater-corner to Nada. The interior is vastly different (read: improved) from the former Cadillac Ranch and El Coyote location: it's smaller and cozier, with smooth contemporary lines, dark wood throughout and a striking lack of a mechanical bull...
The menu is chock full of about two dozen burger and sandwich varieties offering several proteins. Beyond beef, there's pulled pork, mahi-mahi, ahi tuna, cod, lamb and even several vegetarian options like portobello mushroom, quinoa and garbanzo bean-based burgers. Sides include fresh cut fries, onion rings and a very delectable-looking roasted jalapeno mac-n-cheese.
I chose the signature "Bru Burger" and a side of onion rings ($14). The burger was a cooked-to-order beef patty topped with pungent taleggio cheese, bacon, mayo, "tomato jam" (i.e. Bru's homemade ketchup), lettuce and caramelized onions on an oversized bun.
I've seen some very impressive photos of meals from the other three locations this Indianapolis-based chain offers (it's the same company that runs the superior Moerlein House), but I found my meal a bit underwhelming given the price. The onion rings were greasy and one "ring" actually lacked onion --it was just a strip of empty fried batter.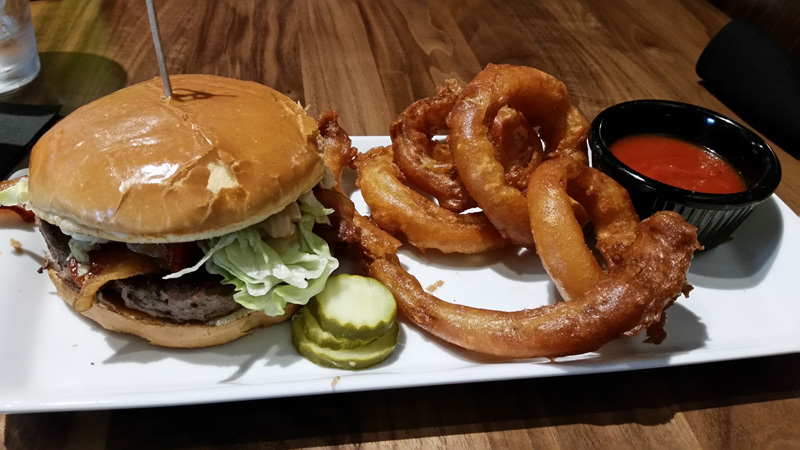 Bru Burger w/onion rings
Wait times were rather long, which can be somewhat forgiven for a freshly opened business. We finally received our plates twenty minutes later and were about to dive in only to be immediately interrupted by our server, who wanted to sell us on VIP cards. He droned through his spiel as I tried to focus on the food before me. My co-worker, who happened to be paying for the business meal this time around, was offered the VIP card, and then the server strangely made a point to deny me one because he claimed only "paying customers" were eligible (That's great, buddy, but I hadn't even asked for a card). Interestingly, their website reads, "Becoming a VIP is fast, easy, and - best of all - free."
In any case, the long wait, passable burgers, steep prices and disjointed service left me wanting. There are plenty of good burger places in town, and this one must really step up its game if it hopes to break the 6th St. curse.
Bru Burger Bar
Price: Moderately Expensive ($11 - $16 per person)
Service: Fair
Rating: 2.5 out of 4

Cincinnati Bites