Posted Sunday, August 31, 2008
Note: the following review is for a restaurant that has since closed.
Emanu is a new Ethiopian restaurant located at 6063 Montgomery Road, in Pleasant Ridge. It is owned by Emanu Mogos, who had honed her skills as head chef of another Ethiopian restaurant just a block away, the East African Restaurant.
We had been to the East African Restaurant many years ago. It was a small, cozy place that gave us our first taste of authentic Ethiopian food, complete with the flat, spongy bread known as Injera. Traditionally, diners used the bread as their utensil, tearing off a small piece to cover, grab and pick up items from the single serving plate everyone at the table shared.
Parking in a lot next to Emanu on a Friday night, we noted a lot of old PNC Bank signs indicating our car would be towed at the owner's expense if we parked here after bank hours. We were sure all the many other parked cars were owned by Emanu customers, so we ignored the warnings. It was unclear whether Emanu had actually purchased the lot along with the building so, if you're averse to risk, park on the street.
The restaurant was loud and bustling with people when we entered. We'd expected it to be busy because there had been two reviews in a local newspaper that week and, true to our prediction, nearly every table was filled. At the wall was a long bar where wait staff milled about; the bar was not yet ready for serving drinks since the restaurant has not yet been approved a liquor license. A waiter pointed to two available tables near a window and seated us promptly.
The wait staff was having difficulty keeping up with the business. After a number of minutes listening to and contributing to the loud din of conversation around us, we were greeted by our waiter. I ordered the Sambussa appetizer, described as "thin shells stuffed with beef or chicken, green chiles and fresh herbs, lightly fried." My girlfriend ordered the Tesbhi Derho, chicken sauteed in lemon, stewed in a red pepper sauce with onions, garlic, ginger root, cardamom and nutmeg. Finally, I ordered the Tsebhi Beghie: lamb simmered in a red pepper sauce, onions and spices. Ten more minutes passed before we were served our drinks. Our waiter had forgotten our glasses of water and we watched as a couple groups who'd arrived well after us were served theirs. When we finally got his attention, the waiter apologized profusely and returned with water.
Another 15 minutes had passed before we were served the Sambussa. The waiter explained that this was the vegetable version of the appetizer, because they'd run out of the beef Sambussa. Apologizing again for the wait and for the item switch, he told us the appetizer was "on the house."
Energized by the offering of free food, we eagerly tore into the appetizer, which consisted of two deep fried, shell-shaped pastries filled with green chilis, herbs and spices we could not identify. Despite being the vegetarian version, the appetizer had a surprisingly satisfying heartiness to it.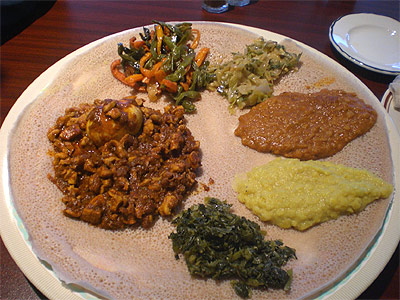 When our food arrived several minutes later, we were delighted at the presentation: a large, single platter with a long piece of Injera bread, on top of which were our entrees and two additional items. The waiter explained that the two additions were lentils and cabbage, offered free of charge due to the wait. He then presented us with a small plate containing three rolls of Injera bread.
It was admittedly a lot of fun to be tearing off bread and picking up food off the plate. It made the dining experience more down-to-earth, homey and comfortable. This experience was all about sharing and my girlfriend and I freely engaged in each other's entree. While my lamb pieces were easily small enough to be picked up, my girlfriend's chicken had been served on the bone, so we used knives and forks to cut the meat into Injera-manageable pieces. The meat was perfectly cooked and tender, and the lentils and cabbage offered a nice balance with the spiciness of our sauces. After using up the supplied rolls of Injera, we proceeded to tear off pieces of the bread on the platter, which had soaked up much of the tasty juices and sauces. Some of the bread directly under the entrees was too soggy to be picked up with our hands, so we finally finished off the plate with our forks.
Emanu did not disappoint. While we were initially annoyed with the service, our concerns were quickly addressed and the wait staff took great pains to ensure a pleasant dining experience. If you're open to trying new things, Emanu is a culinary adventure you won't soon forget.
Emanu
Price: Moderately Expensive ($11 - $16 per person)
Service: Good
Rating: 3.0 out of 4

Cincinnati Bites