Posted Thursday, December 31, 2015
With crowds continuing to saturate Eli's BBQ, you'd think some enterprising sort would be working hard to reverse engineer and shamelessly reproduce their successful model. Alas, you'd be wrong. Instead, several new barbecue joints around town have but one smoky, audacious belief: that their recipes and techniques can trump the ones proven to have worked here, crushing their primary competition once and for all.
Two notable upstarts have risen to the challenge this year: Pontiac Bourbon & BBQ, located in Over-the-Rhine; and Depot Barbecue, located in Maderia. We took a look at these latest contenders, both sharing a "greatest hits" approach: one sports a tour of several popular Cincinnati barbecue joints; the other is a celebration of the country's best barbecue locales.
Depot Barbecue
7701 Railroad Ave.
Madeira, OH 45243


UPDATE 7/10/17: Since I first wrote the review below, Depot Barbecue has markedly improved. No longer do we find their Mac & Cheese inedible, and we've since enjoyed their broccoli salad. We've increased Depot's rating from 2.5 stars to 3 stars.
Depot Barbecue opened in late October, operating out of an historic train station in central Madeira. The station has seen several restaurants come and go within its walls, including La Soupe and Choo-Choo's. Owner Andrew Benson, who has a local government and journalism background but apparently little restaurant experience, presented the "fast casual barbecue" concept to the city, partnering with local barbecue heavy hitters like SmoQ and Pit to Plate and using at least one recipe "inspired by" the defunct BBQ Review in Madisonville. He hopes to operate a successful amalgam of popular barbecue "superfriends" with the train station serving as their smoky "Hall of Justice."
My girlfriend and I had last visited the space when it was Choo-Choo's, marveling at the active toy trains snaking along tracks above our heads as we ate our meals. The space remains fairly intact, including the toy train, though it was shut down when we visited.
When you think of "fast casual," images of Chipotle or Fusian leap to mind: neatly-placed bins of ingredients behind a glass counter for easy pointing; a simple-to-follow base menu; and multiple employees tasked with one step of the meal-building process. Depot's process lacks this basic simplicity. Menus are handed out at the counter. No food is readily on display, though there was a visible cutting board for the meats. Employees weren't communicating well during our visit and seemed rushed and confused.
As of this writing, most meats are prepared offsite at their respective locations (at Smoq, in Fairfield, and at Pit to Plate, in Mt. Healthy). Depot keeps a small smoker behind the train station, ostensibly with plans to prepare meat in-house someday soon. It was unclear whether the sides were also prepared offsite and shipped in; some appeared fresher than others.
All the meats are served up in sandwich form, though the bun is optional. My girlfriend chose the smoked turkey (with a bun) and a side of macaroni & cheese and broccoli salad. I chose a bunless side of smoked chicken with a side of broccoli salad, mac & cheese and jalapeno cornbread.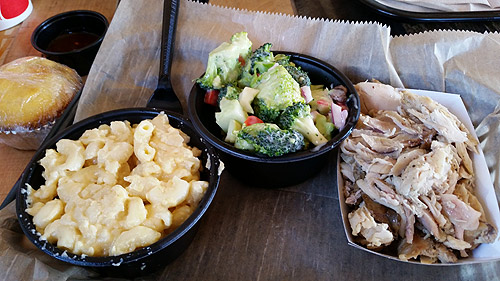 Pulled chicken with broccoli salad, mac & cheese
The meat was passable but I could discern no smokiness from my chicken. My girlfriend's turkey was considerably more successful, though a bit dry. Several sauces were available, ranging from sweet-and-mild to mustardy and spicy. We enjoyed the broccoli salad side and spicy jalapeno cornbread. But the mac-n-cheese was easily among the worst we'd ever tried: bland and overcooked to a mushy consistency, lacking both cheesiness and creaminess. We couldn't stomach more than a couple bites.
Prices seemed steep for the portion size: about $25 for two sandwiches with 2 sides and drink (although technically it was one side each and a $3 donation to the "revamp your mac-n-cheese recipe" fund).
We liked the ambiance and the fetching restaurant logo, and we do wish Depot Barbecue well. But work needs to be done to improve all aspects of the restaurant. I'm hoping they start with the mac & cheese, because they'll remain in the realm of smoked mediocrity if that isn't fixed.
Pontiac Bourbon & BBQ
1403 Vine St.
Cincinnati, OH 45202

Conceived and owned by Senate Chef Daniel Wright, Pontiac Bourbon & BBQ pays homage to a Chicago cafe where he and his wife shared their first date. This explains the Over-the-Rhine joint's strange coupling of barbecue and Tiki-style cocktails with a heavy emphasis on more than 100 varieties of bourbon.
Pontiac looks like a place inspired by 50s-era Memphis and Elvis kitsch: blue neon signs against bare-wood paneling, reel-to-reel music players piping blues, powder-blue leather booth seats that appear to have been pulled from an old Cadillac.
Chef Wright likes to keep his menus short and sweet, and Pontiac's is no exception: there's Texas style brisket; Carolina-style pulled pork, St. Louis style ribs, smoked turkey and kielbasa, with sides ranging from an enjoyable take on poutine to "red neck" Frito pie, fried pickles, brisket nachos and smoked chicken wings.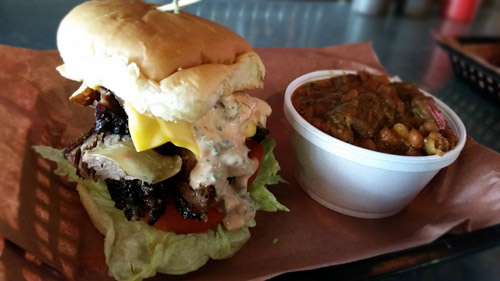 The "Animal" brisket sandwich w/baked beans
On our most recent visit, I chose a brisket sandwich sporting three slabs of meat on a soft bun topped with cole slaw and a peppery barbecue sauce ($9). The hints of white-oak smokiness were instantly recognizable as I bit into the tender meat, which sported a wonderfully caramelized crust.
My girlfriend selected the smoked turkey sandwich ($9), which offered a decidedly subtle, underwhelming flavor profile further masked by an overabundance of creamy coleslaw. We each enjoyed sides of bacon-fat grits ($3), topped with crispy bacon and cheddar cheese.
If there's one thing for which Chef Wright is legendary, it's his poutine. His version at Senate is one of the most delicious in Cincinnati, and his version at Pontiac is certainly no slouch. The pulled pork nacho cheese poutine ($9) is a creative and delicious take on the Canadian comfort food classic, with crinkle-cut fries drizzled with a velvety cheese sauce and heaps of pulled pork steeped in barbecue sauce and topped with jalapenos.
Over the last eleven months, Pontiac has established itself as one of the most viable contenders in the race to beat Eli's BBQ at its own game. The portions are commensurate with the price and the food showcases a level of time and care other competitors lack.
Depot Barbecue
Price: Moderately Expensive ($11 - $16 per person)
Service: Fair
Rating: 3.0 out of 4

Cincinnati Bites