Posted Wednesday, July 5, 2017
I was shocked and saddened when we learned last summer that one of our favorite neighborhood sandwich and breakfast haunts, Rascal's Deli, closed when the owner retired. Rascal's had been a part of our weekend routine for six years; it would prove difficult filling that void.
Still, we were encouraged by the news that a small Indianapolis chain, Shapiro's "Kosher Style" Delicatessen, was about to expand into the Cincinnati area, taking up the exact same Blue Ash space as Rascal's, as well as blowing out a wall and extending into the former Truva Mediterranean spot in the process. We held out hope that Shapiro's would perhaps offer a similar kind of personable charm and variety we enjoyed at Rascal's. Alas, Shapiro's is a very different culinary experience altogether.
We stopped by one weekend afternoon to check out why Shapiro's has enjoyed more than 112 years of success in Indiana. The original Indianapolis restaurants offer on their menu a combination of breakfast, lunch and dinner options, while the Cincinnati location disappointingly offers only deli sandwiches and dinner entrees. We'd heard rumors this is only temporary, but nothing on site hints that's the case.
Shapiro's is also very unlike Rascal's in that it doesn't offer table service. Instead, patrons proceed through a roped-off line, hospital cafeteria style, beginning with a tray, napkins and silverware on one end and a cash register at the other. In between are dessert, sandwich, soup and dinner selections, with a notable logjam at the sandwich station, where diners seemed overwhelmingly more interested in placing sandwich orders.
My girlfriend ordered a half pastrami sandwich on sourdough, which by itself normally costs a whopping $9 (without cheese, which is extra). That's quite expensive for only half a sandwich! She managed to moderately curtail the sticker shock by ordering a half sandwich and cup of soup combo, which brings the usual $3 soup down to $1.25, or $10.25 overall.
I meandered past the sandwich station to the dinner entrees, where there was a selection of baked chicken, meatloaf and stuffed peppers, along with a variety of hot sides. I chose the meatloaf along with a side of hot German potato salad and two potato pancakes. The entree also came with a slice of rye bread, all for $10.95.
Two Coke "free style" fountain drink machines are available for selecting a variety of refreshments via a touch screen, as well as free range sweet and unsweet iced tea. We grabbed our drinks and found ourselves a seat in the cavernous dining room filled with cold, steely metal tables and chairs.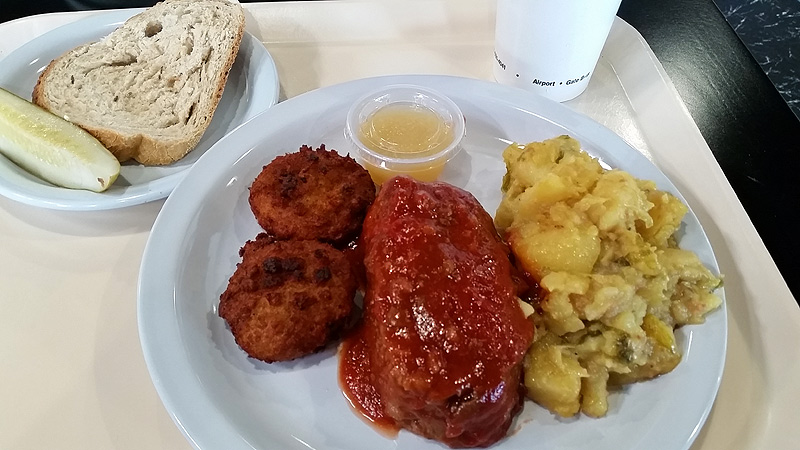 Meatloaf, potato salad, potato pancakes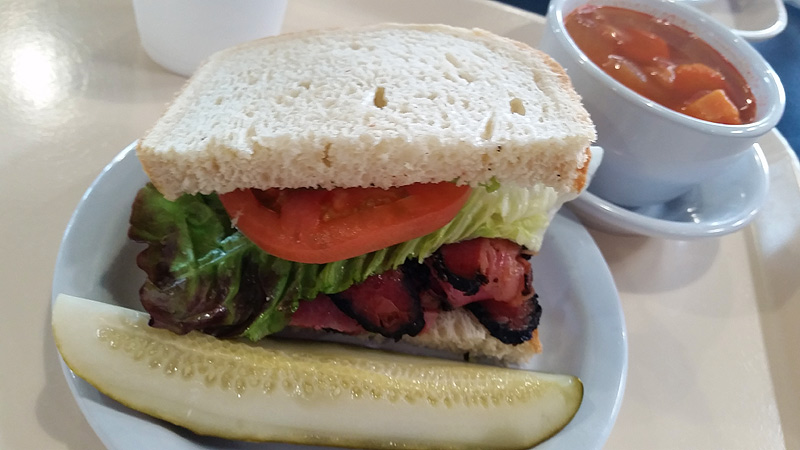 Pastrami sandwich, cup of bean soup
My meatloaf, though lukewarm, was actually quite delicious, a generous slab featuring a satisfying meatiness and a bright, fresh and hearty tomato sauce. The mustard-based German potato salad was pretty good. The side of rye bread yielded a nice, sharp bite and a delicious caramelized crust.
The so-called "potato pancakes," which deceptively looked great, were easily the worst aspect of my meal. These golden brown, "hockey puck" monstrosities were dense, dry and flavorless. We ached for any semblance of truly authentic potato latkes or something similar. These were an unworthy alternative at best and, at worst, an insult to my palate. They offered absolutely no potato flavor, seasoning or crispiness: they tasted like very bland, flattened hush puppies. Truly awful.
My girlfriend's sandwich was a bit light on the pastrami, the brined meat strangely lacking the assertive, smoky pepperiness one would expect. It was, in fact, a bit bland. Her side of Northern bean soup was peculiarly thin and watery, not the thick, hearty variety of Northern bean soup we're accustomed to.
Overall, Shapiro's is merely ok: it's passable deli fare, with no breakfast options, a sterile, impersonal atmosphere and little character. It took a fun, neighborhood deli --corporatized and super-sized it-- then produced something decidedly less compelling.
Shapiro\'s Delicatessen
Price: Moderately Expensive ($11 - $16 per person)
Service: Fair
Rating: 2.5 out of 4

Cincinnati Bites