Posted Sunday, July 16, 2017
Sometimes, it just takes a little chicken shawarma to set the tone for the rest of the day. But if "little" is what you're truly going for, then Milya Cafe isn't the place for you. Everything here is super-sized for your eating pleasure.
Milya is a Mediterranean restaurant located in Blue Ash. It's in a strip mall space formerly occupied by the much-missed Puffin's Bistro, which was run by an Eastern European woman peddling her delicious Pirozhki. Milya had some big shoes to fill, and it does so, to the very brim.
The restaurant features all the Mediterranean classics we Americans are familiar with: gyros, shawarma, falafel, kafta, hummus and flaky fish. You can get these classics as individual wraps, or as combination platters, accompanied by two sides (a choice of Greek salad, fries or seasoned rice).
We stopped by one weekend afternoon for lunch after eyeing their new sign and name change (they were briefly called, "Al Amir"). The interior will be very familiar to former Puffin's Bistro fans: virtually everything is the same, from the tables and chairs to the wall murals still sporting the Puffins name. A slick, rotating LCD screen menu hangs from the ceiling, accompanied by rotating images of select items.
My girlfriend ordered the Gyro Wrap Platter ($8.99) with a side of rice and Greek salad. I chose the Chicken Shawarma wrap ($5.99) with a side of "Greek" crinkle-cut fries topped with feta cheese and a Greek dressing ($3.49).
Within a few minutes, our impressively large, somewhat overwhelming amounts of food were served on trays. Take-out boxes would prove inevitable.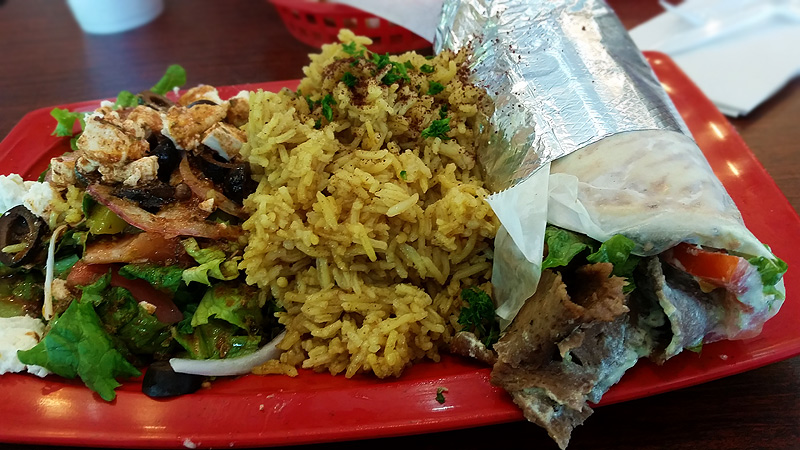 Gyro wrap platter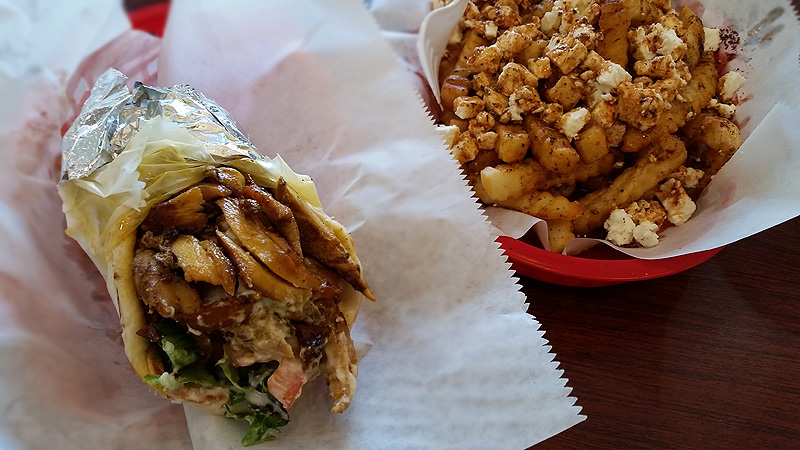 Chicken shawarma w/Greek fries
The chicken shawarma featured seasoned, grilled chicken cut from a rotating spit wrapped in a toasty pita filled with tomato, onion, lettuce and sharp, yogurty tzatziki sauce. The chicken was intermittently crispy and juicy with a mild spice. My pile of "Greek fries" was enormous; the Greek dressing featured a spice profile very similar to what you'd find in Skyline Chili and was very similar to flavors we've experienced in Greece: there were definite chocolate and cinnamon notes despite its savory profile, pairing surprisingly well with the feta cheese. It was a remarkably addictive combination.
My girlfriend's gyro was chock-full of thinly sliced, tender gyro meat, which is typically a mixture of pork, beef or lamb (though we also enjoyed plenty of chicken gyros in Greece). The meat was assertively spiced and difficult to stop eating, marrying well with the cool, crisp lettuce, tomato and tzatziki. The pleasingly seasoned yellow rice seemed to have been steeped in chicken broth, and the salad was light and refreshing.
Milya Cafe is a worthy successor to Puffin's Bistro, offering great takes on Mediterranean classics, featuring huge portions at affordable prices.
Milya Cafe
Price: Cheap (under $11 per person)
Service: Good
Rating: 3.0 out of 4

Cincinnati Bites