Posted Saturday, January 29, 2011
Gas Light Cafe is a bar and restaurant located at 6104 Montgomery Road, in the heart of gaslight-infused Pleasant Ridge. It's next door to Everybody's Records and across the street from Molly Malone's.
There is an ample parking lot behind the building, accessible via Orion Ave. We didn't know that at the time, instead parking at one of the metered spaces out front along Montgomery Rd.
I'd been wanting to try Gas Light for quite a while; it was one of the few remaining Pleasant Ridge restaurants I had yet to visit, despite being a former resident. So when a co-worker suggested our three-man crew hit up the place for our weekly lunch road trip, I enthusiastically jumped at the chance.
Stepping into the place was like being transported back in time. I don't know how long Gas Light's been around, but it seemed clear the building has always housed a bar. There was a heavy permanence to the art deco-like, two-tone wood design of the booths, each with its own personal chrome coat rack reaching out at the ceiling like a gleaming claw. At every booth were a set of four narrow mirror panels, each set into the wall at an angle, offering a different perspective of the place for each patron.
Like The Food Hussy, I'd read about Gas Light's burger being rated as the fourth-best in the city, as chosen by Cincinnati Magazine. It seemed like unusually high praise for a place mostly known as a local watering hole. Then again, the success of TV shows like Diners, Drive-Ins and Dives proves some of the best food comes from "dives" like this, prepared with just an extra edge of care and pride.
Regulars at Gas Light Cafe were apparent: at one point, a man sat down and asked our server to pour him a glass of his "usual," the name of which she rattled off immediately. Several LCD TVs hung from behind the bar, offering various sports channels. Hundreds of old photos lined the walls, most with sports-related themes. A photo of Pete Rose flipping the bird was among our favorites.
There was only one sticky menu at our booth to share, but given the abbreviated choices, it didn't take long to scan. It lists typical bar food: wings, nachos and potato skins along with burgers, sandwiches and soups. Most items are ordered a la carte, although burgers and sandwiches do come standard with chips and a pickle spear. Daily lunch and dinner specials are available, regularly updated on Gas Light's sign out front.
The three of us each chose a variation of their burger: I chose the Gas Light Burger, a 1/2-pound cheeseburger with lettuce, tomato, pickle, onion and mayonnaise. We also split a side of crinkle-cut fries and onion rings. Coke products are sold here, so I chose the increasingly rare-to-find Mello Yellow to drink.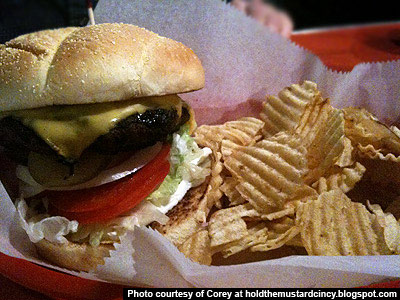 All food is served in familiar red plastic baskets. When our burgers arrived, the grilled smell hitting my nostrils evoked childhood memories of family cookouts by a charcoal grill. Served in a soft, corn-dusted Kaiser roll, the patties were think, cooked through and juicy, with a pleasing grilled char. The height of the Gas Light Burger made it somewhat of a challenge to eat, but I persevered. The toppings tasted fresh, and the fries and onion rings were hot and crispy, with a pleasing aroma of fresh grease.
Gas Light Cafe easily lived up to our expectations. Its burger's fourth-place ranking is well deserved. I haven't tried all the burger joints in town, but based on what I have, the Gas Light Burger would be number one. To me, it's better than Zips, better than Quatman's, better than City View. And that's saying something.
Gas Light Cafe
Price: Cheap (under $11 per person)
Service: Good
Rating: 3.0 out of 4

Cincinnati Bites