Posted Sunday, February 6, 2011
Loving Hut is a totally meatless restaurant in Pleasant Ridge, serving an array of vegan and raw foodist options. But, fellow carnivores, don't be so quick to blow them off: you just might find something on their menu to keep your mind off that succulent flesh.
While technically part of a chain, each Loving Hut location offers a different menu best suited to fit its regional tastes; the one at the Cincinnati location apparently changes routinely.
I'd admittedly put off visiting and reviewing Loving Hut because I just couldn't see how an all-vegan restaurant could make it here, even in artsy, diverse Pleasant Ridge. I figured by the time I'd written anything about them, they'd be closed (how's that for a positive attitude?). So it was particularly shocking to find the place quite packed when we arrived for lunch one weekend. Loving Hut was doing just fine, thank you very much.
Walking in, our first impression was that it was very busy and a bit disorganized. It wasn't immediately clear how one ordered; employees were much too focused on getting the line under control to greet the incoming, and there were no, "ORDER HERE, DUMBASS" signs hanging in appropriate places a la Chipotle.
Our correct assumption was to order and pay at the counter, then take a numbered card and seat ourselves at any table. Printed menus were available, as well as a dizzying array of items scribbled on a large blackboard hanging behind the counter, plus a small, supplemental chalkboard promoting specials by the cash register.
To be as efficient as possible, my girlfriend and I had scanned their online menu well in advance of arriving. We felt pretty confident this would help expedite the process, but hadn't anticipated a modified menu, forcing my girlfriend to re-think her choices.
The menu is quite diverse given the lack of animal-based options. There are many starter items like sushi, potstickers and even a BBQ "Drum Stick;" a variety of soups and salads; and main dishes ranging from paninis and wraps to sandwiches, faux chicken, "hoagies" and "burgers." The "Raw Dishes" section seemed the most compelling to me, designed to accommodate raw foodists, who believe their diet offers superior health benefits (increased rise in raw produce food poisoning cases notwithstanding). Items like the raw lasagna, pizza and Reuben seemed quite inventive.
My girlfriend chose a grilled, veggie panini served on whole-grain bread, with a red pepper pesto, homemade coleslaw, avocado and tomato and a side of pumpkin-spiced chili. I chose the BBQ Drum Stick and the Raw Curry Romaine Soup, a pureed blend of avocados, tomatoes, romaine and curry spices served over kelp noodles and topped with kimchee.
The woman at the counter seemed somewhat determined to talk me out of my raw foodist choice, asking me pointed questions like, "Are you a raw foodist?" and warning me that some people find raw foodist flavors and textures to be jarringly foreign, and my particular dish to be a little spicy. I countered with, "sounds great to me," to which she nodded and smiled.
We grabbed our complimentary tea and water from a nearby stand before heading back to the full dining room in the back. The room consisted of about six or seven tables. It had a sort of "new age" feel to it, with a serene, lighted, plastic rock pond in the back trickling away, and images of Asian women dancing about on two TV screens.
Guidebooks provided on each table described the TV programming as the "Supreme Master Television Network." It showcased strange, mildly creepy, cult-like propaganda video promoting the ideals of "Supreme Master" Ching Hai, a Vietnamese spiritual leader who founded the Loving Hut restaurant chain. Shows depicted happy Asian folks dancing in elaborate, colorful garb, intermingled with subtitled commentary and song by Ching Hai herself.
There was something a little off about the low-tech quality of the video production; it vaguely reminded me of old David Koresh or Heaven's Gate clips. There was a bookshelf filled with various documents espousing the benefits of veganism; even the back of our numbered table card contained a few cheerleading sentences. We felt fairly deluged in heavy-handed granola-ness, and this is coming from two decidedly open-minded people who had gone to Ohio University where, as my girlfriend puts it, "hippies go to die."
Our wait was interminably long. Perhaps that's why the pro-vegan ambiance soon grated at our nerves; we were hungry and fading fast. How long does one reasonably wait before it's time to walk back to the counter and check on the progress? After about 30 minutes, I'd had enough. Of course, by the time I'd gotten up there, I could see they had loaded up a tray with my girlfriend's food along with my BBQ Drumstick. Ironically, the raw curry soup was taking the longest to prepare. Another 10 minutes and a second counter trip later, we had been served our food.
By this time, we'd all but lost hope of having a positive experience. With Asian song dancing in our heads and seemingly everyone else around us enjoying their more quickly-prepared meals, we figured it would take a miracle for our hard-won food to turn things around.
But it did.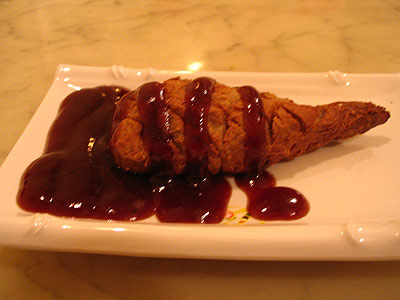 The textured-protein, vegan BBQ Drum Stick fooled me into believing I'd just bitten into a bone, even though it had obviously been served on a stick. The outer texture was crusty like chicken skin, while the inside was soft like the bird's luscious flesh, paired well with the smoky, rich barbecue sauce.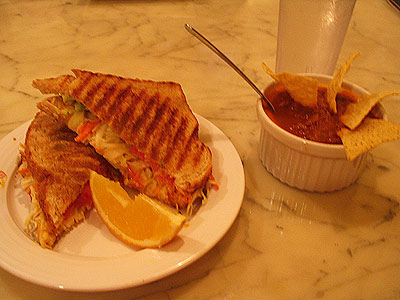 My girlfriend's sandwich was packed with a lot of flavor and the panini-toasted texture offered a nice contrast to the rest of the fresh ingredients. Her pumpkin chili was "meaty" with a soy crumble and multiple types of beans, coupled with a hint of sweetness from the pumpkin. It was still warm but had obviously been on the tray awaiting the completion of my curry soup, because the accompanying corn chips were soggy. Still, she enjoyed everything she'd ordered.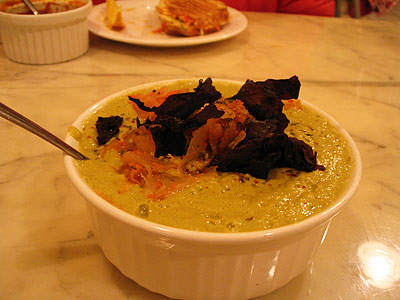 My curry romaine soup came in a simple bowl, deceptively hiding its heartiness. Despite being a raw foodist selection, it was surprisingly served warm. Apparently, raw foodist guidelines dictate food can be warmed up to certain temperature, but it's far short of standard cooking procedures. The spiced kimchee offered a pleasant contrast to the broth --it wasn't an overwhelming spice that you find in the longer-fermented varieties, with a refreshing lightness. The kelp noodles at the bottom of the bowl were a thin, pleasing texture that added to the dish's substantial profile.
Loving Hut's food managed to pull us from the brink of a very dark place after having endured a 40-minute wait, absorbing the loop of Supreme Master programming. It unexpectedly won us over, and we'll definitely be back.
Loving Hut
Price: Cheap (under $11 per person)
Service: Fair
Rating: 3.0 out of 4

Cincinnati Bites