Posted Saturday, October 29, 2011
Note: the following review is for a restaurant that has since closed.
We want to have a reason to regularly return to Northside, but restaurants there just aren't cooperating. Our visits to Vout and The Grove were pleasant surprises, but we'd unwittingly caught both on the tail end of a downward spiral, and they closed soon after.
So at the risk of history repeating itself a third time, we examine our recent visit to another Northside original, The Painted Fish. Now's the time to start placing your bets.
As the name suggests, The Painted Fish's specialty is seafood, particularly sushi. In their one-year stint so far, they've been nominated in Metromix's "Best Sushi" category, which they'll likely never win only because the type of people who regularly eat sushi and vote on such things aren't concentrated in the Northside area.
The restaurant's interior is filled with deep reds and greens with long, thick drapes covering the windows, sectioned into two large dining areas and a self-contained sushi bar area in the back. The place simultaneously reminded me of a hotel we'd stayed at in New Orleans and something out of the set of "Interview with the Vampire."
I've never been particularly compelled to order sushi at a restaurant, and I wasn't about to start this time. Instead, my girlfriend and I looked on at the available appetizers and entrees, pleased to find plenty of options beyond seafood. The Painted Fish's menu is described as Asian Fusion and there are several playful takes on Korean, Japanese and even American classics here.
The $10 Negi Maki appetizer seemed the most compelling, described as asparagus and scallions rolled with thinly-sliced sukiyaki beef and cut sushi style. After we'd ordered it, our server soon returned to our table to inform us it was no longer available. Yet there it is, still on their website menu as of this writing. Disappointed, we went for an order of the $5 Nori Fries: a simple preparation of steak fries tossed with Nori seaweed flakes and served in a conical, paper funnel with a side of wasabi mayo.
The fries arrived piping hot, with liberal, delicious doses of sea salt. The addition of the Nori flakes was unusual but not off-putting, offering an unspoken allusion to the sea. Dipping the fries in the wasabi mayo lent a welcomed spicy, sinus-tickling layer.
We were excited to see yet another opportunity to try Bibimbap, so my girlfriend ordered it as her entree. I chose the Sweet and Sour Wasabi Crusted Chicken, lightly fried in panko crumbs, topped with both a wasabi mayo and a sweet and sour sauce, along with a side of tempura-fried sweet potato medallions.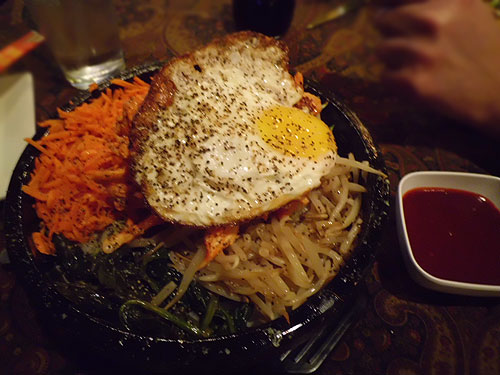 The bibimbap arrived in a mildly-sizzling hot stone bowl filled with the expected, artfully arranged selections of vegetables and topped with a heavily-peppered fried egg. All of it lay on a bed of rice made partially crispy by the heat of the bowl and served with a side of spicy sauce traditionally mixed in with all the ingredients. The waiter offered to perform the mixing ritual but my girlfriend shook her head, shooing him away.
The flavors were all of fresh ingredients, with a nice interplay of spiciness, but the rice needed to be crispier for there to be a completely authentic Dolsot Bibimbap experience. Still, my girlfriend thought this was among her favorite Bibimbaps in the Cincinnati area.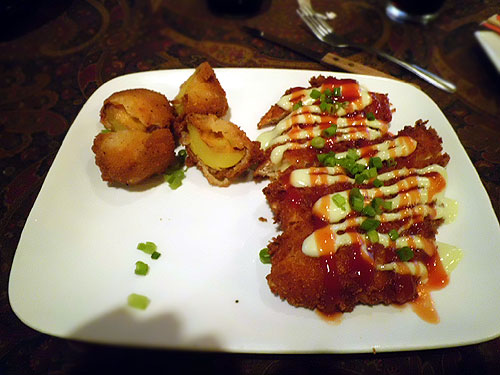 The Sweet and Sour Wasabi Crusted Chicken was presented with criss-crossed squirts of wasabi and sweet and sour sauces over a generous portion of chicken breast covered in a thin layer of panko batter. The panko offered a pleasing textural contrast to the chicken, fitting perfectly with the amicably-paired duo of sauces. The side of potatoes were tasty yet difficult to describe; the mouth easily registered the starchiness of the inner core but the outer layer's ingredients could not be easily identified.
For dessert, we chose the Tempura Ice Cream, a playful take on the obligatory Fried Ice Cream found in just about any Mexican restaurant. The ice cream arrived thickly entombed in tempura batter, drizzled with chocolate and raspberry sauces and resting on a bed of whipped cream. It was one of the most unique desserts we've ever had, with the thick tempura in some bites making it almost seem savory at times, but it was delicious.
The Painted Fish has all the hallmarks of a successful restaurant. I get the sense it's lead by a sushi chef who is frequently tasked with leaving his comfort zone to also handle non-sushi dishes. Earlier reports of menu items and service seemed spotty, but after a year's experience, it seems both he and his restaurant have evolved.
While no one can predict the future in this dismal economy, we're betting in favor of The Painted Fish.
The Painted Fish
Price: Moderately Expensive ($11 - $16 per person)
Service: Good
Rating: 3.0 out of 4

Cincinnati Bites