Posted Wednesday, November 30, 2011
Note: the following review is for a restaurant that has since closed.
Muggbees is a sports bar located in Anderson off Beechmont Ave, tucked back in a strip mall across the street from a Volkswagen dealership.
We stopped in for lunch one cold, rainy afternoon, walking around the prominent bar. The dimly-lit, two-tiered room of dark woods was cast slightly aglow from the myriad LCD screens and neon beer signs surrounding the last of the late-lunch patrons.
Muggbees offers a small, laminated menu of typical bar food: wings, burgers, fried food and a few salads. Urbanspoon photos of Muggbees' burgers had caught our eye. They come with unlimited toppings, and there are curiously healthy-sounding side items on the menu beyond the more standard french fries and chips, like green beans.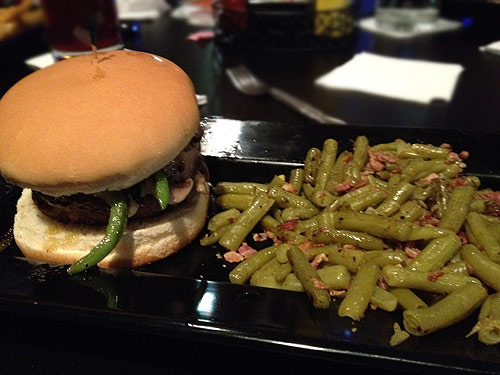 The eight-dollar burger was most impressive in size, the fluffy bun beautiful. The toppings I'd chosen --green peppers, mushrooms and swiss cheese-- were tasty and seemed fresh. Unfortunately, the burger itself was fairly mediocre. The meat had a strange, gray appearance to it, as if it had been steamed in a high school cafeteria. No grill marks were discernible, nor was there any of that crusty char, grilled meat flavor one craves from a perfectly cooked burger. Instead, the meat seemed a bit dry with a slight, somewhat metallic aftertaste lingering on the tongue for several long seconds.
When I ordered the green beans as a side, I'd expected to receive them served in a ramekin or similarly small dish. We couldn't hide our shocked faces as the waitress instead presented a burger resting against a massive mound of green beans flecked with real bacon --a hearty accompaniment that nearly overshadowed the enormity of the burger. But for all that bacon, the beans seemed remarkably bland, belying the meaty flavor its presentation promised.
The bar offers the obligatory "Man vs. Food" style challenge it calls the "Muggabeast:" a triple cheese burger with three 3/4-pound patties and two sides, which must be eaten in a predetermined time. It's unfortunately made more challenging armed with the foreknowledge that there are far better burgers in Cincinnati you could be abusing your stomach over.
Muggbees' signature menu item --its burger, needs work. The toppings are great; the side items interesting, but you can't have what should have been the star of the lunch outshined by what's on top of and next to it.
Muggbees Sports Cafe
Price: Cheap (under $11 per person)
Service: Good
Rating: 2.0 out of 4

Cincinnati Bites