Posted Tuesday, August 5, 2014
If you were a fan of Dusmesh, the highly-blogged-about Indian restaurant in Clifton, then you should know that in 2013, new ownership and staff dramatically changed an establishment that had once served what some would argue was the best Indian food in the city.
Dusmesh's current food is fine, but the tastes and service we enjoyed from the previous owners had elevated our visits to levels few restaurants ever reach. From their large, pillowy naan, to the small, round serving dishes of perfectly tender lamb; from the enthusiastic service, to the complimentary dessert of a single, toasty ball of Gulab jamun wading in a light pool of sweet syrup, the original founders of Dusmesh made their patrons feel special.
We'd heard the whispers of an ownership change, and while the differences were clear after a couple follow-up visits, we didn't feel the new owners' cuisine was terrible. What severed our Dusmesh relationship was the service.
At our final visit, a young woman "waiting" on us spent most of her time chatting with a group of her friends at a nearby table. Our attempts to get her attention proved futile. After our water glasses had remained empty for more than 10 minutes, I caught her glancing over at us as she continued to speak to her friends.
"It's ok working here," she told them loud enough for most guests to hear, "but I hate it when customers don't set their water glasses at the edge of the table so I can reach them easily." Then she sauntered slowly over to us and asked primly, "More water?"
Now the original, beloved owners of Dusmesh have a new restaurant in North College Hill called, "Swad." And folks, Swad Indian is in every way the original Dusmesh we all knew and loved. The service by the original friendly staff is here. The original menu is here. The complimentary Gulab jamun is here.
A snotty young waitress pretending not to hear us? Not here.
We arrived at Swad one Sunday evening for dinner. The location, while initially perceived as dicey and meandering on Google Maps, ended up not being a problem at all. The North College Hill restaurant is located in the former Van Zandt Tavern, which had closed shortly after losing its liquor license. The dining room is spacious, featuring a dark, lacquered bar and an adjoining, partially-covered outside deck. Plenty of parking wraps around the building and there's additional parking along the street.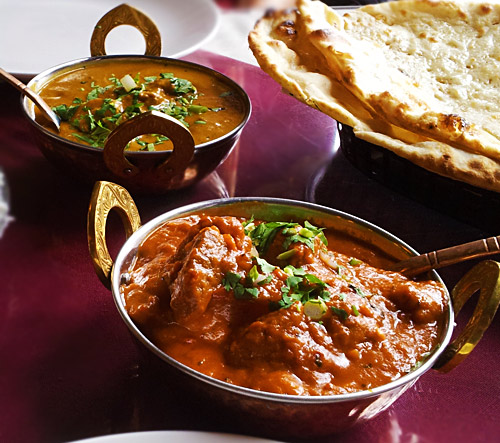 Lamb Rogan Josh, Vindaloo and Naan
To best compare our dining experience with the Dusmesh of old, we ordered our tried-and-true dinner options. My girlfriend chose the lamb Rogan Josh along with a side of plain naan, while I picked the lamb vindaloo and a side of the sweet kashmiri naan, filled with shaved coconut, nuts and raisins. Like Dusmesh, Swad's spice scale is 1-6; we each chose a four.
When the food was set before us, we were struck with an instant wave of recognition. The sheer size of the hot, buttery naan, cut into two large halves that all but ensured leftovers, were exactly as we'd remembered. Our respective dishes were spiced perfectly, showcasing the lamb in both rich and fiery sauces that hearkened back to the best days of Dusmesh's past.
If you've visited Dusmesh lately and found yourself wondering where all their mojo went, look no further than at Swad. No, it's not the quick jaunt to Clifton we were all used to. But if you're willing to chase a tasty ghost, Swad's waiting to reward your tastebuds.
Swad Indian
Price: Moderately Expensive ($11 - $16 per person)
Service: Excellent
Rating: 3.5 out of 4
Cincinnati Bites