Posted Sunday, January 23, 2011
Walt's Barbeque is a popular meat lovers' haven located at 6040 Colerain Ave, on the West Side of town. The 240-seat "Barbeque Barn," as the owners coined it, has been open since 2007, the crown jewel of a nearly decade-old operation and bona fide Cincinnati success story.
We arrived on a weekend morning around 11:30, meeting up with about 10 other people to celebrate a friend's birthday. The parking lot, to our surprise, was completely empty. Had the place shut down? Had there been a miscommunication in the Facebook invite? No. Within a few minutes, the first of the remaining guests had begun to trickle in. Walt's is usually quite busy, so if you've ever wanted to know the best time to get a table, now you do: 11 am - 11:30 am is a definite sweet spot.
The interior is as barn-like as the owners had planned: very open, no ceiling to speak of, just meaty air tickling the roof. Hanging from the walls and rafters are a mixture of mostly Nascar and sundry sports memorabilia. Long, red and white checker-clothed tables are aligned in an almost communal, church pew arrangement: give thanks to the mighty pork gods dear brother, hallelujah, amen.
As the group sat down, someone excitedly eyed the stack of old Trivial Pursuit cards on the table, stored neatly in a container by the salt and pepper shakers. This immediately got the conversation going as she reached for a card, asking us head-scratching questions Alex Trebek would be proud of.
After a waitress rolled through the group's drink orders, we all took a few minutes between Trivial Pursuit questions to examine Walt's menu. Typical barbecue fare can be found here along with a few more unique items. Brisket, ribs, pulled pork, chicken, turkey, sausage and even several fish options are available. More than twenty stick-to-your-ribs side items are listed, including red beans and rice, fried okra, mac-n-cheese, fried potatoes, collard greens and something they call "baked potato casserole," a molten cheese, carbified wonder.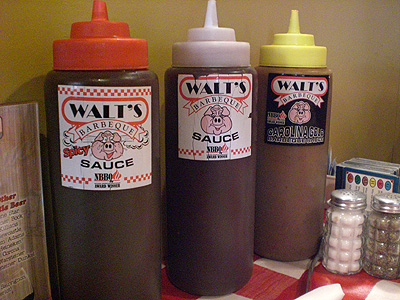 On every table are Walt's three homemade barbecue sauces: regular, spicy and the mustard-based Carolina Gold. The latter two won awards at the 2009 National Barbecue Association "Awards of Excellence" expo held in Austin, Texas. Bottles are available for sale at the door. The mustardy Carolina Gold is easily my favorite, with a rich, complex heat, but their other two sauces are just too sweet to me. If you're a fan of Montgomery Inn's sauce, you'll no doubt enjoy Walt's. Heck, they even have Saratoga chips here.
I ordered the pulled pork platter, which came with two sides and cornbread. I chose a side of red beans and rice and the fried okra. My girlfriend choose the half slab of ribs with a side of baked beans and green beans.
A couple members of our group ordered the chili cheese fries appetizer, so we sampled that while awaiting our entrees. The fries were of a mid-range thickness, heavily coated in a blanket of meaty chili and melted cheddar cheese.
The meals for our group were all served simultaneously. Portions all around appeared generous; our varied choices all looked mouth-watering.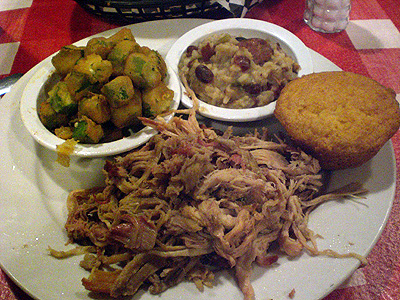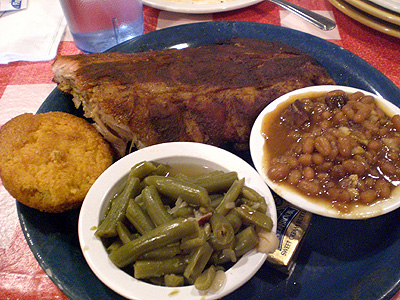 Unfortunately, my pulled pork was lukewarm --nearly cold. Lukewarm food is one of the prices one often pays when going out to eat with a dozen people. While the servers usually try to bring all the food out at once, it's usually at the expense of the earlier-made dishes. I didn't hold this against Walt's, however: it happens. The pork's flavor was lightly smoky, a perfect vehicle for the Carolina Gold sauce I'd mostly topped it with.
My side of red beans and rice was not of any Louisiana variety I'm familiar with: it was heavier on the rice and sausage, with only a smattering of red beans, giving it an almost gluey, mashed-potato consistency. A few at our table didn't like it, but the majority did, including myself. The fried okra was hot, crispy and lacked the slimy texture one finds in some okra preparations.
My girlfriend enjoyed the fall-off-the-bone tenderness of her ribs, which seemed meatier and juicier than other slabs she'd tried. The baked beans were too sweet, since a key ingredient was some of that same barbecue sauce. Cornbread was warm and muffin-sized, a little dry, but of the slightly sweeter variety we enjoy.
Walt's Barbeque is on a short list of preferred barbecue restaurants in town. It's got a little something for anyone drawn by the seductive allure of smoked meat.
Walt\'s Barbeque
Price: Cheap (under $11 per person)
Service: Good
Rating: 3.0 out of 4

Cincinnati Bites