Posted Sunday, November 28, 2010
Montgomery Inn at the Boathouse is the kind of place Cincinnati executives like to take out-of-town clients to showcase their city. And what better venue: the stylized, rounded building offers excellent river views. With two floors of tables arranged around the periphery, there's not a bad seat in the house.
The Montgomery Inn name itself is renowned in Cincinnati: it's the go-to restaurant for celebrities and at least five past U.S. Presidents, photos of whom adorn the lobby. Some celebs swing their limo on by to retrieve a large carry-out order. Take a gander at the photo of a beaming George W. Bush proudly holding his big sack.
I'm one of those Cincinnati transplants who never quite understood the mesmerized wonder and general deity-like status natives bestow upon Montgomery Inn's ribs. I can think of several barbecue places in town that don't cost as much and taste a hell of a lot better. Can't you? Really?
So why am I reviewing this place at all? Well, after visiting the Boathouse for the first time in more than a decade, I can honestly say I actually enjoyed what I had this time. Whether it was an anomaly I leave for you to decide.
Here I met a couple friends for lunch one recent, sunny weekday. Both are named Ed, the same guys with whom I'd dined for the El Pueblo review.
Ed #1 was leaving us for an extended period in his native UK, so we got together one last time before his trip. The three of us were led to one of the linen-covered tables along the first floor, a curved wall of glass revealing panoramic views of the Ohio River and Newport, Kentucky.
A basket of various sliced breads from Servatii's Bakery was placed before us. The slice of rye I retrieved was coated in herbs, its pleasing saltiness making it taste much like a pretzel.
Ed #1 had once worked at Montgomery Inn and recommended a rarely-chosen appetizer, the Crostini. A plate of six toasted crostini arrived topped with melted bleu cheese, diced tomatoes, basil, oregano and sprinkled with four additional Italian cheeses. The bread in the center had become slightly soft from all the melty cheesiness, making the crostinis easier to eat. They were delicious, the slight bite of bleu cheese offset by the refreshing tomato and herbs.
For our lunch entrees, Ed #1 and I ordered the Smoke House Trio, three pillowy mini buns each stuffed with a different meat: pulled pork, beef brisket and smoked chicken. I chose a side of Macaroni & Cheese while Ed #1 picked a baked sweet potato. Ed #2 ordered the pulled BBQ chicken sandwich and a side salad.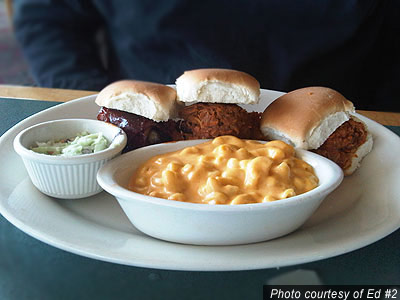 The food arrived fairly quickly. I was impressed with how much meat was packed and overflowing from each of my minis. The accompanying cole slaw was crunchy and light on the mayonnaise. The mac & cheese side looked generous, a pleasingly creamy concoction with plump-yet-al-dente elbow pasta. Think of it as a slightly higher-brow version of the revered Kraft Macaroni & Cheese.
Ed #1's baked sweet potato looked a bit overdone to me, but then again baked sweet potatoes don't typically look all that attractive to begin with. He didn't seem to be complaining. Ed #2 liked the flavor of his pulled chicken sandwich.
Given my past, consistently mediocre Montgomery Inn experiences, I was surprised at how much I enjoyed the seasoning of each of the meats. The pulled pork and smoked chicken were shredded and juicy; the beef brisket was tender and liberally slathered in barbecue sauce. And yet despite the sauce's strong presence, I didn't mind it in this context.
This visit forced me to reconsider my low overall opinion of Montgomery Inn. I've long considered their sauce to be too cloyingly sweet, their ribs gray and tasteless. I still do. But there's more to barbecue than just ribs. And though Montgomery Inn claims to be "The Ribs King," you'll probably have a better time if you order something else.
Montgomery Inn at the Boathouse
Price: Expensive ($17 - $30 per person)
Service: Good
Rating: 2.5 out of 4

Cincinnati Bites