Posted Sunday, April 30, 2017
Let's face facts: Cincinnati needs another taqueria like a hole in the head. Still, there's something to be said for having a good one in your own back yard rather than having to travel to Newport, Over-the-Rhine, Fairfield or Madisonville. Taqueria San Marcos, which is tucked on a corner of a mostly residential swatch of Carthage Ave. in Norwood, fits that bill.
The small, drab-white, unassuming facade belies the fun, fire engine-red 50's diner theme awaiting inside. Upon the suggestion of fellow area food blogger Heather (aka "The Food Hussy,"), we stopped by to give them a try.
San Marcos' dining room is small, showcasing about four or five booths and bar seating. There was evidence that they may be expanding soon. We sat down and perused a very comprehensive menu that, in addition to tacos, includes full dinner plates, tortas, quesadillas, burritos, enchiladas and more. The menu is quite meat-centric: there are only a few vegetarian options here but they are available.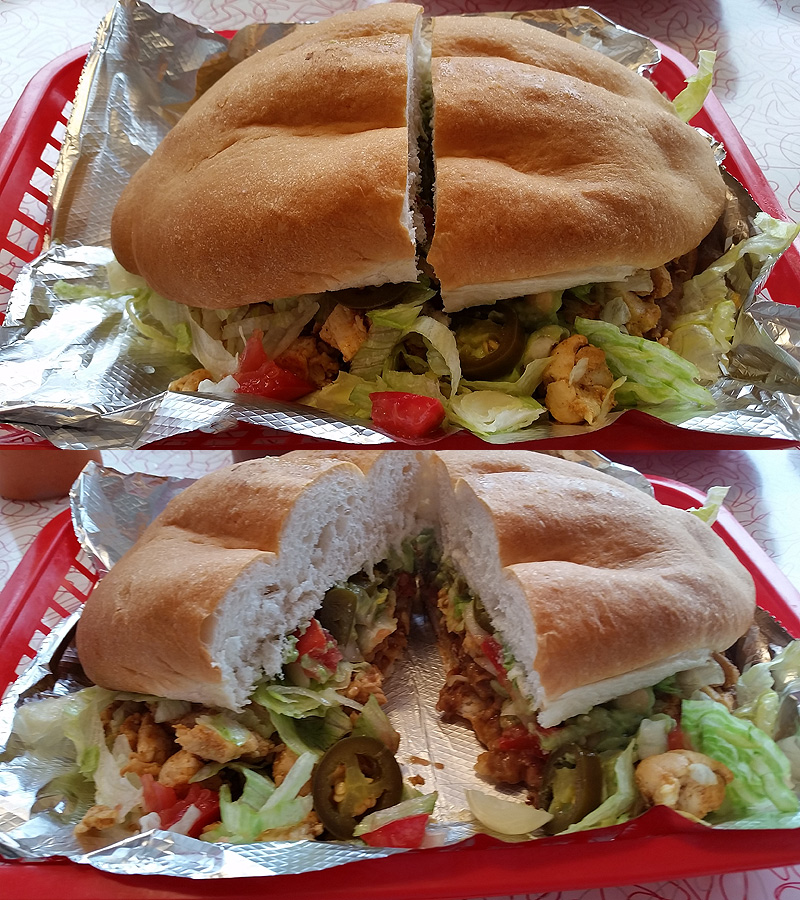 Chicken torta: gigantic and amazing bread
My girlfriend chose the chicken torta, a Mexican sandwich filled with refried beans, lettuce, tomatoes, jalapenos, avocado and mayo stuffed inside a very impressively light and fluffy "Mexican bun." I focused on the list of tacos, whose available fillings included most of the usual suspects like al pastor, chicken, barbacoa, carnitas, tongue, tripe and fish, But there were also two variants I'd never seen before in Cincinnati: a chorizo/steak combo known as "campechanos" and an adobo, chili and tomato-marinated chicken variant called, "pollo adobado." I eagerly choose one of each, as well as an al pastor taco.
Within minutes, we were presented with our lunches, dumbfounded and jaws dropped as we marveled at the sheer size of my girlfriend's torta and its amazing bread. It was a monstrous sandwich. We've had tortas before, but there's absolutely nothing we could recall that ever looked or tasted like this. The magic of this sandwich was definitely in the bread: it was light, airy, a bit sweet and paired perfectly with the savory components it contained. The chicken was tender and juicy, the avocado adding another satisfyingly filling nuance, finished with the vinegary bite of the pickled jalapenos and refreshing hunks of tomato. Even after collaborating, we came nowhere near finishing it.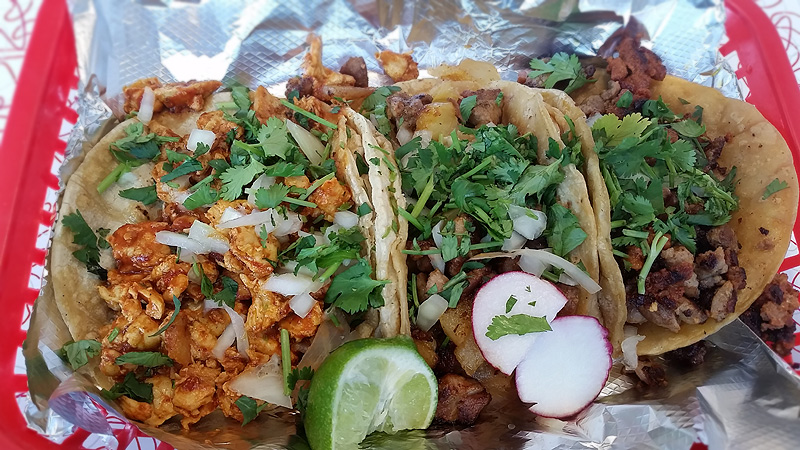 Tacos: chicken adobado, al pastor and campechanos
My tacos arrived sporting classic street digs, each reinforced with two corn tortillas and topped with onions and cilantro. The chicken adobado was far superior to virtually every chicken taco I'd ever had (the exception: Chilango's Chicken Tinga taco). The spicy, tomatoey sauce and caramelized bite of the grilled chicken made it an easy favorite. The campechanos taco, with its combination of chorizo and grilled steak, was mildly spiced and satisfying. My tasty al pastor taco came with hunks of marinated, grilled pork and onion.
Taqueria San Marcos is the kind of modest, local hole-in-the-wall we've been itching for.
Taqueria San Marcos
Price: Cheap (under $11 per person)
Service: Good
Rating: 3.5 out of 4
Cincinnati Bites