Posted Monday, August 2, 2010
Rasheeda's Cafe II is a soul food restaurant specializing in Halal meats, which are those acceptable for consumption under Islamic law. Pork is a no-no, but beef, chicken, fish, lamb, goat, duck and turkey are all (pardon the pun) fair game.
The restaurant moved from its Pleasant Ridge location and now resides right across the street from Pleasant Ridge Chili at 6025 Montgomery Road. at 5922 Hamilton Ave., in College Hill. Parking is along the street.
Rasheeda's is cash only, so be sure to visit an ATM first. Their menu is a simple, one-sheet list of lunch/dinner specials and side items, along with desserts and daily specials. The cafe was doing an impressively brisk take-out business when we were there one late Sunday afternoon.
While jerk chicken is typical for their Sunday special, other Sunday meat possibilities include duck, curry or jerk lamb and goat. Today jerk lamb was available, so I jumped at the chance to try it. The dinners come with a choice of two sides; I picked the classic combo of greens and mac & cheese. My girlfriend ordered the jerk chicken, along with a side of greens and candied yams. The meal also includes a serving of Cream of Wheat bread.
A woman sat at a table across from us, awaiting her take-out order. She watched as we were presented with our great-looking food.
"Are y'all from the South?" she asked us.
"Only in spirit, Ma'am," I replied with a wink. She chuckled at this, then raised an eyebrow and smiled as I started cutting into some of the lamb with my fork.
"Now I can tell you're not from the South, because down there, they bless their food before eating it."
I nodded to her as my girlfriend extracted a camera. While we snapped pictures, I had a vague thought that, in a strange way, food photography had replaced blessings as the foodie's de facto, pre-meal ritual.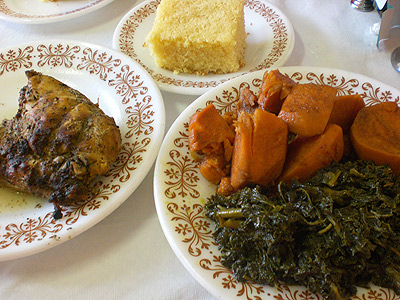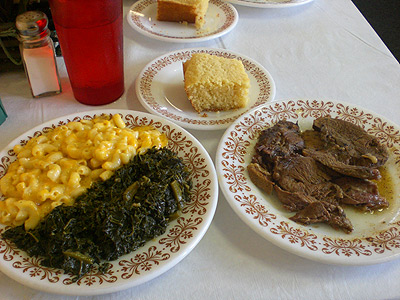 My girlfriend loved her jerk chicken breast and wing. She enjoyed the greens and her side of yams had a flavor that easily trumped the heavily marshmallowed mediocrity my family serves every Thanksgiving.
My jerk lamb was fork-tender and moist, exploding with a flavorful, spicy heat. As a child I'd always hated lamb because it was traditionally served unpalatably bland with a nasty dollop of bright green, mint jelly. Yucko. It was only years later, after I'd re-discovered lamb in the context of Indian, Mediterranean and Soul Food cuisine, that I began to appreciate it.
Our sides of greens were leafier and less stemmy than what we're used to eating from other restaurants. The bitterness had been skillfully extracted, leaving the natural flavor intact. I'm familiar with the variety of spicy-hot greens or those whose flavor are infused with meat enhancements like bacon or pork, but I tasted no evidence of either technique here (they only do Halal, after all). In fact, the spices Rasheeda's used were not something we could readily identify. Nevertheless, they were some of the most pleasing greens I've ever tasted.
I'm no fan of dry or crunchy-textured mac & cheese. Perhaps that's the result of being raised on the boxed, Kraft version. I'm heavily biased toward the creamy-soft, cheesy variety. Rasheeda's mac & cheese was exactly the way I like it: saucy, packed with cheesy flavor and devoid of crunchiness.
We weren't sure what to expect with the Cream of Wheat bread; when it arrived, it looked just like blocks of cornbread, only paler. The bread was very moist and the Cream of Wheat granules successfully imitated the satisfying grit of cornmeal. It was pleasingly cakey and crumbly, with a slightly sweet finish.
All of this food cost us just under $20 before tip. Such a large, tasty meal with an amazingly reasonable price made me conclude that this was the best soul food I'd ever had.
Rasheeda\'s Cafe II
Price: Cheap (under $11 per person)
Service: Good
Rating: 3.5 out of 4
Cincinnati Bites