Posted Friday, July 23, 2010
New Orleans to Go - A Streetcart Named Desire is the Phoenix-like revisioning of a popular Springdale restaurant that had closed last year. Hoping to avail themselves of the rising popularity of food trucks, coupled with a desire to emphasize their mobile catering service, the owners decided to hedge their bets, slap down 50 G's for a truck and take their business mobile.
Let me get it out of the way right now that I'm a little biased: I'd eaten at their former location shortly before it closed and instantly fell in love with the place. The food was a pleasant surprise and the owners are warm, friendly and engaging.
I have been rooting for the folks at New Orleans To Go ever since I first learned they'd closed their Springdale location and were gearing up to buy the food truck. Their timing for such an endeavor could not have been more fortuitous: the advent of mobile food vendors like Senor Roy's and Cafe de Wheels, coupled with city council's approval of three designated street vending areas, paved the way for roving businesses like New Orleans To Go.
Sporting a brand-spanking new, whimsically-painted food truck, the owners greeted me as I approached the window. Jazz music from speakers hanging outside, along with bottles of Crystal Louisiana Hot Sauce, brought me back to my past visits to New Orleans.
The menu rotates frequently, so the owner urged me to check their Twitter and Facebook pages for the latest updates on where they'd be parked.
The day I arrived, they were offering up two kinds of shrimp Po' Boys, a catfish Po' Boy and chicken wings. The owner mentioned future rotating offerings will include such Cajun classics as Etouffee and Jambalaya. I neglected to voice my advocacy for a return of their Oyster Po' Boys, but will correct that oversight upon my next visit.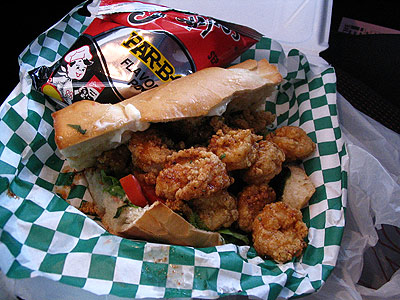 I chose the Glazed Shrimp Po' Boy, "dressed" with mayo, tomatoes, Romaine lettuce and a spicy sauce. The sandwich and chips were $7, not bad for such a generously-sized Po' Boy. In fact, I was too full to even touch the bag of Grippo's Barbecue potato chips, which became a snack later.
The sandwich was brimming with hot, plump, fried shrimp and as I bit into it, warm juices from the glaze trickled down my wrists. It was hearty, filling, slightly spicy, with a hint of sweetness cut nicely by the mayo. It may have been my imagination, but I also thought I'd detected the slight aftertaste of "New Food Truck Fryer." It was delicious.
Though the thick french bread held up well, the filling made it quite a messy Po' Boy. I appreciated and used every single one of the five napkins supplied me.
I don't know if it's my emotional ties to New Orleans or the infectious enthusiasm beaming from the owners, but I have a special place in my heart for New Orleans to Go. There are few businesses in town for which I've cheerleaded so much.
With food like theirs, I'm confident New Orleans To Go - A Streetcart Named Desire will be a resounding success.
New Orleans To Go
Price: Cheap (under $11 per person)
Service: Good
Rating: 3.5 out of 4
Cincinnati Bites