Posted Wednesday, April 14, 2010
Food trucks are invading Cincinnati and I'm ready to be assimilated. The two that have dominated the news lately are Senor Roy's Taco Patrol and Cafe de Wheels. At least two more are planned in the immediate future, including a truck from the owners of recently closed New Orleans To Go and the upcoming Taco Azul.
Contender #1: Cafe de Wheels
The Cafe de Wheels truck is jet black with vibrant, orange lettering, typically appearing in parking lots near the downtown courthouse. It's most often seen during lunch hours at the corner of Court St. and Walnut.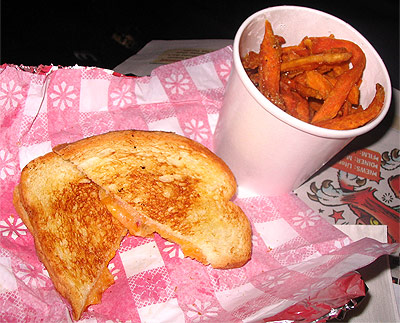 Some of Cafe de Wheels' signature fare include several beefy and vegetarian burgers, a Cuban sandwich; a chicken sandwich; grilled cheese; a Mett; and a mutant Cuban/grilled cheese variant called the Wheels Grilled Cheese, with pork loin, balsamic onion marmalade, melted cheese and sauerkraut.
In my two visits, I've found their grilled cheese, sweet potato fries and Cuban sandwich all pretty tasty. Preparation times for their food can take a while, especially at peak hours, so they do encourage people to call or text ahead. The last time I was there, we waited for about 15 minutes before a co-worker's burger was ready.
Contender #2: Senor Roy's Taco Patrol
Note: the following review is for a restaurant that has since closed.
I've visited Senor Roy's Taco truck twice now and I can say I'm now quite a fan. Their tacos are large and very flavorful, jam-packed with meats and fillings. Recently, they've been parking at the corner of Main St. and Central Parkway, near the Salvation Army building.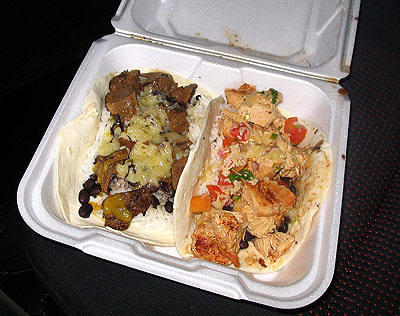 On my first visit, I got the Al Pastor (pork), flank steak and chicken tacos. A choice of flour tortillas or grilled corn tortillas are available --I chose the latter. The tortillas were warm, pliable and slightly chewy, but pleasantly so.
Senor Roy's offers a variety of freshly-made salsas, including the fiery Mango Habanero, the Tomatillo salsa verde, Pico de Gallo, picante and corn salsa.
Boy were they ever good. At $6 for three tacos, it was more than enough food for lunch. The shredded nature of the meats (all except the more traditionally chunky steak), lent a pleasing textural experience.
During my second visit, I got only two tacos for $5, which was plenty of food. These bad boys were stuffed with hearty meats, rice, black beans, cheese and salsa.
Burritos, quesadillas, nachos and taco salad are also available at Senor Roy's.
The winner: Senor Roy's Taco Patrol
One wonders how four competing taco vendors --Chipotle, Senor Roy's, Taco Azul and the coming Taqueria Mercado-- will play out downtown. I hope the latter three give the ubiquitous Chipotle a run for its money.
If you live or work anywhere near Downtown, Clifton or Northside, get ready to embrace the food trucks. They're a big hit so far and more are on their way.
Senor Roy\'s Taco Patrol
Price: Cheap (under $11 per person)
Service: Good
Rating: 3.0 out of 4

Cincinnati Bites