Posted Monday, June 6, 2016
Anger fuels invention, it seems. Take Nashville-style hot chicken, a spicy, Southern-fried variant allegedly first created by Thornton Prince's vengeful girlfriend who, fed up with his womanizing, slathered his breakfast chicken in a thick paste of lard and cayenne pepper so concentrated that she thought it would surely evoke screams of agony. Alas, the plan backfired: Thornton loved the concoction so much that he perfected the recipe and started his own BBQ chicken shack featuring the spicy meat. Thornton and his relatives set the standard for the area tradition, which lives on as Prince's Hot Chicken Shack in Nashville.
Now the Cincinnati area gets not one, but two opportunities to try this Nashville phenomenon, thanks to Joella's Hot Chicken, a small regional chain based out of Louisville, and Nashville Hot, a restaurant founded by former Tom + Chee president and politician David Krikorian.
The fact that there are suddenly two Nashville-style hot chicken restaurants a stone's throw from each other off the Buttermilk Pike exit in Crescent Springs is suspect. Surely one business had caught wind of the other, right? But Krikorian says he had no idea Joella's was coming, and his business was the first to open in February. Joella's opened a month later.
Both businesses offer similar menus and food is ordered at the counter. White and dark meat chicken quarter or boneless tender plates are featured with a choice of up to six spice levels. There are also chicken tender sandwiches and a host of side items, including fries, broccoli slaw, kale salad, hash brown casserole, cornbread, mac 'n cheese and a black-eyed pea salad called "Tennessee Caviar." They both feature the southern Chicken and Waffles classic combo with a choice of a side and either a breast quarter, leg quarter, wings or tenders.
In terms of atmosphere and quality, both are about equal, with various hits and misses at both restaurants. I tried to quantify this and come up with a "winner" between the two using a point system, but it was essentially a wash. Still, the points are below.
Fifty possible points were up for grabs, split among five categories: presentation, chicken taste, side dishes, drinks and ambiance. How did they stack up?
Joella's Hot Chicken,
Crescent Springs, KY
Joella's Hot Chicken
2440 High St.
Crescent Springs, KY 41017

Joella's sits on the corner of a strip mall off the Buttermilk Pike exit, near Dunkin' Donuts. We stepped in to find the place split into two large dining rooms decorated with reclaimed wood paneling and photos that pay homage to the restaurant owner's parents, who themselves owned a Southern-fried chicken restaurant in Lexington, helmed by two star employees, Joe and Ms. Ella. Joe + Ella = Joella's.
My girlfriend ordered a quarter white plate ($9): a breast and a wing served with two sides. She opted for the "Tweener" level of (medium) heat, along with a side of mac 'n cheese and broccoli slaw.
While my goal was to embrace the spicy, the woman at the counter made an attempt to talk me out of it. "If you want to enjoy your meal, you'll want to steer clear of 'hot' and 'inferno' levels." She worried me enough that I took my level down to merely "hot" (spicy fire), one step below "inferno." She shook her head knowingly. "Ok, but don't say I didn't warn you!" I chose the chicken and waffles with chicken tenders and a side of black-eyed pea salad ($9.50), along with an iced tea ($2).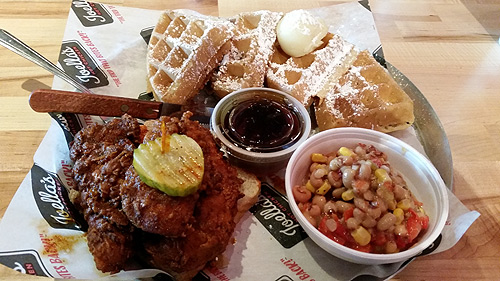 Chicken and Waffles w/side of black-eyed pea salad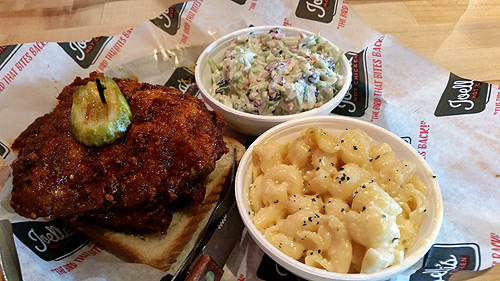 Quarter white chicken plate w/side of mac 'n cheese and broccoli slaw
The platters of food arrived and set before us beautifully presented. My chicken tenders, resting on a slice of white bread, glistened an ominous crimson red. Four Belgian waffle wedges were neatly stacked and dusted with powdered sugar and topped with a dollop of sweetened butter. A container of maple syrup added a third layer of sweetness.
The side of black-eyed pea salad was the first thing I tried, which proved to be light and refreshing, but suffered from a pervasive use of pimentos. My waffles looked great, but were unfortunately served lukewarm. The lack of heat and crispiness made them difficult to cut with a fork and the butter could never melt. The trifecta of sweetness from the powdered sugar, syrup and sweet butter was overwhelming.
The chicken was a high point: the pressure-fried process made the meat tender and juicy, and the spiciness was manageable, at least initially. Alas, cayenne pepper heat tends to build strength with time, so I was in plenty of pain before I'd eaten my fill of the large portions.
My girlfriend's chicken, while supposedly less spicy than mine, was still too spicy for her --all spice and no flavor, she said. Her mac and cheese pasta shells were pleasingly creamy, but a bit bland. The broccoli salad exhibited minced broccoli instead of larger intact pieces, which made the salad seem too mayonnaisey and more akin to a cabbage cole slaw.
Joella's does offer a wonderful fountain drink selection, with very satisfying house-brewed Southern-style tea. They also offer craft sodas from Boylan Bottling, including creamy red birch beer with cane sugar, root beer and colas. Craft beers and bottled Pepsi round out the drink selection.
Joella's strengths lie in its juicy chicken, its ambiance and its craft fountain drink line-up. We weren't displeased with our visit, but will probably opt for less heat next time around.
Joella's Hot Chicken:
Presentation:
8 points
Chicken taste:
8 points
Side dishes:
6 points
Drinks:
10 points
Ambiance:
9 points
TOTAL POINTS:
41 points
Nashville Hot
Crescent Springs, KY
Nashville Hot
564 Buttermilk Pike
Crescent Springs, KY 41017

Nashville Hot resides less than 1000 feet from Joella's Hot Chicken, an interesting coincidence if you believe in that sort of thing. Former Tom + Chee president David Krikorian owns the place with plans to expand to at least two more Cincinnati locations. His restaurant comes armed with chef James Hutchinson, who helped devise the Nashville-style hot chicken menu for another regional chain called Hatti B's.
Their menu and order-at-the-counter process is nearly identical to Joella's, with the most notable differences being a five-level spice scale instead of Joella's six-levels; arguably tastier side items; and additional catfish plates. Their drink menu consists of Coke products, Lipton iced tea and a variety of craft beers.
For consistency, I once again chose the chicken and waffles plate with tenders ($10) and a side of "Tennessee Caviar" (black-eyed pea salad). I also ordered iced tea ($1.75).
There was something decidedly off about their tea. I don't know if I got part of a bad batch, but it tasted off, so much so that I was looking around for a place to dump it out. Disappointed, I refilled with Coke Zero.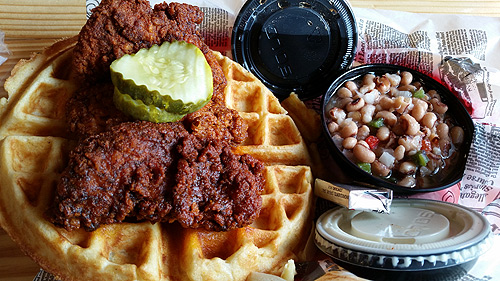 Chicken and waffles w/side of "Tennessee Caviar"
While Nashville Hot's presentation wasn't as dazzling as Joella's, my Chicken and Waffles and side were, overall, superior in flavor. The Belgian waffle was served whole with a dollop of savory butter (not the overly sweet kind at Joella's) and a side of maple syrup. It was pleasingly crispy and hot, allowing the butter to melt evenly. The chicken tenders bore a deathly dark crimson crust, confirming my selection of the hottest spice level available. Like Joella's spice, the heat slowly built as I continued to eat, sending my tingling nerve endings in a panicked frenzy. The chicken was tender --perhaps slightly less juicy than Joella's-- but good, until the heat proved a bit overwhelming.
Nashville Hot's version of black-eyed pea salad was more refreshing and delicious, offering a lightness and vinegary kick that helped quell the chicken's unremitting heat.
So which Nashville-style hot chicken joint is superior? It's a toss-up. Based solely on points, Joella's wins by a hair. But I enjoyed aspects of both restaurants, and lamented at some of their missteps.
But what I came away with was the realization that once the novelty of having eaten Nashville-style hot chicken had passed (painfully, later), I wouldn't be interested in eating hot chicken again. I enjoy spicy food, so long as there's a redeeming flavor accompanying the spice. Neither restaurant seemed to satisfy that prerequisite. If I were to return, I'd surely order a less spicy alternative. And once the spicy gimmick is gone, what remains are simply two Southern-fried chicken restaurants.
Nashville Hot:
Presentation:
7 points
Chicken taste:
8 points
Side dishes:
9 points
Drinks:
7 points
Ambiance:
8 points
TOTAL POINTS:
39 points
Nashville Hot
Price: Moderately Expensive ($11 - $16 per person)
Service: Good
Rating: 3.0 out of 4

Cincinnati Bites