Posted Saturday, January 16, 2016
There was a time when we were hard-pressed to find good, independently-owned Cincinnati restaurants focusing on breakfast. Standouts included the inimitable and recently-demised Tucker's in Over-the-Rhine; Norwood's 75-year-old Sugar n' Spice; and a smattering of Cincinnati chili joints and Frisch's restaurants around town. Nowadays breakfast is big business, with a number of places offering a wide breadth of options to the morning milieu, from the divey to the upscale.
One of the most long-lived of these restaurants is Mokka, which has been around for at least a decade in Newport, Kentucky, having moved from York St., to 5th St., to their latest location at the corner of 5th and Monmouth. While Mokka's menu offers a varied array of lunch and dinner items, it's best known as one of the better breakfast havens, with special nods to their frittatas, French toast and goetta selections.
My girlfriend and I have only managed a few visits to Mokka over the years, the latest of which being on a recent early Saturday afternoon jaunt. Parking around Newport always seems to be at a premium and, although Mokka does offer its own small parking lot, it's nearly always full, forcing most patrons onto the metered streets. Today was no exception.
Mokka's entrance reveals two yawning dining rooms and a spacious bar. We were greeted at the door by a woman who asked us to choose any seat we liked. A tiny nook between the two rooms offered a small, lone table overlooking Monmouth, so we sat there. The restaurant offers two different menus --an abbreviated version for the weekend crowd and a much larger, tri-fold menu during the week.
The first priority was my steaming mug of coffee, served with a large tray brimming with single-serve containers of half & half, not the fake creamers I hate. From the special weekend menu, I chose the Goetta Avalanche: a cheesy frittata layered atop an English muffin with lettuce, tomato, roasted red pepper dressing and a heaping slice of crispy goetta. My girlfriend chose the turkey sausage & spinach frittata, a cheesy, open-faced omelette with hunks of turkey sausage, tomatoes and spinach. Both entrees were served with a side of home fry-style potatoes (fruit cups are also an option).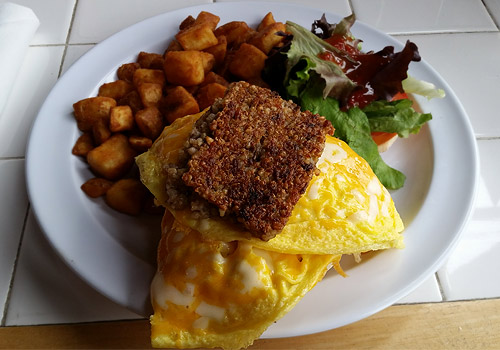 Goetta Avalanche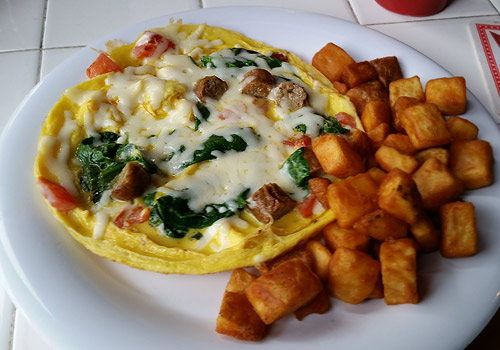 Turkey Sausage & Spinach Frittata
My Goetta Avalanche arrived wonderfully presented and living up to its name, as there was so much food that it seemed to cascade off the plate. The Avalanche appeared to be intended as a sandwich, with the enormous fillings stuffed between two slices of English muffin, but it would have been impossible to do so. Eating it with a fork and knife proved the prudent course. The crispy outer layer and creamier interior of their goetta made it one of my favorites in the area; and the egg was perfectly cooked. The roasted red pepper dressing was a interesting condiment, a mixture of sweet, savory and spicy thoughtfully applied with a light touch.
My girlfriend's frittata was a thin, satisfying assortment of egg and turkey sausage whose heaviness was cut by the fresh spinach leaves and good but slightly-out-of-season tomatoes. We both very much enjoyed the home fries, crispy cubes of potato that were not underdone and still yielded a fluffy, starchy center.
Mokka remains on a short list of our favorite breakfast spots in the Cincinnati area. If you've passed the place dozens of times as we have while trekking through Newport, now's the time to give it a try.
Mokka and the Sunset Bar & Grill
Price: Moderately Expensive ($11 - $16 per person)
Service: Good
Rating: 3.0 out of 4

Cincinnati Bites