Posted Wednesday, March 17, 2010
It had been shaping up to be a pretty lousy weekend morning. The skies were gray, the rain steady and a leftover winter chill still clung to the air. But sometimes, all it takes is a little comfort food and a hot mug of coffee to turn it all around. That's exactly what happened when we visited Sugar 'N Spice at 4381 Reading Rd., just off the Norwood Lateral.
Loads of people had told us all about Sugar 'N Spice, because it allegedly had the best breakfast, best pancakes, etc. in town. Ever dubious, I long resisted the waves of recommendations. I learned, much to my surprise, that it's been around since 1941, an impossibly rare success story in this age of "now you see us, now you don't" failed restaurant ventures. Passing by the place, I'd mistakenly assumed the building once housed a Ponderosa or a Frisch's or something. They've painted it a vibrant magenta and the contours are completely unique. No, Sugar 'N Spice is an original and, knock on the proverbial wood, is here to stay.
Entering from the parking lot in the rear, the first thing we noticed was how the bar-like area dominated the room. This served as the central hub of the restaurant, with people filling every stool or chair wrapping around the U-shaped counter. On the periphery of this counter were a number of booths. The place was filled to capacity, save one booth, which we greedily claimed.
Neither of us is a big coffee drinker, but when the waitress came by and asked us if we'd like a cup, the prospect strangely seemed irresistible. Heavy, old-timey mugs were placed before us, the smell of steaming coffee rousing our hunger.
The menu offered both breakfast and lunch items, but we focused entirely on the breakfast, ignoring the sandwiches, soups, salads and burgers. I'd heard of Sugar 'N Spice's so-called "wispy-thin" pancakes and, quite frankly, I wasn't keen on the concept. When I want pancakes, I want them to be big and fluffy, and I was pleased to learn that they serve both kinds. Still, we were interested in knowing what this "wispy-thin" business was all about, so my girlfriend ordered a couple to go with her side of grits.
I chose the corned beef hash plate, which came with two poached eggs and an English muffin. I'd never ordered corned beef hash in my life, mainly because I'd been traumatized by the sight of those nasty-looking versions one can find in the canned meat isle of any grocery store. Watching shows like Diners, Drive-Ins and Dives got me interested, however.
The waitress soon arrived with my girlfriend's wispy-thin pancakes and grits. I was still waiting for my food. But our waitress had my back --she aggressively defended my honor by yelling back to the cook, "Hey, where are my eggs and corned beef hash?" The cook replied that he was getting it and she playfully snapped back with, "I'm gonna get you in a minute if you don't hurry up." Seconds later, my hash and eggs were staring back at me.
My girlfriend and I shared a bite of each other's meals and I was very impressed with the wispy-thin pancakes. They were flavorful with that sour, buttermilk bite I associate with childhood. Her grits were tasty, too --if they were the instant variety, I couldn't tell.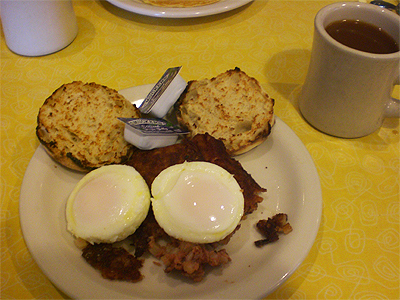 My poached eggs were perfectly cooked; I took pleasure piercing them with my fork, letting the yolk ooze onto the hash underneath. The corned beef hash's flavor was enhanced by a nice, crusty, crunchy char from the grill. The English muffin was pleasing in all its nooks-n-crannies toastiness. Between the cholesterol from the eggs and the caffeine from the two cups of coffee, I grew downright giddy, cold drizzle be damned.
Buzzing with renewed energy, I looked about the room, absorbing the atmosphere. I liked the cartoonish characters and breakfast food painted on the walls. I watched other patrons dive happily into their meals. The place had a pleasing, eclectic vibe to it. There were people here from all walks of life, from all classes and races. I saw a young Asian woman marvel at the omelette that had just arrived at her table. It truly looked as big as a Chipotle burrito. To my inner glee, she whipped out a camera and snapped a photo of it.
For us, Sugar 'N Spice lived up to the hype. It's a simple, down-home dive with a homey, diner-like feel. It serves good food, bustles with activity and warms the heart, turning potentially bad days into pretty darn good ones.
Sugar 'N Spice
Price: Cheap (under $11 per person)
Service: Good
Rating: 3.5 out of 4
Cincinnati Bites