Posted Wednesday, March 6, 2013
Note: the following review is for a restaurant that has since closed.
M Wood Fired Oven is a new "casual dining" endeavor by owner Alex Mchaikhi and Excecutive Chef Owen Maass, both of whom the restaurant is ostensibly named after. Maass has established himself as a quirky, inventive talent at Cumin Eclectic Cuisine, which he's headed since 2009.
M is Cumin's next-door neighbor, which must make it easier for Maass and Mchaikhi to keep tabs on their two sets of staff. A virtual army of servers and cooks mill about the restaurant, several of whom can be found loitering near the bar area as they await the dinner rush.
Wood-fired ovens are so popular now that they teeter on the precipice of cliché. Pitted against area competitors like A Tavola and Betta's, which have all but perfected the art of delicious pizza, M has its work cut out for it.
M's oven is supposed to be the most prominent focal point in the room, but with the TVs and large paddles hanging on either side, the oven itself manages to look puny by comparison. I don't know if it's the close quarters, but somehow the oven over at Betta's Italian Oven looks twice as large, and I'm always dazzled by how many pizzas and calzones the owner there can slip inside.
As of this writing, M's pizzas seem to range inconsistently from wonderful to merely passable, sometimes perfectly crispy, with just enough chewiness, to doughy and underdone. The #4 pizza I ordered features house-made sausage, smoked mozzarella and apple.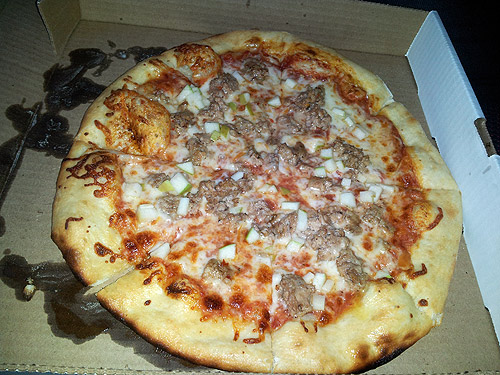 While it had a decent tomato and sausage flavor, it was disappointing overall. The pie was limp, undercooked and greasy, with tiny, irregularly shaped bits of apple overpowered by the more abundant sausage. Where were the burnt edges that make wood-fired pizzas so special? Where were those crispy blisters of dough? This is likely a training issue; Maass himself is rarely seen cooking these pizzas and there is likely some time needed to acclimate to a new oven's "personality."
My first experience at M was more successful: they offer several courses beyond pizza, including small plates, salads, gratins and their "primal" course, which includes a quartet of large-portioned meats, like roasted chicken, pork, beef and fish. The primal course succeeds in overshadowing M's variety of wood-fired pizzas and the presentation of the bountiful dishes are apt to give your neighboring diners whiplash as they vicariously salivate over your selection.
M's desserts are interesting twists on classics: the "Nerd Cake" looks like a Dr. Seuss nightmare, with pink and purple and blue frosting covered in multicolored candies. We found our cake a little on the dry side, though the smokey, almost savory warm pear pie topped with a scoop of jalapeno gelato aroused the senses like a gentle smack to the face.
M is by no means perfect and is still going through growing pains, but it offers promise as a welcome Hyde Park addition.
M Wood Fired Oven
Price: Expensive ($17 - $30 per person)
Service: Good
Rating: 3.0 out of 4

Cincinnati Bites