Posted Sunday, June 24, 2012
Few people know about a district in Over-the-Rhine called the Gateway Quarter. Most Cincinnatians have never caught wind of its gentrification. They don't know there are now nearly a dozen trendy restaurants along this patch of Vine St. alone. A mere handful have blogged about Senate, Abigail Street, Bakersfield, Taste of Belgium and other eateries. And, of course, no one has ever heard of a certain Italian pizzeria called A Tavola (Ahh TAH-voe-lah).
Boloney.
The fact is that, unless you've been hiding under a rock trying to avoid that Geico plane circling downtown, you know of no Cincinnati area more hyped in recent months than Over-the-Rhine, with the exception of perhaps The Banks.
A Tavola has earned glowing reviews from area writers since the day it first fired up its oven, imported from the birthplace of pizza itself: Naples, Italy. Like most Gateway Quarter eateries, A Tavola sports a trendy, hip theme. "Trendy" to me usually equates to "upscale" and "over-priced." I'm a middle-class, blue-jeans kind of guy with a mortgage. I don't like trendy and upscale. But, damnit, I do like authentic, wood-fired Italian pizza.
I finally came to the conclusion that I shouldn't be intimidated by A Tavola's hipness. I had to grow some balls. It's not like they're going to kick me out because I'm not cool enough. They're a restaurant, for Chrissakes, not Studio 54. So, with worn Levi's snugly securing my emboldened, curiously larger package in place, I stepped foot inside for the first time.
To my shock, the world did not explode. We were greeted like everyone else and led promptly to our table. It was a weekday evening, so we had fortunately missed the restaurant's typical long waits.
Like most of its neighbors, A Tavola sports a shotgun-like dining room, long and narrow. But even with the bar absorbing precious real estate, A Tavola's interior managed to seem vastly more open and expansive than other OTR joints we've dared explore.
There's an almost Chipotle-esque sleekness to A Tavola, with a smooth, white-walled, silver metal motif coolly mitigated by its irregularly shaped, wooden tables. The strikingly bulbous, black-tiled pizza oven is a clear focal point, its top visible from most areas of the dining room and the name, "A Tavola" emblazoned in white over its fiery, pie-filled maw.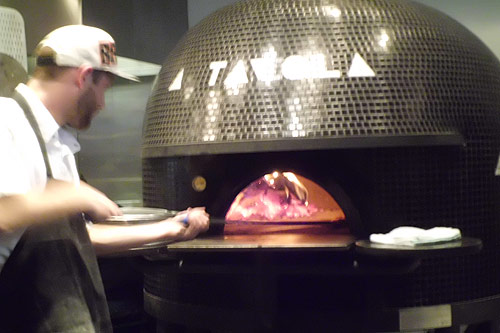 The menu of signature pizzas, antipasti, bruschette, sliders and meatballs all sounded out-of-this-world delectable. Catching whiffs of passing pies, with that slightly scorched, burnt crust aroma, sent flashbacks of Italian trips past rushing to the fore. And, Holy Mary, Mother of God, A Tavola offers soft-serve gelato.
We settled on two pizzas, mistakenly assuming one would not be enough to feed two people. The first was the Soppressata, a pizza topped with pepperoni's fattier, tastier cousin, along with banana peppers, tomato sauce and aged provolone cheese. The second pizza was the Artichoke, including basil pesto, tomato sauce, goat cheese and mozzarella.
While we awaited the pizzas, we tried two antipasti dishes: the sausage-stuffed, bacon-wrapped dates topped with tomato sauce (a well-documented blogger favorite), and the Arancini, the classic Italian leftover comfort food: deep-fried balls of risotto stuffed with Fontina cheese and served with tomato sauce.
The dates were the first to arrive: four bacon-encrusted, sausage-stuffed date morsels coated with a bright-red tomato sauce. The sweet-and-savory combo of the fruit and the bacon/sausage was elevated by the fresh-tasting sauce. They weren't as mind-blowingly awesome as I'd read about, but good in their own right.
The two large arancini balls were the biggest and most pleasant surprises of the evening. Each sported a crispy golden brown shell that gave way to a creamy inner core of rice and gooey cheese. The intensity of the Fontina complimented the much-welcomed side of tomato sauce. Hard as it was for us to admit, we concluded these arancini surpassed many of those we'd enjoyed in Italy.
Soon our pizzas arrived, brushed under our noses and onto an ingeniously designed two-tiered pizza stand available on every table. They were much larger in diameter than I've come to expect from wood-fired pizzas, another well-received surprise, ensuring we had plenty of leftovers to take home.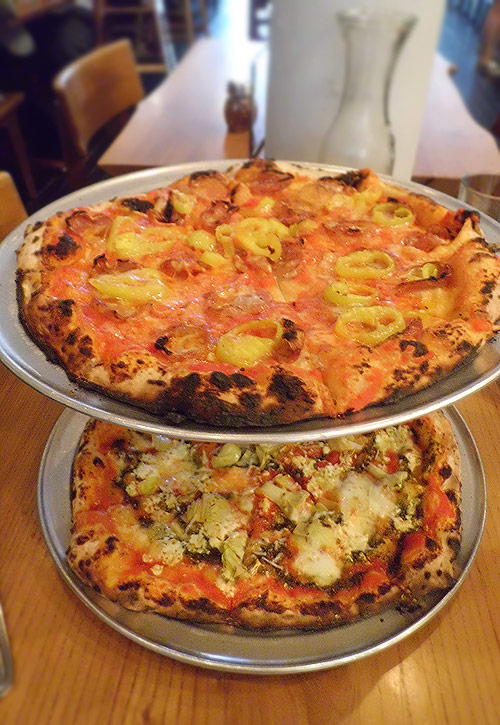 The meaty Soppressata pizza was easily my favorite, as I enjoyed the mild spiciness of the banana peppers, the recurring and by now comforting re-appearance of that same tomato sauce, along with the pepperoni-mimicking soppressata. The pizza brought to mind everything I love about another wood-fired pizza in town, the spicy Pizza Diavolo, served at Betta's Italian Oven in Norwood.
My girlfriend's favorite, the Artichoke, was comparably milder in flavor, but what it lacked in up-front punch, it made up for in variety, with a nice interplay of artichokes, tomato sauce and pungent goat cheese.
For dessert, we each chose our own little bowl of soft-serve, "Salty Caramel" gelato. While the girlfriend opted to have hers sans topping, I decided to try it topped with a $5 shot of Bulleit bourbon. Of course, the bourbon overpowered the dessert for me, and I quickly regretted the decision, leaving an unconscionably sizeable pool of melted gelato and bourbon in my bowl. For a Salty Caramel, the flavor was too mild, something we're not used to in a gelato. Maybe something gets lost in the soft-serve process vs. more conventional preparations.
Overall, A Tavola lives up to the hype. Their tomato sauce was the clear winning theme throughout all our dishes, its vibrant and fresh flavor setting the tone for an enjoyable dining experience. In terms of wood-fired pizza options in Cincinnati, I now have two personal favorites: Betta's and A Tavola. Both offer that distinctively crispy, chewy quality to their pizza crusts, riddled with pleasing burnt edges and a flavor impossible to achieve through other cooking means. Slip on some jeans and grab a slice.
A Tavola
Price: Moderately Expensive ($11 - $16 per person)
Service: Good
Rating: 3.5 out of 4
Cincinnati Bites