Posted Monday, February 22, 2010
Note: the following review is for a restaurant that has since closed.
For us, Indian food is a lot like pizza: it's all degrees of good. So when we visited Daata India Restaurant, located in the Surrey Square shopping center in Norwood, we found it difficult to place it in the correct category. It's good, but in what echelon of "good" does it live?
We arrived there for dinner a bit after 8 pm on a Friday night, fairly late for most diners. For this reason, it wouldn't have been surprising to see a light amount of business. What did surprise us was that we had the place completely to ourselves.
Our hostess immediately seated us (ya think?) and served us our water as we began to peruse the menu. For the most part, if you've seen one Indian restaurant menu in town, you've seen them all, but we checked it anyway. Who knows, maybe they'd be one of the few places in town that served Jalebi, my favorite Indian dessert. Alas, no.
This will mark the fourteenth Indian restaurant we've tried in Cincinnati. We've been to Baba, Amol, Cumin, Ambar, Dusmesh, Shaan, Kanak, Taj Mahal, Hi Bombay, Brijmohan, Akash, Hyde Park India (closed) and Anand. To say the least: we are Indian food fanatics.
What makes for a good Indian food experience? Our needs are pretty straightforward: give us good service; a heaping mound of hot, flavorful Basmati rice (and refills if we ask); warm, tasty Naan; and a bit of a heat factor. It's a simple formula.
Daata looks a lot like most Indian restaurants: it's got many of the same colorful Indian paintings, the same white table cloths destined to be anointed with myriad sauces and the same Indian soundtrack you've heard around town. It's as though there were some sort of Indian restaurant starter kit that owners can pick up at a local Home Depot.
As my girlfriend and I engaged in conversation, the server turned up the volume of the music, ostensibly to give us some privacy, as there was no other competing voices to filter into the mix. The music had a techno-Indian flare to it; I found myself acting silly, gesticulating rhythmically to the beat of the music before my girlfriend, as though I were trying to dazzle her with my perfectly-timed finger moves. "I start the fire, then I make the pizza. Q-tip, Q-tip, throw it away."
We both ordered our tried-and-true Indian dishes, she the Lamb Rogan Josh and plain Naan, and I the Lamb Vindaloo and Chef Naan. The saucy Rogan Josh is simmered in a tomato base with yogurt to give it a creamy texture. The Vindaloo sauce is traditionally spicy (a level 5 or 6 on a standard, 1-6 Indian food heat scale), tomatoey and mixed with meat and potatoes.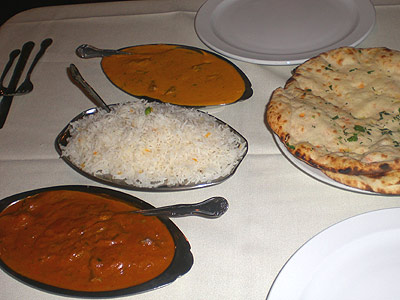 When the food arrived, I immediately noted that something was missing, but I couldn't quite put my finger on it. Later that evening, I found a food photo from someone else who'd visited Daata. It was clear: they'd forgotten to top the entrees with herbs. No big deal, but it left me guessing throughout the meal.
The food met all our minimalistic criteria for good Indian. Added bonuses were that we each enjoyed the flavors of our respective meals and especially appreciated and acknowledged how tender the chunks of lamb were. Another round of rice was happily supplied and we had enough of our meals leftover to warrant a couple to-go boxes.
Towards the middle of the meal, another couple sat down and there was one carry out order. I was bewildered by the lack of business. Is there such a glut of Indian choices in town that we've exhausted all its fans? Doubtful. Baba India, for example, is always quite packed. Dusmesh is also very busy. But there are places like Shaan and Daata that tend to go unnoticed. Is it a lack of publicity? An unfortunate location? Judging from the success of our meals, it was hard to tell.
A standing, $6-off coupon for the second entree was available on their website at the time of this writing, but we had neglected to avail ourselves of it.
Daata India Restaurant serves good Indian food at competitive prices with little to no wait in the evenings. And by "good," we mean three-star good.
Daata India Restaurant
Price: Moderately Expensive ($11 - $16 per person)
Service: Good
Rating: 3.0 out of 4

Cincinnati Bites